How long does it take to buy a house? The short answer is, 90 days on average. It typically will take 50 days to get under contract – and then another 40 days to close on it, at which point the home is truly yours.
The long answer is that these numbers can vary widely – and that's because each step of the process can take anywhere from several days, to several weeks in some cases. Here's everything you need to know so that you can plan your own home buying timeline.
Step 1: Finding a Realtor
Time: 1-4 weeks
Finding a real estate agent is a lot like hiring an employee – you shouldn't automatically go with the first person you come across! Every agent is different – their level of experience, area of expertise, and training vary. Some may be better at understanding your vision, educating you throughout the process, and negotiating a deal than others.
Finding the right buyer agent can take up to several weeks if you opt to meet or chat with multiple agents. Because this is a major transaction, it's worth it to do your research to make sure you're well represented by someone you can trust.
Pro Tip: Find an agent who works exclusively with buyers. Not only will they have more specialized knowledge, you also won't have to worry about them splitting their time marketing homes for sellers or steering you towards their listings.
Step 2: Get pre-approved for your mortgage
Time: 1-3 days
Before you start your home search, you'll need to find a lender – or at least get pre-approved for a mortgage. Some homeowners won't allow people to view their homes if they haven't been pre-approved in order to limit showings to serious, qualified buyers.
A loan pre-approval signals to sellers that you have good credit and can obtain financing, and also ensures that you don't waste time looking at homes outside of your price range.
Even if the agent lets you view the home without a letter of pre-approval, you could lose out on the home of your dreams in a competitive market if you have to wait to make an offer. You want to be able to submit an offer right away if necessary.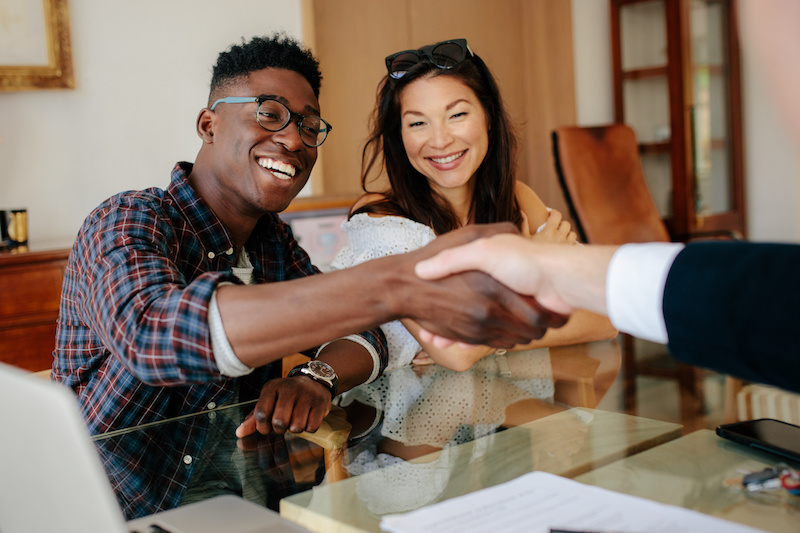 Getting pre-approved for your mortgage will also help you understand what your budget is, and ensure that there aren't unanticipated financial hiccups (such as sizable debt you forgot about). And just because you get pre-approved through one lender doesn't mean you're required to use them if you find a better rate through someone else.

As part of the pre-approval process, the lender will check up on things like your credit score and employment verification, but you still should receive your pre-approval within 3 days (Houwzer's mortgage advisors can get you pre-approved in 24 hours). After that, your pre-approval is valid for 60-90 days.
Not surprisingly, buying a home with cash can greatly reduce the amount of time it takes to buy a home. Not only can you skip the pre-approval process, but your closing time will also be greatly sped up (step 6).
Note: It's important that you don't take on a new car loan, miss credit card payments, or do anything that could impact your credit score.
Step 3: Develop a game plan with your Realtor
Time: 1 week
What do you want in a home? Before going to view homes, you'll want to meet with your real estate agent to establish your house hunting checklist. You'll explain what you want and why you want it, as well as setting your budget and other concerns.
You might also want to do additional prep work by seeing which homes are available online, and getting a feel for what to expect in your price range and ideal neighborhoods.
Step 4: Viewing homes with your Realtor
Time: Up to 10 weeks or more
Some people fall in love with the first home they see; others have to view 20 before they find the right one. According to recent data from the National Association of Realtors, the average home buyer visited 10 homes, and took 10 weeks to do so.
How much time you will actually need can depend on a lot of things, such as how many homes come onto the market in your area that meet your criteria, how open your own schedule is, how flexible your buyer agent is, etc. You'll probably need to budget for at least 10 weeks to find your new home, if not more.
Note: Low inventory nationwide has left most of the country in a prolonged seller's market for the last few years. Bidding wars and rising prices have caused many first-time home buyers to endure longer hunts than they expected. It's better to budget for more time in these kinds of markets.
Step 5: Submitting your offer
Time: 1-3 days
You've found your dream house – now what's the timeline? A standard real estate purchase offer specifies how much time a seller has to respond, so you won't be in the dark.
Typically sellers have from 48 to 72 hours to respond, but it's common to hear back within the first 24 hours if you made a fair offer. If the seller counteroffers, then the clock essentially resets, allowing you time to reply back. In other words, this step can take anywhere from a day to a week – but it'll usually take 1-3 days.
Note: When a bank is selling a property (like in the case of a foreclosure) the response time can be longer.
Step 6: Going under contract
Time: 40 days
How long does it take to close on a house? Once the seller accepts your offer, you're under contract and ready to begin the process to get to the closing table. Your agent will help you order a title search, which ensures there's no liens or outstanding loans on the property. A home inspection needs to be performed, as well as an appraisal. And even though you were pre-approved for a loan, you will need to submit information to your lender to get final approval for your home purchase.
There will likely be several weeks worth of time between when you sign, and when you actually close on the house (this is when the home is officially transferred over to you) – on average, 41 days pass between an accepted offer and closing. This timeline will be shorter if you encounter no issues with the appraisal, title, financing, home inspection, etc. It will also be a quicker process for cash buyers.
Title search: usually takes place in 3-5 days, can take up to two weeks
Loan approval: this typically takes about 30 days, but can take longer during high-volume months
Appraisal: has to be scheduled out, typically takes place within 1-2 weeks
Home inspection: you'll need to hire an inspector, usually within 10 days of closing (you may need additional time to re-negotiate if the inspection reveals any issues)
Step 7: Moving into your new home
Time: Immediately-10 days
When can you move in? Buyers can typically go straight from the closing table to their new home.This may be something you want to specify in the contract if you're selling your old home and need to move in quickly. When deadlines aren't as tight, buyers might give the original homeowners 7-10 days to move out. The sellers can also request additional time – for example, 30 days in order to pack up and move out.
No matter what the length of time is, it won't come as a surprise - the details will be something you agree to in the contract.
So: How long does it take to buy a home?
Every home journey is unique, but based on everything that can potentially happen when you go to buy your home, it's a good idea to plan on at least three months (90 days) from beginning to end for your home buying timeline. That will give you plenty of time to get through every step without feeling rushed.