According to Google trends, people are much more likely to search for apartments than condos. However, these terms can often refer to the same space. So what, exactly, is the difference between a condo and an apartment?
Condo vs. Apartment: The Main Difference is Ownership
Apartments and condominiums (or condos for short) can be identical units within the same building - the difference between them is ownership. Apartments are typically housed within a complex of dozens or hundreds of similar units, and the units are owned by a single entity and leased out. A condo is owned by one individual (or couple, etc) and is either owner-occupied or rented out. 
So: while condos and apartments are very similar - and will often look the same - apartments are typically managed by a large group, whereas in a condo situation, if the home is rented, then the owner and renter are more likely to have 1-on-1 communication (unless the condo owner hires a management group to oversee the apartment).
Difference between condo and apartment prices
The prices can be fairly comparable depending on where you live, the terms of your mortgage (if you decide to buy a condo), etc. 
There are more fees typically associated with a condo - you'll need to pay property taxes, for example - but on the other hand, every mortgage payment you make is putting more equity into your condo. Whereas when you pay for an apartment lease, you're often paying off someone else's mortgage and property taxes.
Median price of a one bedroom apartment: the U.S. average price is   $1,470 
The average cost of a condo (# of rooms non-specified): $249,500
What you'll find in condos
That said, there's often a noticeable difference in what you'll find in apartments vs condos. Condos will often have more upgraded amenities because the owner has invested in the space. If you buy a condo, you might notice features like upgraded lighting and customized cabinetry. If you're looking to rent a condo, you'll benefit from this as well: the owners may have once lived there themselves, and they are likely keen on attracting and keeping responsible renters in place in order to ensure their asset is well-maintained. 
Condo maintenance
Since most condominiums are part of a larger community - where it's assumed that the spaces will be owner occupied - there's often a higher standard expected when it comes to maintenance and rules. Whether you own a condo or rent a condo, rules and expectations may include:
Not hanging personal flags or other items in windows
Picking up pet waste
Having a quiet time after certain hours 
Making any architectural changes to the unit
What you'll find in apartments
Apartments are often a more simplistic, "cookie-cutter" layout since building owners have kept costs low by updating most units at the same time. Apartments are more likely to have basic amenities over more luxurious ones - think linoleum floors rather than wood, or laminate counters rather than quartz. Your apartment can still look clean, modern and chic! But you may find that the surfaces and options chosen are made with the assumption that this space will see more wear and tear than a condo.
Apartment maintenance
There tends to be fewer rules and regulations when it comes to apartments, but on the other hand - because you work with a large organization, they may be less lenient about certain things than condo owners. Apartment rules and conditions may include:
Not painting on the walls
Not hanging anything on the walls (including shelving), or inserting anything other than  small nails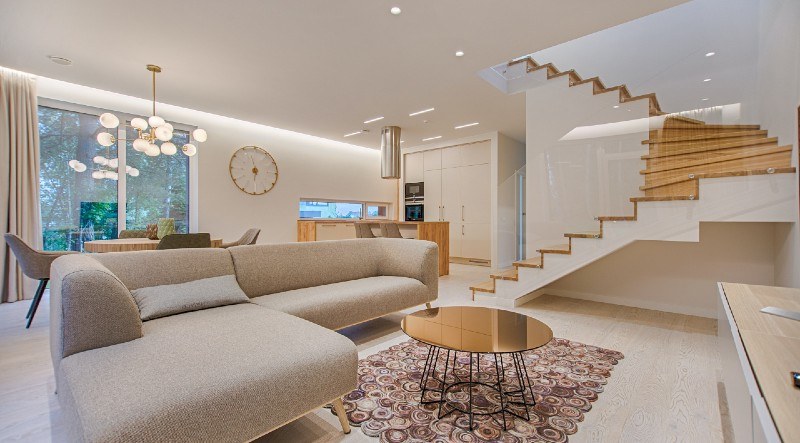 Similarities between apartments and condos
There are many similarities between apartment and condo spaces. 
Oftentimes, pets are not allowed, or only allowed in certain instances (dogs below a certain weight, certain breeds of dogs, allowing a single pet, etc). 
A pet deposit or monthly pet fee may be required for your pet.
Parking spots are sometimes offered depending on available space.
You may have a balcony or rooftop area, but rarely a front yard.
You may share communal spaces such as pools, laundry rooms, movie rooms, and more.
Apartment v. Townhome 
You may have heard the term townhome before used fairly interchangeably with apartments. Townhomes and apartments are very similar - the main difference is their size. 
Townhomes are larger structures that are frequently on more than one level (whereas apartments are typically located on only one). 
If you need to use stairs in your home, it's most likely a townhome.
What's better for your life - Condo, Apartment or Townhome?
The right option for you will depend on your finances, how long you plan to live in your current location, how prepared you are to take on a mortgage, and how important it is to you to build equity through property ownership.
Condos are better for:
People who plan to stay in one place for several years
People who want to begin building equity in their home
People who qualify for a mortgage (good credit score, down payment, etc).
People who want to make modest modifications to their space
People who want to rent out part of their space 
Alternatively, if you plan to rent a condo, you are likely someone who appreciates having a one-on-one relationship with your landlord.
Apartments are better for:
People who aren't sure yet where they want to live
People are in transitional periods of their life
People who struggle to qualify for a mortgage (bad credit score, etc)
People who want the amenities available to shared spaces
People who want to minimize the number of bills they pay (just rent instead of mortgage, insurance, taxes, etc).