Is it the right time to buy a house? The answer isn't always clear to homebuyers wondering if they should wait for better rates, more inventory, or just a more buyer-friendly market overall.
According to Realtor.com, the very best time of the year to buy a home in Orlando is October 31 to November 6. Why? Here's the Orlando real estate market during this particular week:
Active listings vs. average: +4%
Views per property vs peak: -20%
Days on market vs peak: +11%
Median listing price vs peak: -4%
New listings vs average: -1%
Price reductions vs average: +1.1%
It's a good time to buy because market forces are putting pressure on sellers. If homes are sitting on the market for longer, sellers will be nervous and eager to get their home sold.
If fewer people are viewing each property, fewer offers are going to be rolling in as competition.
And with price reductions higher than normal, you'll be keeping a little more of your cash than you would normally.
Of course, it's hard to buy a home during this one exact week out of the year. Realistically, you might not be ready or able to buy a house - and there might not be any homes currently on the market that fit what you're looking for.
Luckily, it's still a good time to buy a home in Orlando regardless of exactly which week you close the deal. Here's what you need to know.
Orlando real estate market data
According to Houwzer's October 2022 Housing Market Outlook, the current Orlando market looks like this:
Median Home Price: $395,000 (up 14.49% YoY)
Average Sales Price to Original Price: 98.37% (vs. 95.52%)
Average Days on Market: 30 (vs. 19)
Month's Supply of Inventory: 2 months (up 66.67% from 1.3 months)
Homes Under Contract: 2,031 (down -27.18%)
While median home prices are up, it's clear that the market is starting to move toward more of an equilibrium. Homes are sitting for 11 extra days on market compared to last year, and inventory is starting to bounce back.
And according to Redfin's August 2022 data, Orlando ranks 19th among the fastest cooling U.S. metro housing markets.
"Having more inventory means that theres a lot less competition for the average buyer," explains Kaynea Bingham, a top Orlando Realtor. "You don't need to compromise on as many things as you would have 6 months to a year ago. Sellers are stepping up their game in terms of offering more. They're more willing to negotiate on price and add-ons that might be important to a buyer."

To be clear, it's a seller's market. Six months' worth of inventory is considered market equilibrium - so while it's no longer at an extreme, it still has a ways to go. Still, the tide is turning a bit for buyers.
When's the best season for buying a home in Orlando?
Unlike Northern states, Florida doesn't experience the extreme swing from high to low market for housing - there's no snow to avoid in the winter. That said, the fall and spring market remain popular seasons for buying a home - and many parents keep school schedules in mind when figuring out when to move.
According to data from Realtor.com, days on market in Orlando typically rises in both the fall and winter months - making these seasons a good time to buy. More days on market means sellers will be eager to get out of their current homes and into their next one. The price of homes for sale in Florida tends to peak in summer, making this a less ideal time to buy a home - it's unavoidable sometimes, though, since parents would prefer to move while their kids are out of school.
What do buyers gain by waiting?
An important question to ask yourself if you decide to wait to buy a home is: what do you gain by waiting? And equally as important: what do you lose?
Interest rates rose rapidly this year from their low of 2-3% in 2021, to the current rate of approximately 7%. For many would-be buyers, this shift in rates completely altered their buying choices as estimated monthly payments rose by hundreds of dollars for the same price home.
What buyers have to keep in mind, though, is that the super-low interest rates were a historical anomaly - one that may never appear again even in our lifetime.
It's possible that actions by the Fed may correspond to rates lowering by a point or two in the next year - but it's hardly a guarantee. Even in the beginning of 2021 when rates began to rise, many experts were predicting they wouldn't go past 4% before the end of the year - let alone hit 7%.
If rates do drop significantly after you buy a home, you have the option to refinance. But you might be kicking yourself later if you wait for rates to drop… and then they hit 8% instead.
"Nothing really depreciates in real estate unless there's some catastrophic circumstance affecting it," notes Bingham. "You're always going to see the benefits of real estate in terms of appreciation, having a place to live, investing in your portfolio, and watching your net worth go up."

What do buyers potentially gain by waiting?
More inventory to choose from
Potential lower mortgage rates (if rates fall)
More time to save for down payment
What do buyers potentially lose by waiting?
Lower interest rates (if rates rise)
Equity accrual
Lower home prices (so far, home prices haven't dropped Year Over Year)
Always do the math on your potential decisions: don't just eyeball them. If you plan to wait an extra year to buy a home, for example, use a mortgage calculator to figure out how much equity you would accrue through a mortgage during that time. Then compare that to the rent you would otherwise spend.
If you would put $5,000 in your own pocket rather than toward your landlord's mortgage, for example, then waiting would need to save you at least $5,000 just to break even.
"I do believe that it's a great time to buy a house in Orlando. Home ownership is extremely important, and you have to have the mindset that you're either going to pay rent to a landlord, or invest in your future and your portfolio," recommends Bingham.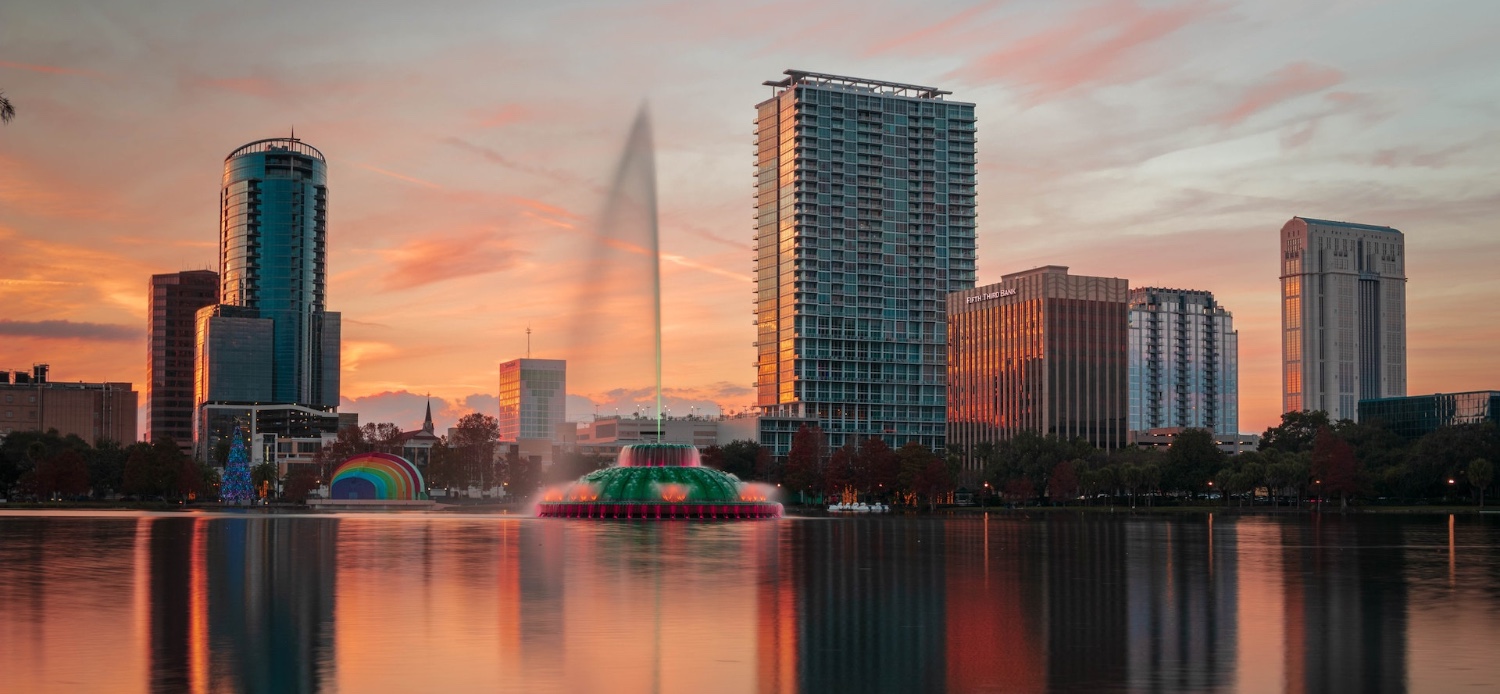 What's the future outlook for the Orlando real estate market?
Not all major cities in Florida are expected to thrive in the upcoming years. Cities like Miami, Cape Coral, and Port St. Lucie are said to be some of the most overpriced housing markets in the state.
Orlando, however, benefits from being a growth-oriented city. A strong job market continues to bring new people to the region, and as an increasing number of U.S. employees opt to work from home, many of them are relocating to sunny Florida.
In fact, according to News Orlando, Orlando experienced the second-fastest growth rate out of the 30 largest cities in America from 2019-2019. And it's not just snowbirds migrating to the region; in fact, 46% of people moving to Orlando are prime working age.
"The weather is a factor [in Orlando's desirability]," notes Bingham. "We're an hour from the beach. Being in the center of the state means we're an epicenter of travel and tourism; people come into Orlando both because of the cruise ships and the theme parks, and it's just a highly desirable area. People are just really drawn to how beautiful and clean our city is. When people visit they see that, 'I could really live here.' It's pretty amazing to upgrade your standard of living and not break the bank, compared to major cities like New York and Las Vegas."
It helps that Orlando's business community continues to expand, allowing for new opportunities and upward mobility.
According to Best Places,
Orlando's job market grew by 3.9% over the last year, and growth for the next 10 years is expected to be 51% (compared to the anticipated U.S. average of 33.5%).
Orlando's income tax rate is 0% (the U.S. average is 4.6%)
Orlando's unemployment rate is 5.8% (the U.S. average is 6%).
In other words, Orlando is a good city for real estate investment and for making a return on your property because people will continue to move to the region in search of economic opportunity.
So: are you ready to buy a home in Orlando?
There's no cost to exploring your options for buying a home. Meeting with a Realtor is free, and they can help you figure out whether you're eligible to buy - and if so, what type of home is within your budget. As a first step, meet with an agent who is highly experienced in the local area - then work at getting pre-qualified for your mortgage.
"You should always get that pre-qualification as soon as possible. Time is so valuable and the interest rates are changing quickly, so you need to figure out what you can afford and start making that your focus," advises Bingham. "Wasted time is not your friend. You don't have to feel rushed to do anything, but do understand that the market is ever changing - and the more interest rates go up, the less house you're able to afford."
Ready to start your journey?
Moving to Orlando: More Info