TikTok can be a great resource for homebuyers - especially those who might be moving to new areas, or new neighborhoods. TikTok has now surpassed one billion active users, and it's about a lot more than just dance routines and lip-synchs. For many people, TikTok has served as a valuable education tool - delivering information in visually appealing, bite-sized pieces.

So how can you use TikTok to find your next home? Here's how to proceed.
Discover Your Neighborhoods
A neighborhood can be the difference between a good home and a great home - it can also negatively impact your home buying experience if you discover your neighborhood is less safe, convenient, or friendly than you expected.
Luckily, it's easy to peruse local neighborhoods via TikTok and learn about everything from local restaurants to the vibe you'll experience day or night. This can often give you a more accurate feel for what it's actually like to live in a place, as opposed to reading off auto-generated data and a few outdated reviews on Niche.com.
As an example: look through the Manayunk discover page for TikTok and get an idea of the cafes, demographics, and even the dramatic hills many residents need to climb in order to go home at night in this Philadelphia neighborhood.
TikTok Real Estate Agents
We strongly recommend interviewing potential agents before choosing to work with one, for many reasons: agents have different skill levels, areas of expertise, and attitudes. You may not click with every agent, and a great Realtor can make a huge difference when it comes to having a successful home purchase experience (for horror stories, check out this TikTok).
However, a lot of people - especially younger generations - are averse to meeting people or even having a phone conversation until they absolutely have to. About 75% of millennials, in fact, say they avoid phone calls.
TikTok, then, can be a useful tool for getting for what local Realtors bring to the table - plenty of agents are on the app and using it as a way to connect with potential clients. Muoki Musau, for example, is a Virginia-based agent who shares home buying tips and tricks on his page.
This way, you can see if the "vibe" is right before even picking up the phone! (but eventually? Pick up the phone and call.)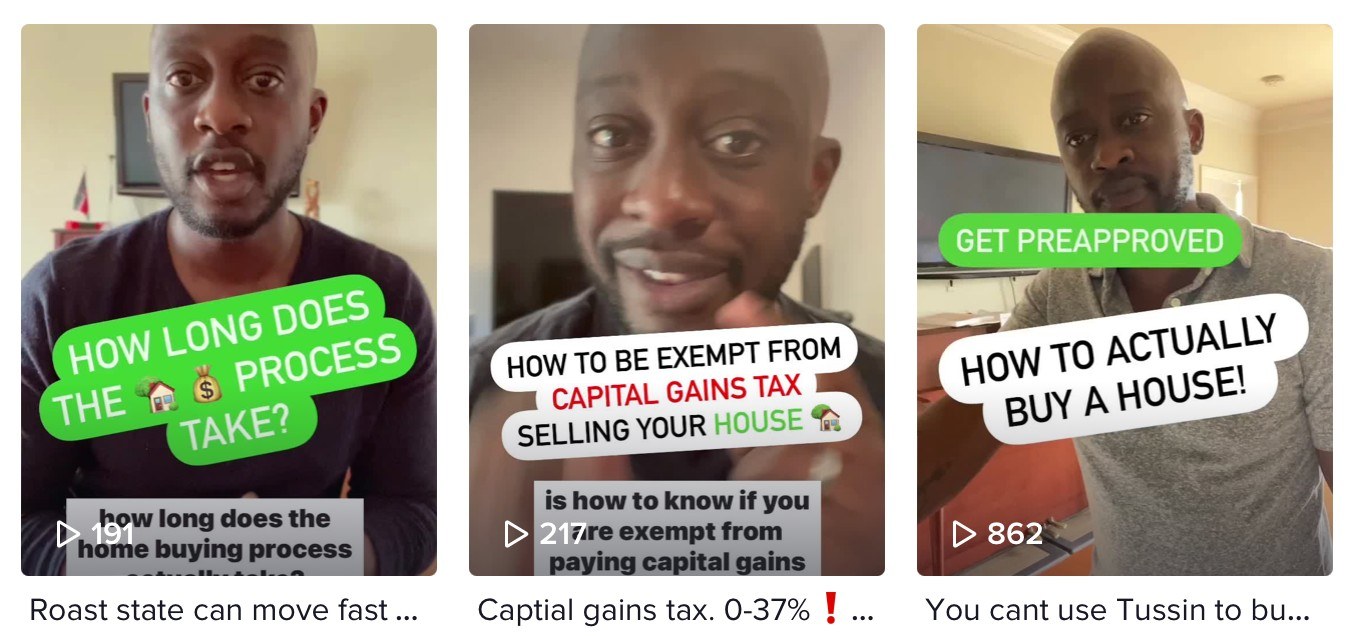 Understand The Homebuying Process and Set Your Expectations
Now, the best thing you can do when you're thinking about buying a house is: set up a meeting with an agent, and set up a meeting with a mortgage advisor. Both of these steps are important. An agent can give you advice specific to your unique situation, while a mortgage advisor can tell you how to prepare financially. The advisor might tell you, for example, that large transactions - even those in Venmo - often have to be explained to the lender, something that often surprises young homebuyers.
If you're not feeling quite ready to pull the trigger on meeting, TikTok can give you valuable tips on what to expect from the process. Stacie Rihl's account, for example, walks potential home buyers through basic info like the minimum down payment they'll need to put down for various price points.
TikTok can be the place you find answers for all your first time home buyer questions, no matter how silly they seem. Just use the search function to go by topic: chances are, someone's discussed it before!

Get an Idea of Price and Size
One thing first-time home buyers often underestimate - and some experienced home buyers too, especially those who are moving to new areas - is ideal home size and price. There are plenty of TikToks that will walk you through how much house you get for your money in various locations.
TikTok even has a page dedicate to this concept, "what 500k gets you in each state." While evaluating homes on a state level might be a little too broad, it's a good jumping point for narrowing down your search and seeing what you should expect in your specific city/neighborhood.
Educate Yourself on the Warning Signs
Have you heard of home inspections? This is when an independent contractor - the home inspector - takes a look at your potential home and writes up any visible issues with it. Almost every inspection reveals an issue (though many issues are minor and can be resolved quickly).
You can educate yourself on the warning signs of a problem house, though, before the inspector even steps foot inside. This is a useful skill because if the results of the inspection are bad, you won't need to go through with the home purchase (assuming you have an inspection contingency), but you will still be out the hundreds of dollars you paid for the inspection.
Check out inspector_aj's account. He's a Certified Home Inspector who shares a ton of videos explaining what home inspectors typically come across - and what you can keep an eye out for.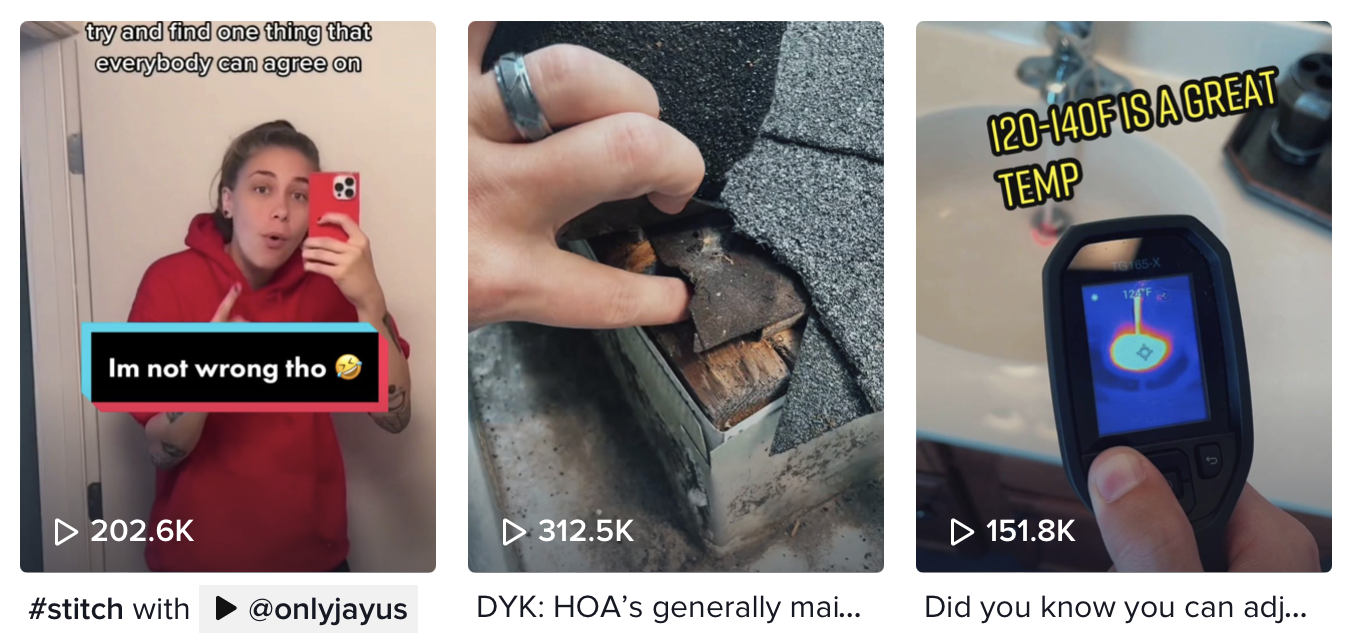 Travel Out of State - Without Booking a Single Plane Ticket
Buying a home in a new state has become increasingly popular thanks to work-from-home employment that allows employees to work almost anywhere. A recent analysis, in fact, indicates that about nearly 60% of home shoppers in some major metropolitan areas are from out of state.
If you're looking for a home from out of state, you're often up against a few challenges. When both time and money are limited (you need to save that money for your down payment and closing costs, after all!), you don't necessarily have the ability to fly in and home shop every other week. And you might be hoping to have a home locked down so that you don't need to move into a hotel room in the interim. However, a home is a major purchase and not one that should be taken lightly.
TikTok can help. Many listing agents are now uploading videos of the homes they're selling to TikTok and some, like Dallas real estate broker Joseph Felling, specialize in creating listing content for out-of-state clientele.
Get a Feel for Renovations
Chances are if you're using Tik-Tok, you're from a younger generation. It's worth noting that over 80% of millennials say that they're more likely to buy a fixer-upper than a newly built home, according to Bank of America. Why? Millennials have been raised with HGTV shows that highlight a can-do attitude towards house flipping - and they perceive that there are deals to be had with older, outdated homes, especially in this hot real estate market.
It's worth keeping in mind, though, that some home renovations are more difficult in practice than a condensed TV-show run by experts may indicate. TikTok reels often highlight the practicalities behind DIY projects - the expense, the labor, and the potential mistakes.
So if you're thinking about saving money (and flexing your DIY skills) by buying a fixer upper, you may want to do your homework first on TikTok to see if it's something you're actually capable of doing.
TikTok Real Estate: The First Step in Your Homebuying Journey
For now, it's not possible to buy a home just by pressing a button in TikTok (and that's probably a good thing, considering the number of impulse buys this app encourages).
Once you've done your research, your next step is going to be to meet with a local Realtor.
Ready to go?
For Further Reading