Every year, hundreds of families make the decision to relocate from the city of Philadelphia to the surrounding suburbs - or move afresh to the area from other cities. The Philadelphia suburbs are known for their family-friendly neighborhoods, lush greenery, and historical architecture. Montgomery County, located just west of Philly, is home to several such neighborhoods.

Here are three popular MontCo neighborhoods many of our clients have flocked to - and what it's like to live in them. 
Neighborhood Guide: Phoenixville, PA
Phoenixville's lively main street draws plenty of people to the area. This once post-industrial area has been thriving as of late, as new residents breathe life into the historic streets and brick storefronts. Trendy restaurants and a lively bar scene ensure that there's fun to be had on weekends without needing to travel far, and the revitalized downtown includes a theater, vintage cinema, a local farmer's market and more. 
Access to the outdoors is easy for Phoenixville PA residents, who can hike in Valley Forge Park, go horseback riding, go paddle boarding or golf at one of several nearby clubs.
What's the commute like?
If you're traveling from Phoenixville to Philadelphia's Center City, your commute is doable - but expect to be traveling for at least 45 minutes. The city is accessible by both car (45 minutes + depending on traffic), Amtrak train, and SEPTA transit. Because the current SEPTA route takes nearly 2 hours, many residents opt to drive 15 minutes to Paoli and take the train there - which will cut down the commute time. 
Many residents are employed in nearby King of Prussia and Collegeville, which are both about 20 minutes away by car. 
There are also plans for a $194 million passenger rail connecting Phoenixville to Philly, which may further improve commuting speeds in the future.
Local Real Estate Market: Phoenixville 
Single family and townhomes are the norm here, though there are some apartment complexes. The area has a healthy mix of housing stock - 35% of homes pre-date 1939, while 12% were constructed in 2000 or later. Phoenixville homes for sale go fairly quickly, selling in 27 days on average.
Average home price today: $358,400
Average home price 5 years ago: $283,000
Average property value appreciation for 2020: 8%
What our Local Realtor Has to Say:
"Ten plus years ago, Phoenixville set out to be the suburban counterpart of Manayunk, with its art galleries and other cultural experiences. Wow! It has succeeded on so many levels.  A variety of shops, restaurants and bars line the main thoroughfare, Bridge Street.  The canal and trails also provide sportsmanlike fun. The Colonial Theatre, home to The Blob, invites movie goers to experience the Blob, Rocky Horror Picture Show and live performances." -Senior Buyer Agent Isabella Faro-Winkelman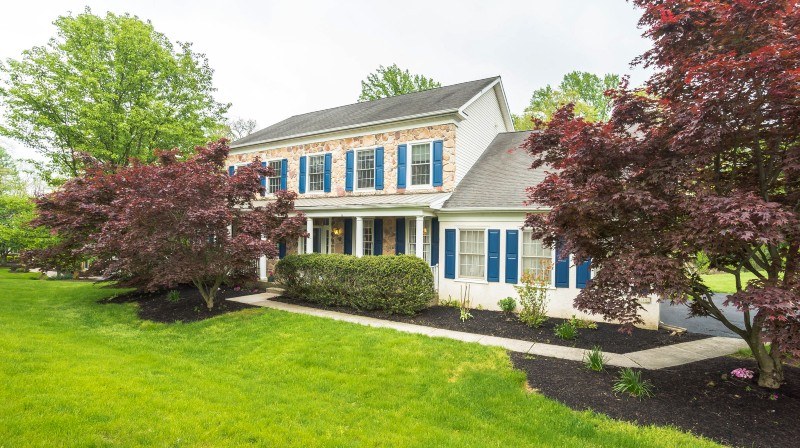 This Phoenixville home sold for $708,000 through Houwzer
Neighborhood Guide: Collegeville, PA
Collegeville PA is a small suburban community that prides itself on small town charm. Parks are plentiful in Collegeville - as are residents who enjoy outdoor activities like biking and running. 
Collegeville PA is home to Ursinus College - a presence that has helped the thriving suburban community stave off the shrinkage that other small towns throughout America have experienced. As a plus, residents can access plays, musicals, and other types of entertainment through Ursinus. 
What's the commute like?
Residents who need to commute into Center City, Philadelphia from Collegeville may find the commute long - expect at least an hour's worth of driving time, and more if there's traffic. Public transportation requires about an hour and a half of time to get to Philly, though some commuters drive to a train station (such as the Norrisville line) and commute that way to avoid rush-hour traffic. 
Collegeville residents who commute to King of Prussia or a nearby suburb like Phoenixville, however, have a much easier time - 20 minutes to KOP and 15 minutes to Phoenixville can be expected. 
It's worth noting that many residents work from home, allowing for a seamless commute - though it's still a minority, at 12.13% of the workforce, this is a larger percentage than what is found in most cities. 
Local Real Estate Market: Collegeville
Colonial-style single family and townhomes are the norm here, though there are some condos. Expect big lots and plenty of newly constructed homes for sale. Competition for Collegeville homes for sale is high, with homes selling after 22 days on average.
Average home price today: $373,000
Average home price 5 years ago: $287,000
Average property value appreciation for 2020: 6.6%
What our Local Realtor Has to Say:
"Collegeville was a sleepy town that now boasts movie theatres, spas, restaurants and Wegmans, above all, the epicurean's delight.  Walking trails to the Perkiomen Trail and Schuylkill Trail provide hours of hiking pleasure, from center city Philadelphia to Green Lane.  This sleepy community offers an easy commute to the turnpike and other highways.  The shore is a bit over an hour, the Pocono Mountains within two hours and New York City just about two hours as well.  Highly rated schools, large lots and affordable homes are available for the savvy buyer!" -Senior Buyer Agent Isabella Faro-Winkelman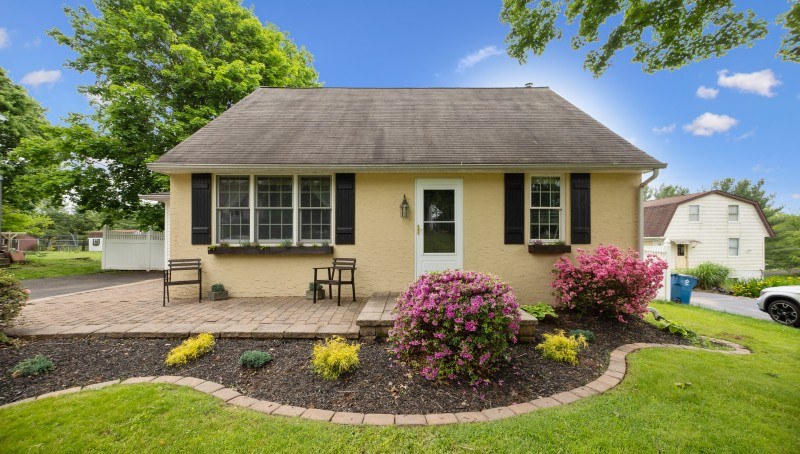 This Collegeville home sold for $315,000 through Houwzer
Neighborhood Guide: King of Prussia (KOP)
Unlike Collegeville or Phoenixville, King of Prussia has a more city-like feel. It's home, after all, to the King of Prussia Mall - the third largest shopping mall in the United States. Beyond that, KOP has a thriving local economy built on manufacturing, scientific services (KOP is now home to one of the world's largest life science coworking ecosystems and has been home to a number of pharmaceutical companies), healthcare and more. 
Beyond the shopping and commerce, though, is an equally vibrant community with near-constant local events, sports, parks, and easy access to the outdoors. Add in lots of options for restaurants and cafes, and it's easy to see why this region has seen a surge in popularity over the past several decades.
What's the commute like?
Of the three, King of Prussia offers the easiest commute to Center City - expect about 35 minutes by car during light traffic or about an hour by public transit. 
Plenty of KOP inhabitants, of course, both live and work in KOP, making for an easy commute (residents generally get around by car, though limited public transportation is an option). KOP is about 17 minutes from Collegeville, and about 18 minutes from Phoenixville.
SEPTA's King of Prussia Rail Project (KOP Rail) will extend the existing Norristown High Speed Line (NHSL) 4 miles into King of Prussia (KOP), providing a high-speed, "one-seat" ride from any station along the NHSL.
Local Real Estate Market: KOP
King of Prussia has a healthy mix of housing stock. While there are ample single-family properties, townhomes and condos are fairly plentiful as well - giving options for residents of all ages. Colonial-style homes are popular here, and King of Prussia homes for sale take about 38 days to go under contract.
Average home price today: $374,700
Average home price 5 years ago: $299,000
Average property value appreciation for 2020: 7.6%
What our Local Realtor Has to Say:
"King  of Prussia offers the lowest taxes in the area due to the industry and businesses in the township.  With that being said, world class cuisine resides in the Town Center, KoP Mall and surrounding areas.  The upscale urban feel to the Town Center provides folks of every age the opportunity to enjoy  outside music, walk to restaurants and bars and tons of shops. This is one-stop fun for everyone."  -Senior Buyer Agent Isabella Faro-Winkelman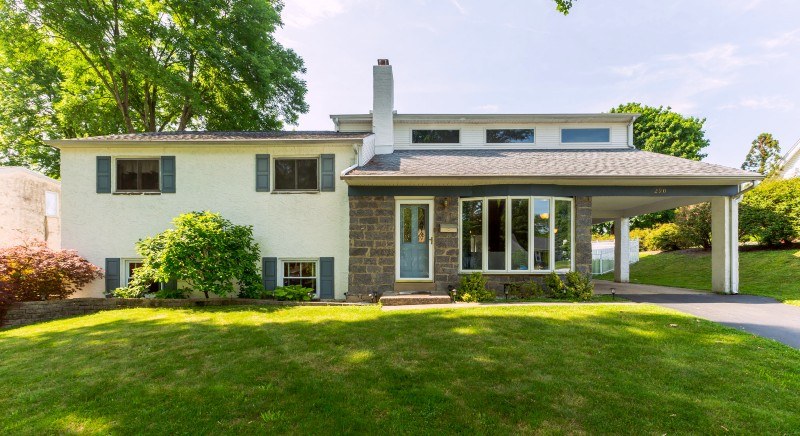 This KOP home sold for $529,000 through Houwzer