The Jacksonville real estate market has been hot this year, prompting many local homeowners to consider the merits of selling their home. By selling now, you can maximize your profits. Jacksonville, FL represents a unique local market, though, and it's a good idea to familiarize yourself with it before jumping all in. Here's five things you should know about before selling your home.
1. The Jacksonville real estate market
It's a good time to be a home seller in Jacksonville. According to Redfin,
The median sale price is $265,000 - up 15.7% YoY
Homes are on the market for a median of 22 days (compared to 42 last year)
In other words, Jacksonville properties are appreciating in value year over year, and the local market is fairly competitive - which means it's a good time to sell your home and potentially see a multi-bid situation that can either push the selling price up, or allow you to accept an offer with fewer contingencies.
So: should Jacksonville homeowners pull the trigger on selling?
"Prices are great right now - we don't know what the future holds," advises Jacksonville-based listing agent Ileana Perez. "If it benefits you and your family and it makes sense to you, then do it."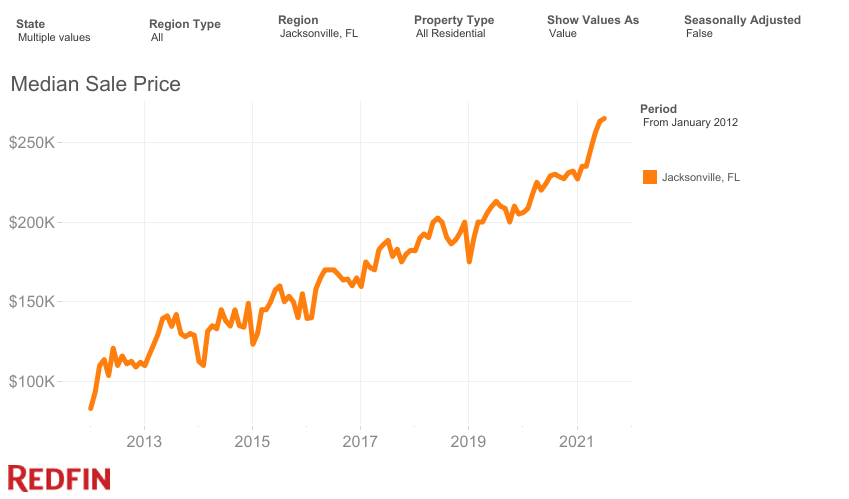 2. The best/worst times to sell your home in Jacksonville
According to local market data via HomeLight, December is the best month to sell a home in Jacksonville (6.10+), while January has proven to be the worst (-9.63%). If you're interested in selling your home quickly, then the best month to do so is August (8 days below average) rather than February or January (15 days average).
Your Jacksonville Realtor is an important resource for deciding when the best time to sell is - current national and local trends may not be reflected in past data.
3. Jacksonville iBuyers: should I sell my home to a "We Buy Houses" company?
Today, there are several iBuyer companies like Offerpad and Zillow offering to buy homes in the Jacksonville area, and there are benefits and drawbacks to working with them.
iBuyers can be a good solution for distressed properties and properties located in cooler markets, because they allow sellers to offload their property immediately without any extra work or waiting. Most sellers today, though, benefit from taking their homes to the open market because homes are selling quickly, and competition and multiple bids drive home prices up.
The perception is often that the iBuyer experience will be more profitable. Despite cutting agents out of the equation, though, iBuyer companies still charge extensive fees. Each company is a little different, but their estimation and fee structures tend to be fairly similar. As we noted in our review of Offerpad, for example:
Offerpad fees are 6-10% in addition to closing costs.
A MarketWatch study determined that, once fees and other costs are considered, iBuyer offers net 11% less for homeowners than their counterparts on the open market do.
There is no negotiating and no agent to represent you. You either take the offer (and accept their deductions for repairs, which can be in the thousands of dollars) or you leave it.
"When it comes to selling a house, you need to work with a qualified individual who is experienced and knows how to negotiate, read a contract, and foresee issues that could come," explains Perez. "And I'm not sure these iBuyer programs protect you in that way. Most of them are not even local."
4. Taxes and closing costs in Jacksonville
As we've noted in our Florida Closing Costs guide, home sellers are responsible for a variety of expenses that can total from 7-9% of the home's selling price. These expenses include:
Real estate commission (up to 6% of purchase price)
Transfer taxes/documentary stamp (selling price of home divided by 100, then x .7)
Promissory note (mortgage amount divided by 100, then x .35)
Intangible tax (promissory note amount x .002)
Title search fee ($1,500- $2,200)
Property taxes (since these are paid at the end of the year, sellers may need to pay back the buyer for the part of the year they were living there)
Jacksonville home sellers can use Houwzer to save on closing costs - Houwzer charges a $5,000 flat fee for full-service listings, with 2.5% for the buyer's agent (as opposed to a traditional 3%/3% split).
5. Jacksonville home sellers can work with Houwzer to profit more
Houwzer is changing the real estate industry and putting profits back in the pockets of home sellers. Over the past several decades, technology has fundamentally changed the real estate industry and made it easier for brokerages to scale listing services. Brokerages, however, have been reluctant to pass these savings on to the consumer. That's why Houwzer is able to offer full-service listings with an experienced Realtor for a flat fee of $5,000.
Houwzer also hires Realtors to specialize in one side of the transaction - not both. In a traditional brokerage, an agent might assure clients that they've successfully closed on 10 homes that year - while glossing over the fact that all of their clients were buyers. Selling homes and buying homes are fundamentally different jobs and by specializing in one side, Houwzer listing agents become experts in listing homes, negotiating, and advocating for sellers.
Finally, Houwzer agents receive a full salary, rather than a commission. This allows them to focus on client satisfaction, rather than commissions. You'll never have an agent pressuring you to opt for renovations you don't need, or choosing a deal that doesn't work as well for your needs.
Contact our Jacksonville listing office today.
For further reading