Potential homeowners who have been patiently waiting and saving for their new home have been hit with a startling reality: the housing market is so hot that according to Redfin's latest data, over half of all homes are selling for over asking price right now. Additionally, the median sale price has jumped about 25% since the same time last year.
Not surprisingly, plenty of would-be homebuyers are now asking themselves: should I buy a house right now or wait until 2022?
There's plenty of reasons you may want to wait, but you might be surprised to discover that it is a great time to buy for many people, despite the high prices. Here's what you need to know.
Mortgage Rates are Historically Low
There are plenty of would-be homeowners right now hoping to time the market and wait for home prices to fall. The trouble is, even experts have trouble correctly predicting the trajectory of the housing market: there were plenty of people predicting that the housing market would slow down and cool off in 2021 (and we can see how that turned out).
The downside to waiting for prices to fall is that you risk mortgage rates rising, and one thing we know for sure right now is that mortgage rates are at a record low. Using BankRate's loan calculator, consider this scenario:
You buy a home today for $450,000 at 2.875%, with 20% down and a 30 year mortgage - your monthly payments will be $1,493 before taxes, insurance, etc. and over the lifetime of the loan, you'll end up paying (loan+interest) $537,830.
Let's assume this home can be purchased for $410,000 due to a cooler market in 2022. If the mortgage rate goes up by a single percentage point over the next year (a rate of 3.875%), and with all other factors staying the same, your monthly payments will be $1,542 before taxes/insurance, and your total amount owed would be $555,380.
In other words - by paying $40,000 more while locking in a lower mortgage rate, in this scenario, you actually save money over the life of the loan by buying today. Again: it's impossible to predict exactly what will happen, but you won't necessarily save money by waiting for the housing market to cool. In fact, you might still pay more.
Rent has Increased to Match the Housing Market
Yes, home prices have come up, and you can try and wait them out. However, rent prices have been going up as well. At the end of the day, you're still paying someone's mortgage - it's just not your own.
According to data from Realtor.com, rental prices in 44 out of 50 of the country's largest metro areas have surpassed their pre-pandemic levels. Nationwide the median rent is now at a historical high of $1,575 (as of June) - which is up 8% from just last year.
Unfortunately, the entire housing market is being squeezed upward right now due to low inventory, so renting is not an escape from high prices.
"If you're renting and you're waiting for the market to soften and you sign another lease, most people are paying a minimum of $1,500 a month rent right now," observes Orlando-based buyer agent Renee Benson. "So that's $1,500 that you'll never see again, and you might be waiting for the housing market to soften - but it may never soften $1,500 a month worth."
An additional benefit of having a mortgage is that your mortgage payment stays the same. Once your lease ends and you go to re-sign, your landlord can ask you for $200 extra a month if they want, but the bank can't ask you to pay more for the same reason. Your mortgage serves as a hedge against the rising cost of housing.
Every Local Market is Different
On the flip side of things, many sellers have heard about how hot, hot, hot the market is and gone to sell their homes - only for their house to go for under-asking and thousands of dollars less than they expected. What gives?
The reality is that local markets don't always follow national trends. The suburbs were especially hot during COVID-19 as homebuyers looked for ways out of crowded cities and more room to work in. Conversely, though, the condo market and overall city markets softened in certain areas.
As an example: In Philadelphia, two popular neighborhoods close to Center City actually saw price depreciation over the past year.
Spring Garden is down -17% YoY (year over year)
Washington Square West is down -25% YoY
This compares to an appreciation rate of +12% for overall Philadelphia, and +57%, +47%, + 44% for the Philly suburbs of Ambler, Jenkintown and Swarthmore, respectively. Most of the recently sold homes in Spring Garden and WSW are condos and apartment units, whereas most of the homes sold in the suburbs were single-family homes. (data source: Redfin)
This isn't to say that all single-family homes are appreciating rapidly, or that all neighborhoods with condos are depreciating. What you need to keep in mind is that every local market is unique and what your friends', coworkers' and neighbors' experiences have been with the housing market may not line up with your own.
Two families can look for homes in the same city but come away with completely different home-buying experiences depending on the neighborhood they're looking in, the budget they're working with, and more. Always consult with a Realtor to get the best sense of what's actually happening in the area you want to live.
The Housing Market Isn't Going to Crash
Go on Twitter any day of the week, and dozens of would-be homeowners are waiting for the housing market to crash. Unfortunately for them, prices are unlikely to drop dramatically anytime soon, so they might be in for a long wait.
Source: Twitter
Home prices did rise dramatically before the last crash, but rising prices were a symptom of a larger problem. Lenders were giving out high-risk mortgages to individuals with poor credit history, allowing more people than ever to buy homes - pushing prices up. As soon as the market softened a little bit, thousands of people who couldn't keep up with their monthly payments ended up owing more on their loan than their home was worth - leading to foreclosures that flooded the market and dragged prices down further.
While the subprime mortgage crisis was a much more complex event than we can cover here, it's sufficient to note that lenders today have much more stringent requirements for home loans, and a crash - at least one caused by bad mortgages, like before - is very unlikely.
Right now prices are rising because many people want homes - and are well-qualified to own a home - but there simply aren't enough properties available for purchase.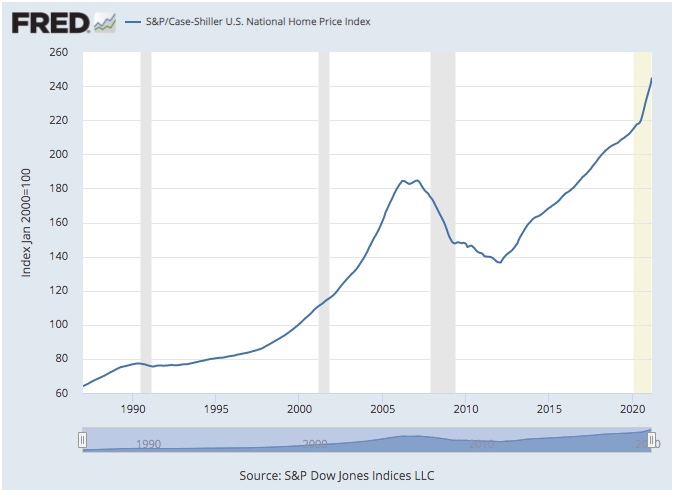 The 2008 Crisis was an anomaly; for the most part, home prices in the US rise over time. Source: FRED
To summarize, it's a smart time to buy right now because:
Mortgage rates may go up
Rent has increased
Every local market is different
The market won't crash in 2022
If You're Not Ready to Buy Today, How Can You Prepare for 2022?
You may not be ready to buy today, but there are plenty of ways you can get ready to buy - so that when the time comes, you're able to get your dream home. Here's what you should do:
Interview Realtors.
If you go to McDonalds, it's okay to walk to the first available cashier. This isn't a Big Mac, though - it's an expensive, complex transaction. Realtors vary in experience, expertise, and areas of specialization, so don't just pick the first person Zillow recommends to you.
"You're going to want to have someone you can communicate well with, someone that you like, and someone you feel like you can trust," advises Renee. "An agent that might be a good fit for a different personality type may not be a good fit for you. So I think it's always important to get to know the person, read their reviews, do due diligence on the agent, and make sure they're a good match for you."
For more guidance, check out our guide 15 essential questions to ask a Realtor.
Get your Financing in Order.
If you're better prepared to finance a home, ultimately the home buying experience will be less stressful. Use this year to improve your credit score, save money for the down payment and closing costs, and work on your debt-to-income ratio. Meeting with a mortgage advisor ahead of time can help potential homeowners get ahead of issues that may hold them back from qualifying for their dream house.
For Further Reading