Orlando is one of the most pet-friendly cities in the U.S., ranking second only behind Scottsdale, Arizona! This ranking means that Orlando has more veterinarians, pet businesses, animal shelters, and dog-friendly restaurants than most cities.
While there are plenty of neighborhoods in Orlando, FL that can be a great place to raise a fur baby, we've picked these three to highlight based on several of the amenities they offer. 
Lake Eola Heights 
You might expect that the best Orlando neighborhoods for dogs involve huge yards in the suburbs. But despite being in the heart of the city, historic Lake Eola Heights has plenty to offer man's best friend.
This neighborhood boasts an impressive number of dog friendly restaurants, making evenings out a cinch. Within walking distance are multiple pet-friendly eateries and bars including Kres Chophouse, World of Beer and Eola Wine Company. Eola Wine Company even offers a "Chowcuterie board" for pups! Not to mention, the local Orlando Farmer's Market is known for being dog-friendly: 
"On Sundays, Orlando's largest Farmer's Market is hosted at Lake Eola, the event is extremely dog friendly and you will even find that many vendors sell products specifically for pet owners," notes Orlando Realtor Jeffrey Colom. 
According to MyNews13, the most popular dog to have in Orlando is a French Bulldog, followed closely by Labrador Retrievers. Both breeds are very sociable and struggle to be left alone for 8+ hours of the day. For dog owners who work downtown, being so close to home can allow for a quick walk during the workday and an extremely short commute - and Lake Eola Heights is located in the Eastern part of downtown Orlando.
The "chowcuterie board" available at Eola Wine
Trulia dog-friendly neighborhood rating: 97%
Dog-friendly establishments: Craft & Common, The Stubborn Mule, Wavelength Coffee and more
Baldwin Park
Baldwin Park has long been a highly desirable neighborhood in Orlando, FL. Only a 15 minute drive from downtown, Baldwin Park offers the right mix of urban amenities and suburban space that can be perfect for raising a pup. The neighborhood is located next to Lake Baldwin Park, the only 100% "dog-friendly" city park – dogs can be off-leash during park hours.
Inside the park is the Lake Baldwin Dog Park, a local gem that even includes a washing station to make dirt and mud cleanup easier after playing. Dogs can have a run or even go for a swim at the lake. In addition to ample nature spaces, it's possible to find a home with yard space in Baldwin park. 
"Baldwin Park is a favorite neighborhood for Orlando dog owners," explains Colom. "Almost all homes, shops and restaurants are within walking distance and the sidewalks are well shaded and offer beautiful scenery. There are many courtyards and patios that offer dog-friendly outside seating. There are also several nearby parks with walking trails and open spaces where dogs and their owners frequent to play."
Trulia dog-friendly neighborhood rating: 98%
Dog-friendly establishments: Tutto Caffe, Briarpatch Restaurant, Tactical Brewing and more
Winter Garden 
For a dog-friendly suburb of Orlando, look no further than Winter Garden. With a thriving downtown of its own, there's plenty to discover here. Former railway turned walking trail–the West Orange Trail–spans 21 miles through Winter Garden and is popular with bikers, hikers, and leashed dogs alike. According to BringFido, there are 17 pet-friendly restaurants in Winter Garden, and the majority of homes for sale in this neighborhood have plenty of space for your furry friend to exercise. 
"Downtown Winter Garden is another favorite area for dog lovers," notes Colom. "Shops and restaurants are located along the West Orange Trail allowing for a long stretch of area for dog walking and outdoor seating. There is also a large Farmer's Market on Saturday's and a local brewery that are both dog-friendly."
Trulia dog-friendly neighborhood rating: N/A
Dog-friendly establishments: Hagan O'Reilly's Pub, Winter Garden Pizza Company, Paloma Coffee Co., and more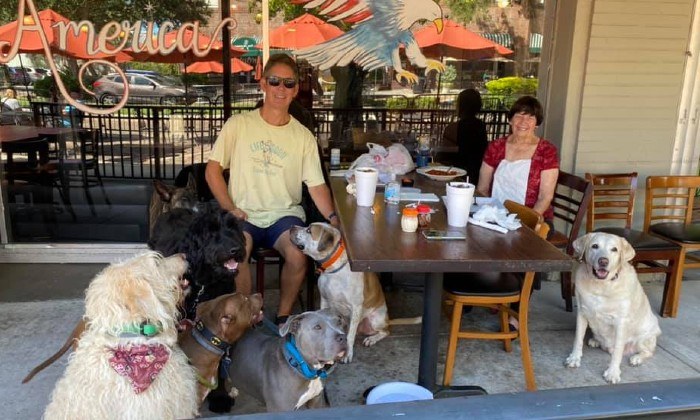 Winter Garden Pizza Company loves friendly pups!
What to Look for in the Greater Orlando Region
In all likelihood, you'll be leaving your neighborhood (with your loyal companion, of course) from time to time. When you do, keep an eye out for:
Woof Gang Bakery and Grooming - with 25 locations throughout Central Florida, this specialty pet retail and grooming chain serves the head-to-tail needs of pets with a personal touch. They carry healthy pet foods, gourmet treats, pet supplies and accessories. Professional pet grooming is offered at all locations for complete pet care and pampering.
Dog-friendly chains - stores like Bass Pro Shops and Lowes allow dogs to shop with their owners - check this list of dog-friendly retail chains in Orlando.
This is an extremely handy Orlando neighborhood map of 600+ pet services in the region!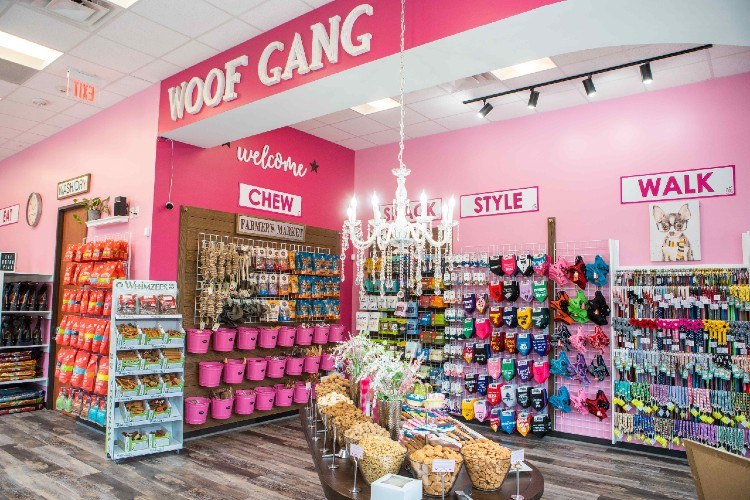 Interior of Woof Gang
Tips and Important Facts for Florida Dog Owners
Every state is different: here's what you need to know if you own, or plan to own, a dog in Florida. 
Dogs older than 4 months need a rabies vaccination, complete with annual boosters. Failure to vaccinate can result in a $500 fine. 
Florida does not restrict dog breeds, though breeds can be restricted by cities. Orlando, for example, does allow Pit Bulls - but Miami does not. 
If your dog has ever bitten anyone, Florida may decide it is a "dangerous dog" and can require you to take steps to protect others. If your "dangerous dog" bites again, you can be charged with a misdemeanor. 
Certain dog breeds fare better than others in Florida's taxing heat and humidity. Dogs with thick double coats (like the Saint Bernard) and brachycephalic dogs (like the Pug, or Pekingese) struggle when it's hot and humid out.
Here are are important tips for keeping dogs cool and safe in the heat!
For more info on house hunting, taking care of homes in Orlando, and more, visit our blog.