Considering that over 90% of pet owners consider their pet part of their family, it's no surprise that people keep their dog's needs prioritized when looking for new homes. 

According to Patch.com, Baltimore doesn't rank too highly on the list of dog-friendly cities in the US - which means it's especially important for homeowners to pay attention to which areas are dog friendly. 
What are the most dog-friendly neighborhoods in Baltimore? Here's what you need to know. 
Best Neighborhoods in Baltimore for Dogs: Mt. Washington
Mt. Washington is well-beloved by dog owners: in fact, it's hard to walk down these streets too long before coming across a fellow Fido. It's a place to relax and get away from the hustle and bustle of downtown, while still enjoying close proximity to amenities and the city itself (just a 15 minute drive to downtown via the 1-83). 
There's plenty of outdoor attractions, like the Mount Washington Arboretum, that make this area appealing to dog lovers. This is also a neighborhood with its own dog park - Cartyson Haner Memorial Dog Park - for days you want to take your dog off the leash and socialize. 
Victorian homes and large, pet-friendly backyards are easy to find in Mt. Washington, and a village-esque vibe makes this an attractive place to live and raise a family. The majority of homes available are single-family homes, though there are some condos.
Best Neighborhoods in Baltimore for Dogs: Butcher's Hill 
For homeowners who prioritize the ease of city living, Butcher's Hill is a great place to put down roots. The neighborhood - which has been around since the 1850s, when it was common for butchers to live above their shops in the area - is residential in flavor, with plenty of unique architectural detailing and brick row homes. 
A high walkability score appeals to both man and dog alike. Dozens of trendy eateries, as well as the harbor, are within easy walking distance. The extensive, 140 acre Patterson Park, which includes the Patterson Dog Park, is right next door and allows plenty of opportunities for energetic pups to stretch their legs. 
Best Neighborhoods in Baltimore for Dogs: Charles Village
Only 15 minutes away from downtown - with most major bus lines running through for easy public transport - the residential neighborhood of Charles Village has plenty to offer dogs and their human companions. The neighborhood's location next to Johns Hopkins University means there's a safe, collegiate atmosphere, making it an ideal spot for young professionals. Residents extoll the large number of bars, restaurants and music venues in this area.
Tree-lined streets make for inviting dog walks, and there's several dog-friendly parks and wooded areas in the neighborhood/in close proximity, including Stony Run Field and Wyman Park Dell (note: this is technically not a dog park, but area locals have accepted it as a leash-free area for years). Row homes are easy to find in this area, and dog owners shouldn't have too much trouble finding one with enough yard access to keep Spot happy.
Best Baltimore Neighborhoods for Dogs: Locust Point
Tucked around the harbor in South Baltimore is Locust Point, a popular destination for dog owners. Why? This cozy neighborhood not only offers beautiful waterfront views of the city - it also boasts plenty of green space along with affordable housing options. Brick row homes are typical here, and it's not too difficult to find a home with a small backyard or deck ideal for letting Fluffy out.
This quiet neighborhood will win you over with its walkability. Not only is there plenty to see in the local neighborhood, but a water taxi connects Locust Point residents with the heart of Baltimore's hip downtown areas. Meanwhile, the local Latrobe Dog Park allows ample opportunity for pups to socialize off-leash.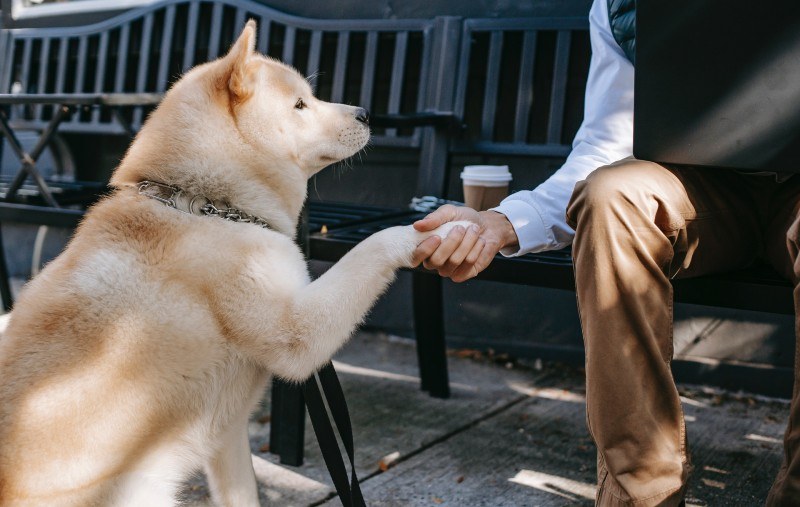 Owning a Dog and Living in Baltimore
Like many cities, Baltimore has several rules and regulations regarding dog ownership. If you're new to the city, or new to owning a dog, here's what you need to know. 
Baltimore has a leash law - your dog always needs to be leashed when not on your property (with the exception of dog parks)
All dogs are supposed to be registered with the county by four months of age (or within 30 days if you're moving to Baltimore). While most dogs can get away with being unlicensed, the advantage of licensing is that it can make it easier to have your dog returned to you, if it gets lost. 
All dogs need to be vaccinated against rabies starting at four months of age.
If your animal bites someone, you're legally obligated to report this to the police. 
There is no statute governing pet deposits or pet fees (meaning a landlord can require one).