With more than half of Americans now counting themselves as "foodies," it's no wonder that nearby restaurants and cafes are a more important consideration for home buyers than ever before. Being able to walk to a top-rated restaurant is an amenity many are willing to put on their "must have" list while home searching. 

Philadelphia is no stranger to foodie culture. It's home to numerous award-winning chefs and restaurants (including the 2019 Best Restaurant In America), and has been praised by Travel and Leisure as having a more vibrant restaurant scene than even NYC. 
If going out for after-work dinner or Sunday brunch is a highlight of your week, what neighborhoods should you be paying attention to? Here's our list of the best Philadelphia neighborhoods for yummy meals with innovative twists - see if you agree.
Fishtown
Welcome to Fishtown - locals know it as the hip place to be, especially if you're a 20 to 30-something. This is the section of the city where culinary trends aren't just finessed - they're born.
Living in Fishtown is a great option for homeowners who don't necessarily want to be in Center City - or pay Center City prices - yet appreciate a vibrant nightlife and endless options for experimental cuisine. If you're moving here from NYC, this is one of the best neighborhoods in Philadelphia for anyone craving a Williamsburg-esque experience.
It's also a neighborhood of contradictory combinations that somehow work just right. The La Colombe Coffee Roasters flagship location serves as a trendy cafe by morning before transforming into a chic after-hours spot with an on-site distillery, while Cheu Fishtown adds hip touches to classic Asian dishes (think: veg-friendly sweet potato rangoon). And then you have Murph's, the unassuming Irish pub that is said to serve some of the best Italian food North of Vine Street. Make reservations, since the wait is often over an hour long for one of the 18 seats located in the back of the pub.
"Fishtown's food scene has a vibe like no other," notes Philly-based food blogger Roxanne McClaren of LoveandSeasoning. "The fast-growing community knows food, and is very interested in new and upcoming restaurants in the area. You won't feel short of flavor when picking somewhere to eat or even grab a cup of coffee because many of the places, you can feel, are filled with love and community. Places like Front Street Cafe, Suraya, and Kensington Quarters should be on your restaurant wish-list."
Taste test:
photos provided by Cheu Fishtown
West Philly 
West Philadelphia is a ten minute ride from Center City, but the tree-lined streets of Victorian homes can feel like it's a world away from the bustle and hustle of downtown Philly. This multicultural neighborhood is home to many top rated restaurants that reflect its diverse population. And unlike the polished finish you'll encounter in Rittenhouse, these restaurants often come with a homey, cosy atmosphere perfect for family dinners and date nights alike. 
Say "Ethiopian food" to anyone in Philadelphia and they'll likely reply with "Abyssinia," located in the heart of West Philadelphia. This unassuming restaurant serves shareable, delicious meals. You may have heard about the "secret" bar upstairs, as well - the secret may be out, but award-winning whisky bar Fiume maintains some serious speakeasy vibes. Somehow, a live bluegrass band is squeezed into the small space for a thoroughly unique experience every Thursday. 
West Philadelphia is the best neighborhood in Philadelphia for homeowners craving dog-friendly yard sizes, friendly neighbors, and food with a home-cooked finish.
Taste Test: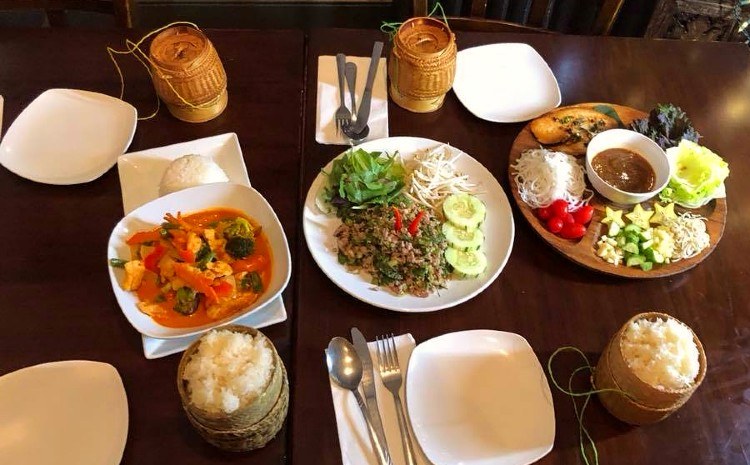 Photo courtesy of Vientiane Cafe
Chestnut Hill
Venture into the Philadelphia suburbs and you'll find Chestnut Hill nestled next to the Wissahickon Valley Park. The main thoroughfare is the cobblestoned Germantown Ave - lined with cozy shops, trendy cafes, and restaurants with creative outdoor seating. In winter, hundreds of string lights add a festive feel to this tree-lined neighborhood. 
When it comes to food, this is one of the best places to live in Philadelphia for elevated cuisine that doesn't skimp on the accompanying ambiance and visual flavor. Cake, for example, is a restaurant and bakery located in a converted Victorian greenhouse for a truly unique atmosphere. Light streaming in through all-over glass panelling is shaded by tropical plants, and brunch options like brioche french toast ensure this place is always packed. And Chestnut Hill Brewing Company, which specializes in high quality, small-batch beer and wood-fired Neapolitan pizza, has a rustic outdoor seating area that hits the difficult notes of being comfortable and Instagram post-worthy at the same time.
Taste test: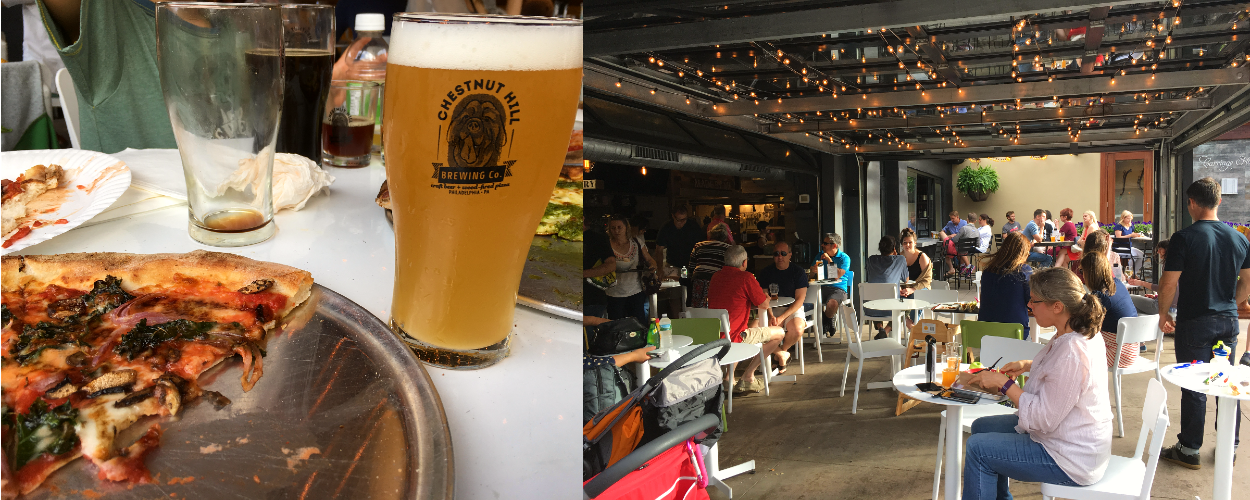 Photo courtesy of Chestnut Hill Brewing Company
Italian Market/Bella Vista
The Italian Market/Bella Vista neighborhood gained a national audience when the fab five on Netflix's Queer Eye helped elevate a family fish stand into a new local seafood restaurant, Alma Del Mar. Bella Vista didn't need the help, though: it had a thriving restaurant culture already.
Although Italian restaurants are ubiquitous here - including Ralph's Italian Restaurant, the olden Italian restaurant in the U.S. and 7 time winner of Best of Philly - this area is home to a diversity of cuisine, including Kalaya (Thai food) and Bluecorn (Mexican), among many others. Stroll from your brick-front row home in any direction and you're likely to end up at a beloved neighborhood joint.
Unique to this neighborhood is the large number of BYOB restaurants within walking distance - and rarely is there an uncorking fee. This easygoing vibe is why many locals feel it's one of the best neighborhoods in Philadelphia to live in. Bring your favorite bottle of Cabernet while enjoying meals from top-rated local restaurants. 
Taste test: