If you're a city lover at heart, leaving Philly can be hard - but the suburbs are often calling, for various reasons (kids, space, commute, affordability, etc). Many of Philadelphia's suburbs, however, are highly walkable and lively areas that can appeal to even the most urban-leaning homebuyer.

"I think it's mostly the space [that causes people to move]; it's very packed in certain areas of the city - row home after row home, lack of parking, outdoor space, and some people have growing families and want their kids to go to a different school district. Rent keeps getting higher. So people consider moving and buying somewhere that they want to be longer-term than the city," explains Philadelphia suburbs-based buyer agent Anabelle Rodriguez.
Not everyone is willing to give up the convenience, walkability, and energy of city life, though - if that's your concern, these are the best Philadelphia suburbs for you.
Phoenixville
If you're looking for an energetic Main Street experience, it's hard to beat Phoenixville's Bridge Street. Wide, brick-lined sidewalks line this street, which is closed off to traffic on weekend nights in order to allow easy mingling among the many bars, boutique stores, restaurants and live music events that line it (fun fact: this street has more brewpubs per capita than any other community in PA!). Locals consider it a huge plus that it's not necessary to travel far for a great meal.
Apart from this, Phoenixville is an easy place to settle down in thanks to a lush local landscape, quiet communities, beautiful single-family homes, and friendly neighbors.
Walkability: 85/100 (most errands can be done on foot)
Commute: 1 hour 30 min by public transit, 50 min by car (traffic dependent)
Median home price: $371,000
Chestnut Hill
Walking through Chestnut Hill is like strolling through the set of a Hallmark movie. It's hard to believe this tiny community could be so picturesque and full of life - but that's Chestnut Hill. Sitting at the city's Northwest corner, this area is known for its leafy sidewalks, trendy eateries, colorful architecture, and unique clothing and gift boutiques all along historic Germantown Avenue. Residents have an easy commute to the city for a night out, but there's often no reason to leave the neighborhood considering all the bars, breweries, and top-rated restaurants that are a stone's throw away.
In winter, holiday lights all along the main throughways twinkle throughout the night, keeping moods merry. For outdoor enthusiasts, the nearby Wissahickon Valley Park offers endless pathways for walking and hiking. If you decide to buy a home here, note that there are both starter-friendly condos available as well as giant, sprawling mansions (which tend to push the median home price up).
Walkability: 65/100 (many errands can be done on foot)
Commute: 40 min by public transit, 30 min by car (traffic dependent)
Median home price: $672,500
Conshohocken
Conshohocken is the perfect suburb for those who don't want to let go of that downtown feel - yet really want to get away from downtown Philadelphia. Tall, reflective condo buildings and a range of chic eateries and cafes lend Conshy that urban feel, yet ultimately this is a more quiet and laid-back area with single-family homes and parking available for those who want it. Hang out with your neighborhood friends at Conshocken Brewery, or bring your kids to the playground at Sutcliffe Park.
For commuters who need to go further out to KOP, Conshohocken often represents the perfect compromise - you aren't deep in the Philly suburbs, but you're also not committing to an hour's commute to and from the city every day.
"Conshohocken has a younger feel to it. There are a lot of offices and more companies that are based out there. It's not as spread out as Ardmore, for example - it definitely has more of a city feel," notes Rodriguez. "If you're coming from Philly, it looks a bit more open but it still feels like a city. It doesn't feel that suburban. It's close to the Wissahickon so a lot of people who like to go hiking and have dogs want to take advantage of what's there."
Walkability: 70/100 (most errands can be done on foot)
Commute: 33 min by public transit, 30 min by car (traffic dependent)
Median home price: $370,000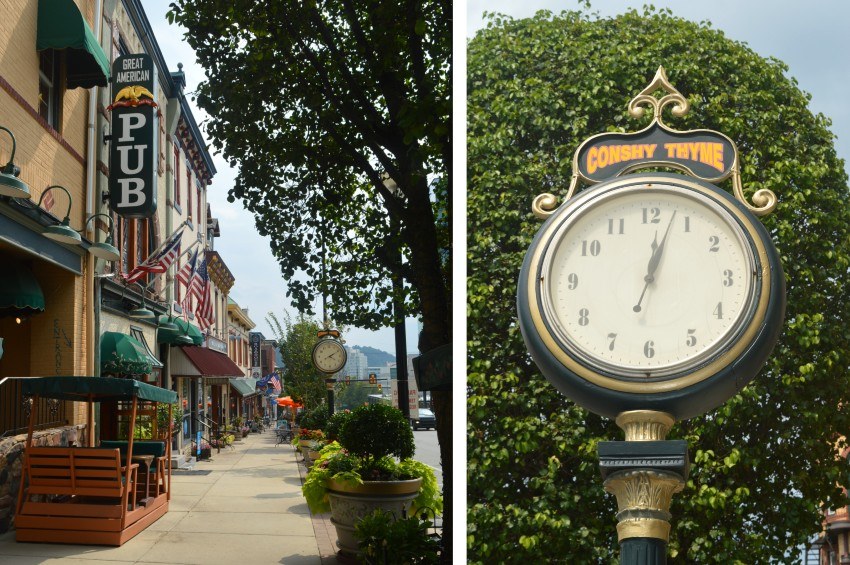 Swarthmore
Swarthmore may be best known for its namesake college, but it's a thriving, beautiful community in its own right. Home to a small but growing restaurant scene, Swarthmore also draws in residents with its proximity to nature trails, its tree-lined streets, and the prize-winning Swarthmore CO-OP, a cooperative food market. The walkable downtown area helps residents feel a sense of a cultural center, rather than simply wide expanses of suburban homes.
Despite being home to a college, this area avoids the negative "college town" vibe - this used to be a dry town so bars tend toward the wine and bistro variety, rather than the seedy dive bar with drunk co-eds variety. Using the Manayunk/Norrisville line, this borough is also a straight shot to Center City - commuters can get there in about 35 minutes.
Interested in finding out more about homes in this area? Contact our Philadelphia suburbs team.
Walkability: 73/100 (most errands can be done on foot)
Commute: 35 min by public transit, 30 min by car (traffic dependent)
Median home price: $293,000
What Should You Keep in Mind When You Move to the Suburbs of Philadelphia?
Moving from the city to the suburbs can be quite the transition. What do you need to keep in mind?
Tax increases: "Taxes in the suburbs are usually higher than in the city, so that is something that gets really overlooked when people are thinking about their budget," notes Rodriguez.
Newer housing stock: Homes in the suburbs tend to be younger than homes in the city. The average age of a home in Phoenixville, for example, is 60 years, compared to Philadelphia's 71 years. This is generally a good thing - you're more likely to have air conditioning built into the home, and less likely to have outdated electrical wiring.
Fewer going-out options: "Restaurant options are sometimes limited in certain suburbs. Many of the people I know do date night in the city when there's no hub, no food industry or activities nearby," explains Rodriguez. If going out is important to you, make sure you choose a suburb that has ample choices for that so you don't necessarily need to travel to Center City every time.
For Further Reading