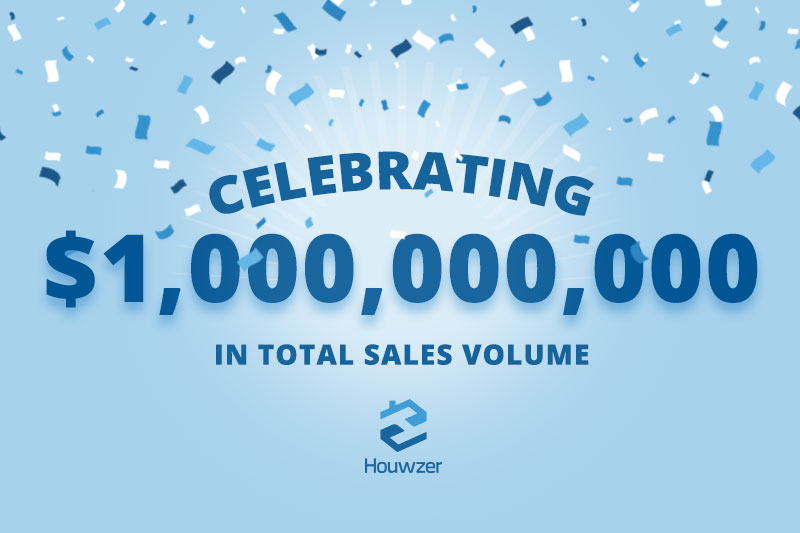 This November, Houwzer hit $1 billion in total buy/sell sales volume. The billion dollar mark is a notable milestone, and we'd be remiss if we didn't take this time to reflect on how far we've come in just five years. We wouldn't have been able to do it without a clear vision – as well as the unwavering dedication of the Houwzer team. Without them, we wouldn't be where we are today.

How We Got Here
Kevin Baird and I started this journey back in 2014 with a fundamental belief that the real estate industry needed a new model – one that aligned the interests of the consumer, the agent, and the broker.
Other industries had leveraged technology and embraced innovative solutions, but real estate was somehow still dominated by traditional players who weren't doing anything to reduce friction in the process or the high price tag. The real estate industry was broken. It was rewarding a select few at the expense of many. We didn't just need a better pricing model – we needed to rethink the real estate brokerage model altogether.
A New Way to Buy and Sell Homes
First, it no longer costs 6% to sell a home. Second, we believed the independent contractor labor model was fraught with conflict and exceptionally high turnover. Third, we knew that technology could streamline a chaotic and confusing process. And most importantly, we believed that a culture that valued all of its stakeholders could do amazing things.
And we were right. Not only were the fees out of line with modern technological efficiencies, but the process of buying a home was often more stressful than it needed to be. A home is the biggest investment most people make, and it's not something they want to rush. 
I often talk about how every real estate transaction is complex, unique, infrequent, emotional, and expensive – which is what makes the human guide an irreplaceable part of the process. Other real estate companies that are building technology to fully cut the agent out of the process are missing the mark for a large majority of buyers and sellers. We're building better systems and using technology to assist the agents in offering the best experience for clients at a fair price. 
Another issue we had to address was that as long as agents are paid 100% on commission, the agent's goals aren't aligned with the home buyer's goals of methodically finding the right home for them. Instead, we opted to provide agents a salary with full benefits and training. This not only benefits our agents, who experience less stress knowing they can pay all their bills – but it also benefits our clients. Agents are able to invest as much time as clients need to find the right home, whether that's six weeks or six months. And clients can trust our agents to be unbiased, pressure-free guides and advocates who are truly in their corner.
Creating Meaningful Change
Houwzer is committed to being a force for good. We started by becoming the first and only residential real estate brokerage with a B Corporation certification – a status reserved for companies that meet high standards of social and environmental responsibility. As a B Corp, we consider the impact our decisions have on all stakeholders, balance purpose with profit, and give back through volunteering and supporting charities.
But disrupting an industry this large also presented us with an opportunity to do something special and create meaningful change in our communities. We created the RiseUp Fund with a mission to help accelerate generational upward mobility of the underserved through homeownership. 
In America, homeownership has always been a tool for wealth creation, upward mobility, and familial stability, but it hasn't been accessible to everyone due to compounding structural inequalities in our nation's history. For many, large upfront costs and a lack of resources push homeownership beyond their reach. The RiseUp Fund will help break down these barriers. 
Inspired by other 'buy one, give one' impact models, Houwzer will donate $100 to the RiseUp Fund for every home we help our clients buy or sell. 100% of those funds will go directly to down payment and closing cost assistance for families who need it.
Looking To The Future
Not everyone thought Houwzer would be a hit – particularly the competing brokerages that were comfortable doing things the way they had always been done. But hitting the billion dollar mark and maintaining an average 4.9 out of 5 star rating – even after amassing over 1,000 client reviews over a couple thousand transactions – is validation of our vision for the future of real estate.
To date, we've helped our sellers save over $22 million in commissions through our flat fee model. Our team is now one of the top residential real estate brokerages in Greater Philadelphia, and we're now continuing to grow in the greater metro areas of Washington DC, Baltimore, and Orlando. 
We have several exciting updates planned that will help us revolutionize the way we do business, allowing for further transparency and simplicity when it comes to giving our clients the best experience possible when buying and selling their homes.
It's certainly surreal to be passing the $1B sales volume milestone. But it's just the beginning. It took a small team of true believers, and it's humbling to work alongside such talented people at every level of the company. We set out to change the real estate industry for good, and we have many more billions to go. Coming out of Philadelphia, we've always had a little chip on our shoulder – eager to prove the doubters wrong. But if you're going to start a revolution, there's no better place to do it.
–Mike Maher
CEO & Co-Founder