Are home prices dropping in 2023? It's the question on a lot of homebuyer's minds - and homesellers, too. Everyone is wondering how the shifting market is going to impact them.
What we're currently experiencing could be called a housing market correction. Here's why we don't expect home prices to drop much in 2023 - and keep reading to find out what's expected from 2024.
House prices dropping? What the data shows
If you read newspaper headlines day after day, they can often leave you with a more dramatic impression of the housing market than what is really happening.
Take a quick temperature check and ask yourself how much you think median US housing prices fell in January, as compared to last year. Got a number in your head? Good.
...The reality is that home prices were up 1.4% in January compared to last year, according to Redfin's data. Of course, this might change as we move deeper into 2023. This is also national data, and smaller, local markets may experience a drop (or rise!) in price. But yes, overall, the price went up despite the mortgage rate rising an incredible 2.8% over that same time span.
So why is it happening? The short answer: supply and demand.
One of the major culprits here is the number of homes for sale. As the mortgage rate shot up, anyone who had a low mortgage rate was highly disincentivized to sell. Why go from a 4% to a 7% rate and ultimately get less house for your money? The number of homes for sale during this same period fell 33% compared to the same time last year. That's a huge shrink in inventory, and it helps keep price up. Serious buyers have to make competitive offers when there are so few choices on the market.
Until the mortgage rate comes down - or until sellers get tired of waiting for it to drop - we're unlikely to see a significant drop in price. At the end of the day, there are always people who need to move and can't wait to buy a house, and they're willing to get a home on the higher end of their budget if it means not giving up on owning a home.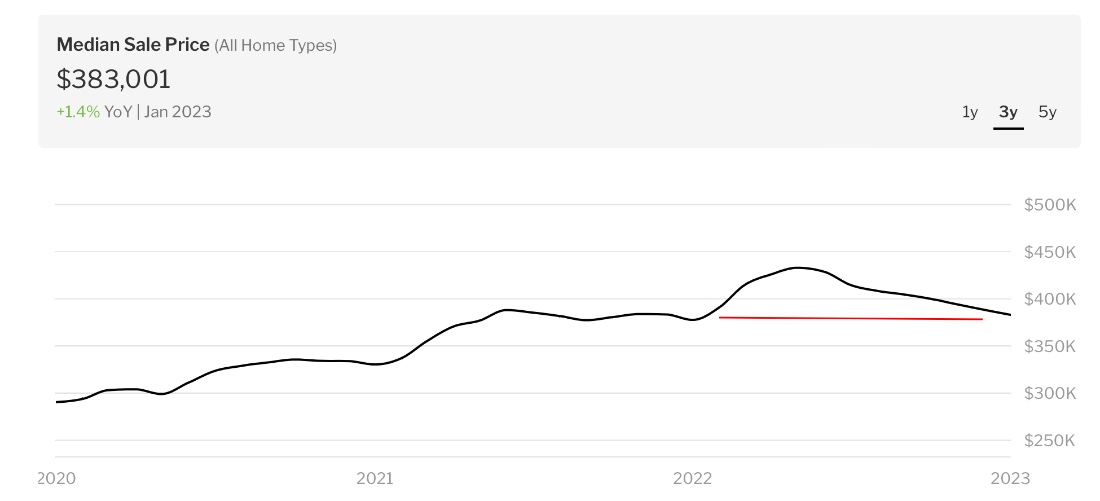 Data via Redfin: red line shows January 2022 compared to January 2023
Will home prices drop in 2023?
The year is still young and we're only starting to enter spring. So this begs the question: will home prices drop in 2023?
We can't say for sure. Plenty of industry experts disagree on exactly what will happen - and a lot of the market's direction will ultimately be controlled by the interest rate.
If the interest rate shot down, home prices would definitely go up. However, the Fed has been trying to tamp down inflation, and keeping the borrowing rate high is their main way of controlling that.
If you want to put a number on all this, take the example of a $300,000 home. A 1% drop in price would be $297,000; a 5% drop would be $285,000.
Keep in mind: if the mortgage rate continues to rise (unfortunately, the Fed is signaling that it might), it could mean that a $300,000 home today has the same monthly payment as a $285,000 home 6 months from now.
Not a crash: a housing market correction
Although there's no formal definition of a housing market correction, most experts would use it to describe a drop of 10% or less in price.
Considering that almost every industry expert is predicting a drop of less than 10% before prices level out and then begin rising again, it's more accurate to say that what we're experiencing right now is a correction to something closer to pre-pandemic housing prices, rather than a total crash.
Home prices in the United States soared 45% from December 2019 to June 2022 - so if the experts are right about this year, chances are that any small drop in price isn't even enough to get us back to 2019 prices.
One way to set your expectations in line with what the market might correct to is checking out what homes sold for in your desired neighborhood around the beginning of 2020. That can give you a better idea of what typical demand looked like before the extremely low pandemic-era rates kicked in - and you can assume that's the lowest prices will likely go during this correction era.
Will housing prices drop in 2024?
If you're thinking about buying a house but not sure whether to do so in 2023, it makes sense that you want to know what's likely to happen in 2024. Here's what the experts are predicting:
Bear in mind that homes have always appreciated in value in the longterm.
Will 2023 be a good time to buy a house?
If you need a house, and can afford the monthly payments, and plan to live there at least several years, 2023 is not a bad year to buy a house.
Are conditions ideal for a home buyer? Definitely not - but you'll never have all the factors working in your favor.
So look on the bright side for 2023. Home prices, for better or for worse, aren't falling by much, but they also aren't moving up. And because the interest rate is so high, many buyers are waiting on the sidelines - meaning there's less competition for the homes that are on the market. Many homebuyers today plan on refinancing once rates come down.
"I tell clients about the advantage of the high-interest rates: there's less competition. You can buy and get what you want right now and then when the rates do eventually do go down, you can refinance," notes Brian Bauer, a Virginia-based Realtor.

Resource: read about the difference between a 6.0% and 6.5% rate, and what refinancing looks like.

Buying now means you also start building your equity today, rather than a year from now.
"My main argument for buying a home now, especially if you buy for the first time: as long as you rent, every payment you make goes into your landlord's pocket. You will never see a penny of that money ever again," notes Maryland-based Realtor Jack Mager. "If you own a home, each and every payment you make basically goes into your pocket. You create equity, that you can dip into down the road, if needed."
Want to know more about your mortgage options and what your rate would be? Keep in mind that if you have a great credit score, your personal rate might be lower than the current national average.
Talk to a Houwzer mortgage advisor
(it's free and there's no obligation)
What's the downside to waiting to buy a house?
If both interest rates and home prices could come down in the future, then why not wait? For some homebuyers, waiting will make the most sense.
However, it's important to consider what you give up by waiting.
A house is a human need before it's an investment vehicle. If you need an extra room to accommodate your growing family now - or a spare room to work from home - waiting a year can impact your quality of life. Waiting and waiting to save 1% or score a .5% lower interest rate might not be worth it in this sense.