While looking at homes for sale, you may have noticed that realtor.com has recently added a flood risk assessment to their property listings. Homes can score from 1/10 (lowest risk) to 10/10 (high risk) and two different measurements are given: an estimate of a home's FEMA flood zone, as well as Flood Factor™.
Here's what homeowners need to know about this new site metric.
Why Does Realtor.com Tell Home Buyers About Flooding?
Realtor.com's goal in adding the flood assessment score is to give homebuyers an additional diagnostic tool when it comes to evaluating their potential home for future risks.
Flooding represents a huge risk to homes. It can have devastating consequences both for an individual property, as well as an overall neighborhood if flooding is persistent. Flooding can be the result of low elevation/high water table/proximity to a body of water, or it can be the result of a major event, such as Hurricane Sandy.
"Floods are among the most common and costly natural disasters in the United States, and the truth is, they can strike anywhere. Even smaller events can have a devastating impact," notes the realtor.com website. "So, whether you're buying or selling a home, understanding a property's potential risk for flooding is important for making informed real estate decisions."
Scientists and climate experts are predicting that flooding will increase over the next several decades as climate change causes more extreme weather conditions and rising sea levels - so it's a risk worth paying attention to.
How Accurate is the Realtor.com Flood Risk?
Realtor.com offers two scores, and one might prove more reliable than the other. The FEMA flood zone score is accurate for the area, not for the individual home. This means that, although a home might be located in a fairly high-risk area for flooding, it's possible that its current owners have taken steps to mitigate the threat (such as creating a slope away from the home) or that the home was built to withstand flooding in the first place (such as a stilt foundation).
How a property's flood information appears on realtor.com
FEMA's flood zone information is also in need of an update - a 2017 report found that many of their maps were out of date due to budget concerns, and only 42% of their flood maps currently reflected accurate flood risk projections. An area that has been labeled 1/10 risk may have actually experienced numerous floods over the past several years. Flood zones are identified by letters (such as V, which indicates a high-risk coastal zone). Here is more information on FEMA flood zones and what they mean.

Flood Factor™, on the other hand, uses data from the First Street Foundation Flood Model, a nationwide flood model that calculates the likelihood of a flood based on a location's history and geographic information - including elevation, changes in the environment, climate, and proximity to water. Similar to FEMA's projection, though, Flood Factor only evaluates the likelihood of water reaching the building footprint, not its interior. In other words, Flood Factor won't account for any efforts prior homeowners have made to flood-proof their home.
The Flood Factor™ scoring system ranges from 1 (minimal risk) to 10 (extreme risk) - as determined by the cumulative likelihood and potential depth of flooding over the next 15-30 years.
Charles Leduc, Chief Operations Officer at Mold Busters, a company that deals with mold that occurs after flooding, observes that "We have had several customers mention the inaccuracy of realtor.com's Flood Factor assessments to us while performing mold remediations. Anecdotally, it is not a good predictor of a home's vulnerability to flooding. We never know when there will be heavy rainfall."
Part of the reason the scoring may seem "off" to some people is that it doesn't predict what will happen in a single year, but rather, the likelihood of it happening over many years. After all, the average homeowner only stays in their home for 13 years - so they could manage to live in a "flood prone" area without ever seeing a flood, by this metric.
Overall, while realtor.com's metrics may not be perfect, they can give you an idea of overall risk for the local area, and also help you predict what sort of flood insurance you'll want (or be required to have).
Should I Worry About How Flooding Impacts My Property Value?
One of the reasons homes located in high-risk areas for flooding have continued to sell is that homeowners typically don't plan on living in their homes forever. The average homeowner sells their home every 13 years, so they're not necessarily concerned about how climate change will impact their property 20 or 30 years from now.
To an extent, though, buying a home in a known flood zone is a roll of the dice. Not only is there a possibility that your home will flood - which, at the very least, can be a very disruptive event - but it can also impact how easy it is to sell your home later.
Insurance rates for flood-prone areas are rising
As flooding increases across the United States, insurance companies have to adjust their costs to cover the potential risk. Flood insurance rates are based on FEMA's risk assessments, and the assessment can change from lower risk to higher risk during the course of a single owner's occupancy. In other words, you could buy a home when it's considered "lower" flood risk, only to see it elevated to higher risk - and with that comes a higher monthly price to pay.
This year alone, the cost of flood insurance will increase for more than 3.8 million policies due to updated FEMA risk ratings. While for many people the increases will be marginal - along the lines of $20 a month or less - for others the change could be significant: "Homeowners now paying $900 a year for the average flood insurance policy could see it rise to $3,500," according to Forbes.
As Forbes' advisors point out, rising insurance rates could lead to a reduction in home values.
Constant flooding is on the horizon for many areas: USA Today released a list of 35 U.S. cities that would essentially be underwater, or persistently flooded, by 2060. Is your city on the list?
Home appreciation drops for flood-prone homes
According to prior research conducted by realtor.com, homes located outside of FEMA high-risk flood zones appreciate faster than those within them.
First Street Foundation conducted a study analyzing nearly 29 million properties and found a $15.9 billion loss in home value appreciation across 18 states and Washington DC due to tidal flooding. Their data also uncovered that homebuyers put a price on access to their homes as well: they found that "persistent flooding of nearby roads has a significant impact on home value," regardless of whether the home itself flooded.

A study published in Science Daily looked at data from Carteret County, North Carolina and found that: "The price of a residential property located within a floodplain is significantly lower than an otherwise similar house located outside the flood zone. On average, [a] location within a floodplain lowers estimated sales value $11,600, representing a 7.3% reduction of the average house sales price."
Additional consumer research by realtor.com found that, although a majority of buyers would buy a flood zone home, 40% of home buyers expect a discount on these homes.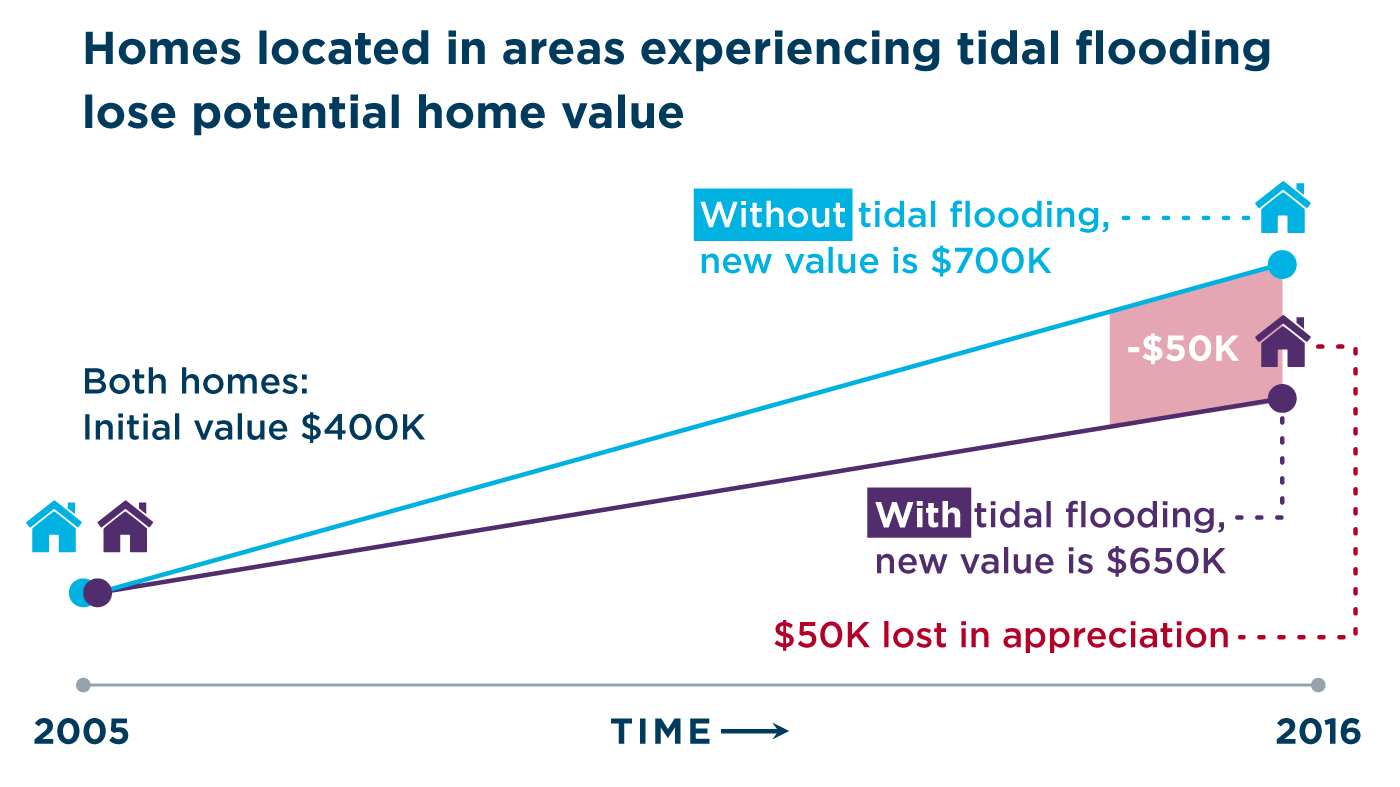 Should I Buy a Home in a Flood Plain?
For some areas of the U.S., flooding is a fact of life and something homeowners will need to deal with sooner or later. In this case, it may make more sense to mitigate the threat, rather than trying to avoid flooding altogether (which may prove impossible).
"If the home meets all of their other wants/needs, then the flood concern is not a deal-breaker," advises Orlando-based buyer agent Jeffrey Colom Ortiz. "However, it is very important for the buyer to do their homework when it comes to insurance and proactively get quotes to ensure they are comfortable with the cost and coverage."
How Can I Protect My Property Against Flooding?
If you opt to live on a flood plain, your home stands a decent chance of getting flooded sooner or later. The more steps you take to reduce flooding's impact, the better off you'll be.
Here are a few ways you can flood-proof your home:
Elevate key electronics (such as HVAC units) off the basement floor (such as using a wall-mounted boiler, or opting to keep things on an upper floor).
Seal up any cracks in the foundation
Apply water-proof sealants to walls, windows, and foundations
Have a battery-powered sump pump that can operate when the electricity goes out
Opt to store anything kept in the basement in plastic, waterproof bins
Grade the lawn away from the house (experts recommend that ideally, the ground around your home should drop 1 inch for every one foot as you move away, up to the first 10 feet)
Add floodwalls that prevent water from entering the property (if the issue isn't groundwater flooding)
Add flood vents
Seal the garage door
"Garages are a part of the home that are most vulnerable to flooding given there is generally a larger space between the bottom of a garage door and the ground compared to a home's front and back door," explains Volodymyr Barabakh, Co-founder and Project Director at BM International Builders. His recommendation: "If you live in an area that is at immediate risk of flooding, then you should seal the bottom of your garage door, especially if your driveway slopes towards it. You can seal a garage door with a temporary rubber flood barrier. These can be purchased for less than $150."
If you live in an area that is known to periodically flood, a battery-operated sump pump is key. Public Relations Director for Roto-Rooter Plumbing and Water Cleanup Paul Abrams explains:
"As a plumbing repair and water cleanup service provider, the most serious and costly floods we see are in finished basements. In most cases, basement floods occur because of sump pump failure. Homeowners should get into the habit of checking their sump pumps frequently. Make sure the sump pump is plugged in and that its power cord is secured so that it cannot become entangled in the sump pump's float switch." He also advises investing in a backup system: "Backup sump pumps aren't cheap, but they cost a lot less than even minor water damage to your home if you experience flooding."
Conclusion: Should Homebuyers Pay Attention to Realtor.com's Flood Assessment?
Homebuyers should take the threat of future flooding seriously. If you decide to buy a home located in a potential flood zone, take steps to reduce or eliminate the impact flooding can have on your home. Floodproofing can save you thousands of dollars and avoid a lot of headaches down the line.
Further Reading: