For many people, Conshohocken is considered one of the best Philadelphia suburbs for commuting. It's close enough for a reasonable commute to Center City (or KOP), but far enough from the city for it to have a distinct vibe of its own.
This area is popular amongst both young families who want distance from the city, as well as young professionals who work in the suburbs but want a walkable downtown business area to frequent. The Schuylkill River Trail, which runs from Philadelphia out toward King of Prussia, is great for runners and cyclists who want to get outside.

It's a small-town type of place despite its proximity to the city, and neighbors will run into each other at local restaurants and bars. Neighborhoods are leafy and quiet, but a number of high-rise buildings next to the river are home to young professionals and retirees alike who prefer the amenities and ease of apartment and condo living.
Housing Market
According to Redfin's data, the median home price in Conshocken is $420,000, and home prices have appreciated 13.5% year-over-year. This makes Conshohocken one of the more affordable suburbs in the greater Philadelphia metro region.
The average for-sale home currently goes off the market (pending) in 22 days, which makes this a fairly competitive region.
What a Local Realtor Has to Say
"Conshy offers that urban vibe in the 'burbs with fine dining, bars, and shopping," notes buyer agent Isabella Faro-Winkelman. "It's centrally located to the culture in the city as well as the shopping Mecca that is King of Prussia Mall. Plus, it's near the main arteries that will take you where you want to go."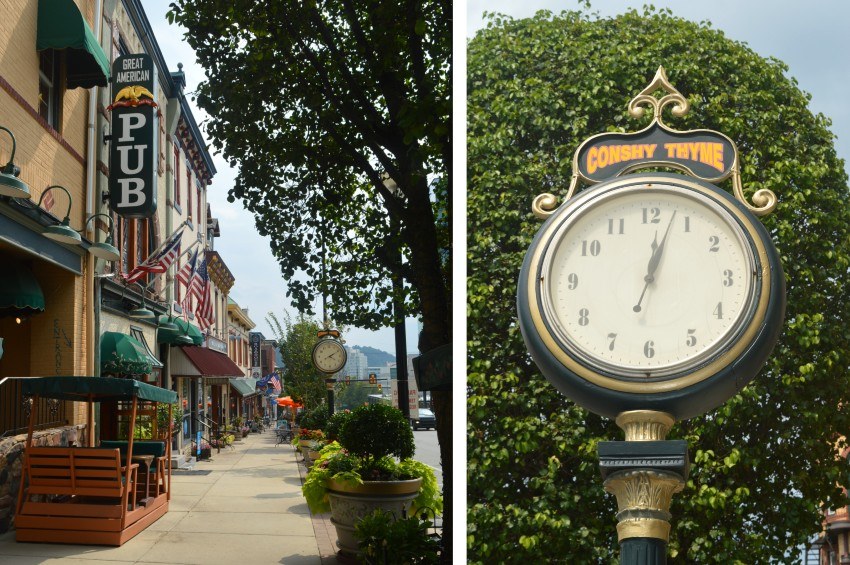 Living in Conshohocken: Fast Facts
Walkability
Walk score: 69
Biking score: 43
Conshohocken is fairly walkable - and how walkable it will be for you will depend on how close you live to Fayette Street, where most businesses, restaurants, and amenities are centered around. Residents who prefer walking over driving will likely struggle the most with groceries - Giant is about a half-hour walk from the center of town. Luckily, there are plenty of home delivery apps that can make this easier. The town also lacks the infrastructure for biking - however, the roads aren't too busy so you should be okay even without biking lanes.
Commute
Conshohocken to Center City Philadelphia is approximately 40 minutes by train, or 35 minutes by car (traffic dependent).

Crime Rate
View the most up-to-date crime statistics - including violent crime and property crime - for Conshohocken via Neighborhood Scout.
Dog-friendly Areas
With all its tree-lined streets and nature trails, Conshohocken is a fairly dog-friendly area. Of course, sometimes you want to let the dog off the leash. Luckily, Conshohocken has a few dog parks within walking or driving distance, depending on what street you're on. Dogs can also access many of the other parks in the area: you'll just be required to keep them on a leash.
School Systems
Depending on where exactly you live, your child(ren) might be districted to Lower Marion School District, Colonial School District, or Upper Marion School District. Conshohocken Elementary School and Conshohocken Catholic School (private) are a walkable distance away for many families living in downtown Conshohocken. Plymouth Meeting Friends School (private) is also located a short drive away. Upper Marion Vantage Academy (private) is across the river and offers comprehensive therapeutic educational programs for children.
Where to Meet People
Aside from the usual bar scene, Conshy has a pretty strong recreational sports showing. There's kickball, volleyball, and even cornhole teams you can choose from via HeyDayAthletics. Meetup.com also has active local groups that get together for drinks, hikes, and more every month.
Nightlife
Evenings in Conshohocken are relaxed and friends often meet for dinner and drinks at a local restaurant. If you end up in the mood for more of a party atmosphere, though, Manayunk's main street is just a 20 minute Uber ride or a 20-minute journey on the Manayunk/Norristown Line. King of Prussia and Philadelphia itself aren't that far away, either, and many residents take advantage of public transportation for nights on the town.
Local Bars
Conshohocken Brewing Company: Award-winning Philadelphia-region craft brewery, creating unique beers in small batches.
Jasper's Backyard: This rustic bar space has a wide variety of delicious specialty drinks (try the Pomegranate Mule!) along with an extensive wine list and draft selection.
Local Restaurants
The Stone Rose: "Upscale but casual" dining spot. Unique wines, craft beer, and a menu centered on quality ingredient sourcing and created by Chef Will Langlois.
The Gypsy Saloon: A charming location with creative takes on classic dishes and frequent live music events.
Things to Do/See
Woodmont Estate, Father Divine's Library & Museum: A nationally recognized landmark. Take a tour of the 1892 French Gothic manor house and curated grounds.
Schuylkill River Trail: built over abandoned railroad lines, this trail is both scenic and convenient.
Morris Arboretum of the University of Pennsylvania: Just a 15-minute drive from Conshy is the Arboretum - take a tour or explore the grounds yourself. Historical architecture, sculptures, and Japanese gardens keep things visually interesting!
Green Valley Country Club: it's one of several country clubs a short drive away, and members and guests can play golf, tennis, swim in the Olympic-sized pool, and more.
"Conshohocken has a younger feel to it. There are a lot of offices and more companies that are based out there. It's not as spread out as Ardmore, for example - it definitely has more of a city feel," notes Philadelphia-based agent Anabelle Rodriguez. "If you're coming from Philly, it looks a bit more open but it still feels like a city. It doesn't feel that suburban. It's close to the Wissahickon so a lot of people who like to go hiking and have dogs want to take advantage of what's there."
The Suburbs of Philadelphia: Further Reading