About 7% of all homes on the market today are flipped homes. With the rise of shows like Flip This House and Flip or Flop, millions of Americans received a crash course in how to flip homes - and how to profit from them.
There's a lot more that goes into flipping a home than the average show reveals, however - especially because most TV house flippers already have a home buyer lined up.
If you've read our intro guide to How to Flip a House in Philadelphia, then you already know the basics of how to buy and flip a home. But what does it take to sell one? Here's 5 things you need to know.
1. Updates That Will Add Instant Allure to Your Flipped Home
Appearances are everything when 99% of buyer journeys begin on the internet. Professional photography will always help your home sell better - but what can you do to increase your home's visual appeal beyond that? Here are three things that won't put a giant dent in your budget.
Repaint your door (black!): Zillow went through its extensive data, examining some 135,000 photos from listings across the U.S, and found that homes with black doors sold for $6,000 more than expected. So unlike a lot of home renovations that ultimately have a poor ROI, this can actually deliver you a lot of bang for your buck (total cost for materials should be under $50).
Elevate the Light Fixtures - for $50, you can take your kitchen and living room lighting from drab to fab. Modern, chic light fixtures are eye-catching - especially in flipped homes that may be devoid of furniture and other touches that help elevate otherwise empty rooms. Edison bulbs, geometric chandeliers, and refined industrial styles are popular lighting features in 2021.
Add trim to your doors - for $40 your plain doors will receive an instantly elevated finish that buyers won't forget.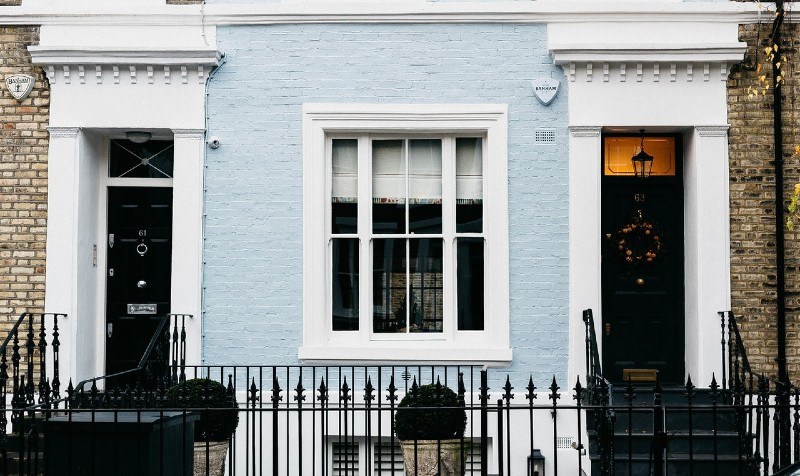 2. A Top Agent Can Help You Profit More and Sell Faster
When you go to sell your home, your goal is to get as much money as you can from the sale, while also selling quickly (because until you sell, you have to keep paying property taxes, the mortgage, insurance, utilities, etc. month after month - which can start to eat into your profits).
You might think that having an experienced agent in a seller's market is unnecessary, but on the contrary: this move can net you additional profit and ensure you're off the market quickly.
And with Houwzer, you don't need to pay the traditional 6% in commission. Houwzer offers full service listing for a $5,000 flat fee (all paid at closing) with 2.5% for the buyer's agent, which saves local flippers an average of $15,000 when they go to sell their home.
This can make a huge difference in profit. The average profit from a flipped house in PA is $87,900, with an ROI of 86.2% (as of Q2 2020). The ROI for the Philadelphia region is actually higher than the average for the state at 105.3%. Why flip a home in one of the most profitable regions to flip, only to leave behind a large chunk of your profit at the closing table?
Another reason you want an experienced real estate agent in your corner: negotiations can make or break your profit margin. When so much is riding on the line, selling a flipped home can still be a very emotional process. Your agent will approach negotiating as a professional and help ensure a smooth transaction.
The Houwzer team can connect you with experienced Philadelphia Realtors who can help sell your flipped home fast. Get in touch via Houwzer.com/sell.
While you might be tempted to list the home yourself, consider that you'll need to pay out of pocket anyway for:
MLS listing
Professional photography
The buyer's agent commission
Signage
Attorney or someone to help you with paperwork
And if your home doesn't sell as quickly as it would with the help of an agent, you'll likely lose all the money you saved by having to keep up with loan payments, insurance, and more.
3. Consider Getting an Inspection Before the Home Sale
For better or for worse, flipped homes have a mixed reputation in real estate. While some flippers are able to turn distressed properties into beautiful homes, other flippers have incorrectly laid tiles in bathrooms and sold homes with mold developing in the walls.
Although having the home inspected before the home sale will set you back approx. $400 (in Philadelphia), it could potentially pay itself off if you can fix issues before your home goes to market. Eagle-eyed real estate agents may otherwise spot minor problems with flooring, cabinets, etc., and ask for significant money off when it comes time to negotiate - at which point you'll feel more pressured to agree so that you don't lose the sale.
4. Price Your Home Slightly Below Market Value
In an extreme sellers market, it may seem like the best approach is to go high - especially when you've been hearing about homes selling for thousands of dollars above asking price.
Keep in mind, though, that every buyer on the market today has a good idea of what your home is worth. Price way too high, and people may not put in an offer at all. Not to mention: the higher you price it, the fewer people will see it.
If you price it just below market value, however, your home will not only get more eyeballs on it - it will be perceived as a relatively "good deal," especially compared to homes in your area that haven't been as competitively priced. It's far easier to get a bidding war on a slightly underpriced home than an overpriced one - and once that happens, you'll be able to sell quickly and be able to choose the best possible offer for your situation (such as one with fewer contingencies).
5. Once You've Sold: The Flip Tax
Uncle Sam wants his cut of everything you do, and this includes flipping homes in Philadelphia. It's ideal to know your flip tax breakdown before going into the project since this can greatly impact your maximum ROI. Here's what you should keep in mind:
If you can live in the home while rehabbing it, you'll be able to eliminate the capital gains tax. Section 121 of the IRS tax code says you can exclude up to $250,000 of (or $500,000 for a married couple) of gains from the sale of a property that's a primary residence. However, this is for longer-term house flips since you'll need to reside there for at least two years.
If you own your flipped property for less than a year, you'll have to pay short-term capital gains that are taxed at ordinary income-tax rates, which can be up to 37%.
If you own your flipped home for more than a year (but don't live there), you'll have to pay long-term capital gains, which can be up to 20% but typically max out at 15%.
If you've flipped multiple properties in a short amount of time, the IRS may view you as a business rather than an investor. If this happens you may need to pay the self-employment tax of 15%.
If you do have a flipping houses business, you'll be able to take tax deductions for your expenses such as the cost of labor, utilities, mortgage interest, etc.
No matter what, keep good, clear records of all your expenses so that you're not panicking when it comes time to file taxes.
Further Reading