Smaller than Tampa yet large in attitude, St. Petersburg Florida is nestled along the Gulf of Mexico and has a reputation for its beaches, entertainment, and sun-soaked weather.
"There is a thriving job market in St. Pete; a lot of businesses are coming here. There's a lot to do outdoors, and you're so close to the bay and the Gulf and all the parks. And no matter where you live in St. Pete, the beach is just minutes away," explains local agent Terry Fernandez.
Are you thinking about moving to St. Petersburg? Here are 6 things you should know about.

The Housing Market in St. Petersburg
Over the last couple years, everyone has witnessed the enormous upheaval in the real estate market, and St. Petersburg was no exception in this regard. Although compared to many urban areas in the U.S. St. Petersburg remains relatively affordable, home prices appreciated 23% YoY since June 2021, according to Redfin - pushing median sale price from $305,000 then to $380,000 today, and earning it the title of one of the hottest real estate markets in the country last year.
Homes are now on the market for a median of 8 days, and housing inventory is currently down 16% since last year. The lack of inventory will continue to push demand for houses up despite rising interest rates.
Having an experienced local Realtor on your side can be a huge advantage when it comes to landing the home of your dreams.
"Now's a great time to buy a house. Interest rates are low, there's more inventory now; the market's correcting itself. Real estate is still a great investment," explains local Realtor Terry Fernandez. "If you're looking to buy something right now, especially in St. Pete or Tampa, if you look at it as a 5-year commitment, it's going to be a great investment."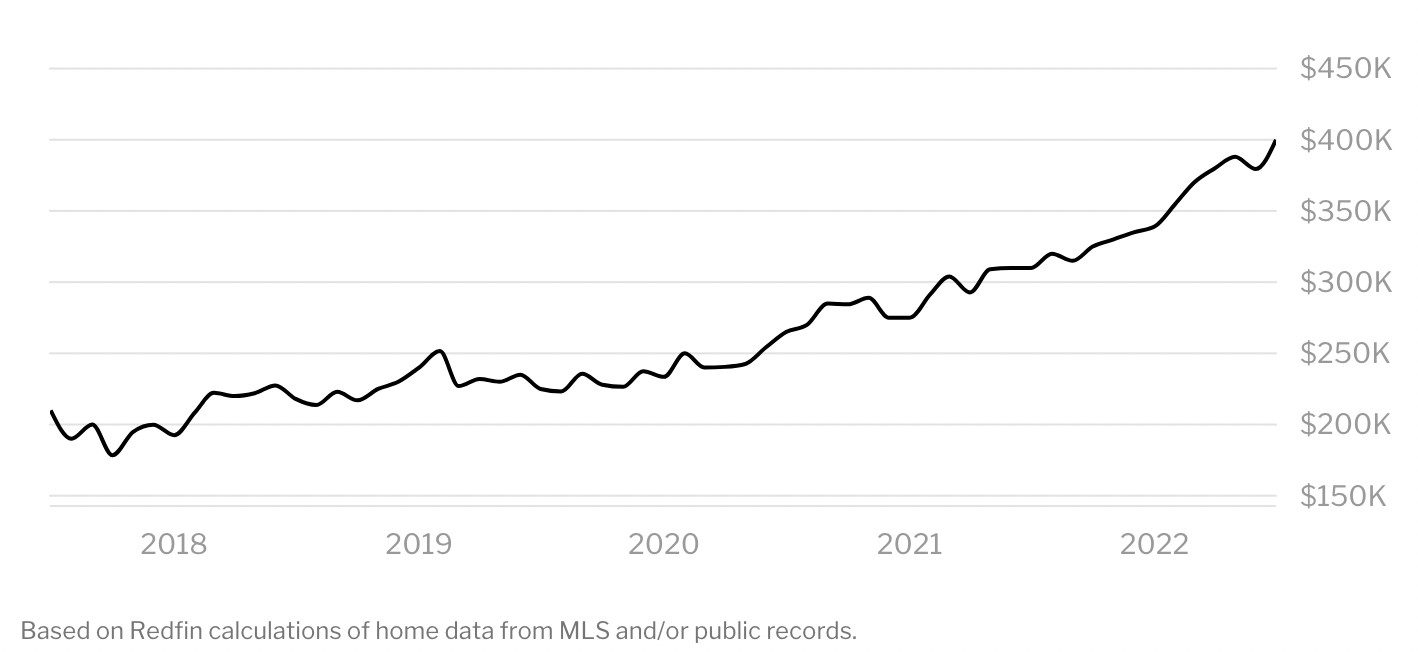 Closing Costs in St. Petersburg
When you buy a home, don't forget about closing costs. These are separate from the down payment and include fees like the appraisal, the survey fee, prorated HOA fees, and a credit report for your lender.
On the plus side, closing costs in Florida are lower than the average closing costs for the rest of the U.S. - but you should still plan on spending about 3% of the price of the home, give or take.
As an example, for a $400,000 home, at 3% you'd pay around $12,000 in closing costs.
"In my experience, it's 3-4% of the purchase price of the home. Rarely do I find that we're going above 4% unless it's a lender issue - if they bought points. The state of Florida already has a 1% sales tax, so right off the bat 1% will go to the state of Florida," explains Fernandez.
Typical buyer closing costs include:
Prorated HOA charges, HOA approval fees
Survey fee ($200-$800 based on land size: $400 -$500 is typical)
Appraisal fee ($400-$500)
Credit report ($50-$75)
Loan origination fees (varies)
Home inspection ($375-$450)
Recording fees ($50-$250)
Wood Destroying Organism inspection ($75-$300)
"I would always recommend a termite inspection no matter what. Especially on your older homes - a lot of them are bungalow wood-frame homes. It's usually a minimal cost to add it on when your inspector is already out there, and it's worth every penny," says Fernandez.
To learn more about closing costs in St. Petersburg, visit Closing Costs in Florida: What Homebuyers Need to Know.
Transportation in St. Petersburg
You might be wondering whether it's possible to get around St. Petersburg via foot or bike, rather than investing in a car. This is especially important for retiring seniors who anticipate a time when they can no longer drive safely.
On average the city has a walking score of 43, a transit score of 33, and a bike score of 59. This indicates that public transport, as a whole, is not super reliable, but a fair number of errands can be accomplished by bike.
While the city as a whole is labeled "car-dependent," you can definitely opt for areas where grocery stores, restaurants, doctors, and other necessary amenities are within walking distance. Research neighborhoods like Downtown (walk score: 90), Crescent Heights (walk score: 71), and Allendale Park - Five Points (walk score: 82).
Sustainability Comes First
If you love fossil fuels and hate recycling, St. Petersburg might not be the right city for you. The city transitioned to using clean, renewable energy in 2017 and has been designated Florida's first green city. In practice, this includes community gardens, a program to minimize waste, tree conservation, water conservation, and sustainable building design. Residents benefit from the city's policies, enjoying a city that is cleaner and more environmentally friendly. Homeowners can also make use of different programs available, such as assistance for solar power installation.
"St Pete is definitely a green city - there are over 100 different parks there as well," notes Fernandez.
Cost of Living in St. Petersburg
A big question for people thinking about relocating to St. Petersburg, FL is the cost of living. Luckily, this is a fairly affordable city - especially when compared to other similar-sized cities (that don't have St. Pete's amazing weather or beaches, either!). The overall cost of living index for St. Petersburg is 98.6, while the U.S. average is the baseline of 100. This means that St. Petersburg is slightly cheaper than the average U.S. city.
For comparison:
Tampa's cost of living index is 100.1
Miami's cost of living index is 123
Los Angeles' cost of living index is 173
Washington, DC's cost of living index is 152
"Compared to Tampa, I think it's a little more affordable. The job market is definitely getting better in St. Pete," notes Fernandez.
So: is St. Petersburg expensive? Arguably for most people moving here, the answer is no. For most people relocating to St. Petersburg, the city is quite affordable.
Best Neighborhoods in St. Petersburg
The right neighborhood for you will, of course, depend on what you prioritize. If someone places a premium on affordability, they likely won't be looking at the same neighborhoods as someone who wants to be right in the center of the city's nightlife.
Waterfront neighborhood: Bayou Shores
Easy commute: Downtown St Pete
Historic and green: Roser Park
First-time homeowners: Crescent Lake Park
"Downtown St. Pete is definitely the hot spot right now, but it's all high rise and condos. As you get closer to Downtown your home prices increase, and as you go away from Downtown your home prices go down a little bit," explains Fernandez.
St. Petersburg vs. Tampa
While St. Petersburg and Tampa are two cities right next to each other, make no mistake: they have their own distinct layout and culture. St. Petersburg is smaller with more of an emphasis on resort-adjacent beach life. Tampa is larger, more diverse, and generally brings more of the "big city" vibe than St. Petersburg does.
Some people prefer St. Petersburg for its art scene, brewery, and more walkable layout, while others prefer Tampa because it has more options for restaurants and attractions. St. Petersburg is typically more popular among young professionals.
"St. Pete has definitely become a foodie destination - there's not a lot of chain restaurants there like there is in Tampa. You have your small Italian markets and Mom and Pop-run businesses and restaurants and things like that, especially in the downtown area. St Pete's has a great nightlife compared to downtown Tampa - Downtown Tampa really doesn't have that. If you like that busy downtown 'I like to walk a lot' thing, Downtown St. Pete is great for that," explains Fernandez.
Thinking of Relocating to St. Pete?
If you enjoy the sunshine and laid-back attitude of St. Petersburg, you're not alone. Thousands of people are choosing to move here every year, with more to come.
It can help to talk to a local, experienced Realtor when you're trying to decide which neighborhood would best fit your needs.
For Further Reading