When it comes time to sell your home, there are a lot of questions that pop up - especially if it's your first time. If you're planning on selling a home in Maryland, here's everything you need to know.
Is now a good time to sell a house in Maryland?
If you're wondering how the Maryland real estate market is doing, it's definitely been a good year for home sellers.
According to Redfin,
The median sale price of homes in Maryland has climbed +9.7% year over year
The number of homes for sale decreased 12.2% year over year
56.7% of homes are now selling above list price, a 7.8% increase since last year
In other words, low inventory has encouraged buyers to bid high for homes, and home sellers stand to make a good return on their investment.
Thanks to the presence of industry and schools, there is reliable demand for real estate in Maryland regardless of the state of the housing market. However, it's worth keeping in mind that interest rates have risen dramatically - and inflation has had a negative impact on consumer wallets.
If you've been holding out in order to see whether the market will continue to rise, this may be as good as it's going to get. The best time to sell your home is when it works best for your life circumstances - even experts struggle to time the market correctly, and trying to do so can result in a lot of stress, delays, and even loss of profit if you guess wrong.
It's still a strong seller's market, though, and there are many eager buyers ready to make an offer. "With interest rates still below any double-digit number (unlike the 1980s), now is the best time to purchase a home with a fixed rate less than 10%!" advises Maryland-based listing agent Brian Cooper.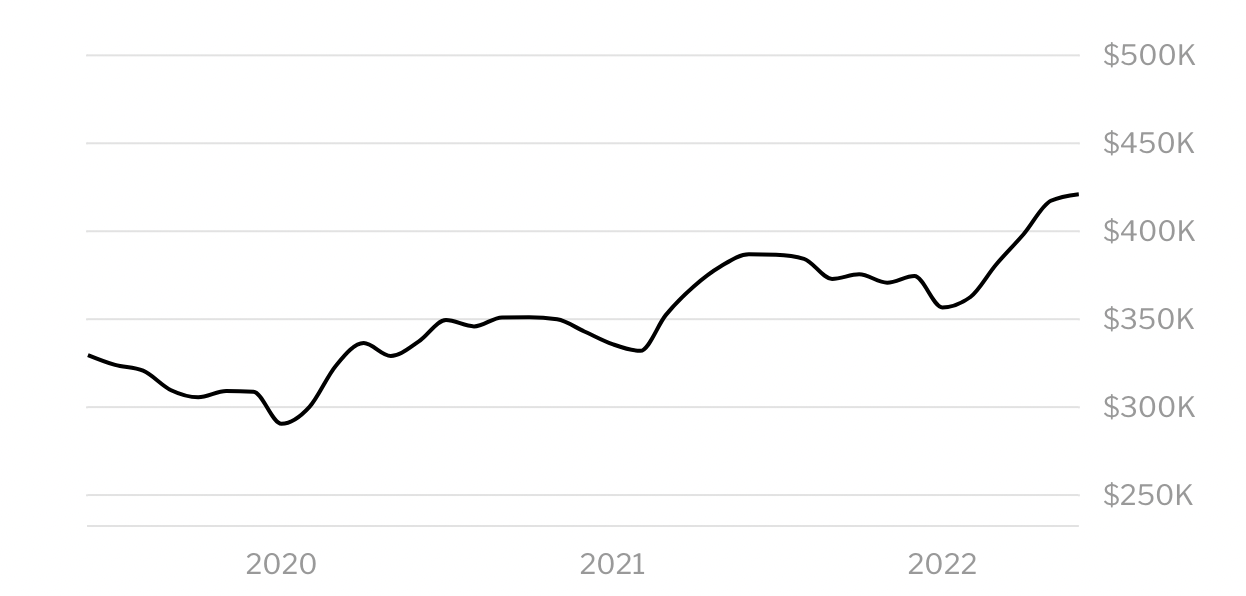 How Do I Sell a House in Maryland?
Your first step to selling your house should be to contact a Realtor - even if you're not quite ready yet to list. If you wait until the last minute to get in touch, you might find out the hard way that to stand out in your local market, you really need to make a number of repairs and improvements first.
Once you've met with a Realtor, they'll walk you through recent comps in your area and explain how much your home can probably sell for based on that information, how much they advise listing it for in order to maximize buyer interest, as well as their knowledge of the neighborhood.
Then you'll sign a listing agreement to work with that Realtor, and they'll help you get your home ready for sale with photography, signage, MLS listing, and more.
"Selling a home in MD can be a bit confusing depending on the county in which you live in. Montgomery County has very unique specifications as to what needs to be listed as the 'seller's disclosures' when the property is marketed on the MLS. Other county specifications are needed depending on the county in which the seller is selling the home in," explains Cooper.
Can you sell a house by owner in Maryland?
You can opt to list your home For Sale By Owner (FSBO) in Maryland. However, there are a variety of reasons that most people don't opt to do this. While on the surface it may seem like you save money, in reality going this route often eats into profits - for a few reasons.
You might not be saving as much as you think. While you can eliminate the listing fee, it can be very difficult to eliminate the fee for the buyer's agent - because there is no incentive for the agent to bring their clients to you otherwise. So you're still out about 3%.
The best way to get the most profit for your home is competition. Simply having two offers instead of one can drive up the final selling price by thousands of dollars. FSBO homes, however, are typically hidden on hard-to-find pages by sites like Zillow and Realtor.
Realtors may be reluctant to bring clients to your home because without an agent on the other side of the transaction, they'll likely be doing more work and taking on more responsibility - without getting paid extra.
Disclosure Law in Maryland
Disclaimer OR Disclosure
When you sell a home in Maryland, you need to either disclose any knowledge you have about the property's condition and defects, or issue a disclaimer (also known as selling the home "as is").
Although you aren't required to give potential buyers this information through the state's disclosure form, it's a good idea to do so anyway. Ultimately, the disclosure document protects you as well as the buyer.
Disclosure of all known defects can put you in a better position to negotiate. If the buyer asks for discounts due to defects in the property, you can point out that all defects were known to them (through the disclosure document) before they placed an offer - so, therefore, their offer should reflect the perceived value of the home even with the defects.
Selling a house "as is" in Maryland
While sellers can opt to issue a disclaimer/sell the house "as is", they still need to mention latent defects - and be advised, buyers may see a disclaimer as an attempt to hide something. A latent defect is a problem that's known to the seller, but not visible to the buyer. An example of this would be water damage to the ceiling that has been painted over. "As is" simply means that you won't be open to negotiating the price, even if the buyer discovers issues or that repairs are needed.
The Maryland disclosure form covers nineteen aspects of property. Read more about them in: 19 Things You'll Need to Note on a Maryland Home Disclosure Form
Why is Houwzer a top brokerage for Maryland?
Houwzer is one of the top-rated brokerages for home sellers in Maryland for several reasons.
They charge a $5,000 flat fee (with 2.5% for the buyer's agent) regardless of how much your home sells for. On average, home sellers save $15,000 on commission fees this way.
Agents specialize in one side of the transaction, ensuring that whoever you work with is an expert on listing and selling homes.
Houwzer agents are salaried employees who receive benefits. This means that they can focus on client goals, rather than commissions.
If you then buy a home with Houwzer, Houwzer will give you half of the listing fee back ($2,500) which you can use toward closing costs, your down payment, or whatever you want.
What closing costs do home sellers in Maryland have to pay?
Sellers do pay closing costs in Maryland. Closing costs are the fees and taxes you need to pay in order to sell a home. In Maryland, you can expect to pay these costs when you sell your home:
Transfer taxes (state) : .5% of purchase price, or .25% for qualified first-time home buyers
Transfer taxes (county): none - 1.5% (see individual county tax rates)
Title fees: .6%
Realtor commissions: up to 6% (3% for each agent)*
*Home sellers in Maryland can benefit from Houwzer's $5,000 flat fee, plus 2.5% for the agent representing the buyer (rather than the typical 6% agent split).
Do you have to pay Capital Gains on a house sale in Maryland?
Home sellers have to pay capital gains tax on their homes if they do not meet the requirements for avoiding the tax. To be exempt, you need to have lived in the residence for at least two years and make less than $250,000 (or $500,000 as a couple) from the sale of the home. If you don't meet these qualifications, you must pay capital gains tax at the federal level. Maryland conforms to the federal rule so if you're exempt from paying gains to the federal government, you're exempt at the state level as well.
How can you sell a home in Maryland fast?
If you're trying to sell your home as quickly as possible, you'll want to pay attention to your agent's advice - as well as the logic behind it.
For example, home sellers - especially in a competitive market - are often tempted to price their home much more aggressively than what their home is worth (based on recent comps). "After all, I can just lower the price in a week or so if it doesn't sell," the seller will say.
The problem with this tactic is that it assumes that homes going onto the market receive equal attention no matter how long they've been listed. In reality, most agents agree that the first week the home is on the market is the most important one. When it's a "fresh listing," it will get the most eyeballs on various listing sites like Realtor and Redfin.
Not only that, but Days on Market factors into how desirable buyers find a home. If your home has been on the market for 30 days - in a locale where the average home closes after 30 days - buyers will likely:
Believe there is something wrong with your home
Believe you're difficult to negotiate with (sometimes people who are in debt, for example, will refuse to negotiate with buyers because they need a minimum price paid in order to pay off their debt)
Believe that you are now desperate to sell, and they will likely offer you even less than what your home's true market value should be.
To make a long story short, pricing your home competitively is essential to selling it fast in Maryland.
"List your home to sell and sell quickly based on the sold comparables in the area," recommends Cooper. "Listen to the advice from your listing agent and price the home slightly below the market to gain interest, make the home a competitive desired property, and get multiple offers which allow buyers to provide an offer which is competitive with the other buyers."
How else can you ensure your home sells quickly? Great photography that draws people in is one way; ensuring all the small repairs and minor renovations have been taken care of is another way. The difference between a dirty carpet and a clean one might only be the $50 it costs to rent a wet/dry deep-cleaning vacuum, and yet it can make a huge impact on the perception of potential buyers who come to see your house.
Now that the market is not so red-hot as it was in 2021, these small touches will matter more.
For Further Reading