Selling your home is a stressful process. You need to prepare to move into a new home, while still presenting your current home at its absolute best for buyers. On top of this, there's often the stress of paying the bills when you need to hire movers, cleaners, and more.

You may not get around to all the minor repairs and fixes that your home needs, and that's okay. Right now, you're in luck: it's an extreme seller's market and people will likely put in good offers for your home regardless of condition. However, making small repairs and changes can increase your likelihood of receiving strong offers and maximizing profit from what is likely one of the largest transactions of your life.
Here's what to fix up when selling a house with a budget of $2,000.
Remove Clutter
You may not think of removing clutter as a "fix" for your home, but this is just as important - if not more so - than tightening up lopsided cupboards. If you're too busy to do it yourself, hiring an organizer might be your best option. Clutter can really prevent buyers from seeing the true size of your home, and perceived space has a big impact on what buyers are willing to pay.
"It's cheap to take care of but some people struggle with it - I always tell home sellers they want to have the least clutter possible. Find a way to make everything tidy and neat," recommends New Jersey-based listing agent Ruben Concepcion. "If you walk through a dirty and cluttered house - you're not getting a good feel for it, all the rooms feel smaller, and I almost guarantee that the buyer's not going to spend more than 10 minutes in your home."
According to Homelight, professional organizers charge an average of $501 per home - however, there's a wide range here, since cleaning can take anywhere from 2-10 hours. If you're truly committed to it, then of course, you can do this for far less.
Fix the Cabinets
Doors hanging on their hinges will instantly spell "dated" and "poor condition" to your buyers - not the impression you want to leave them with. Stop putting off all the little fixes around your home, especially when so many of them can be taken care of with a single trip to Home Depot or a few clicks on Amazon.
Take time to fix:
Clogged drains: $3 for drain solution
Broken cabinet tracks: $20-$25
Cabinet door hinges: $15
Paint Your Walls
Painting your walls is often one of the first things agents will mention, and it's for good reason. Dinged-up, smeared, or oddly colored walls are affordable to fix up - and because wall space is so prominent in any home, not fixing them up can really make a difference in how your home's value and upkeep are perceived.
That said, painting your walls can be a big undertaking if it means moving all the furniture, potentially hiring an expert or taking the time to paint, etc. If you don't have the time (or money) to take on everything at once, prioritize the kitchen and living room if you have one - as these are a focal point for buyers.
Cost of painting your home:
According to Home Advisor, the average cost to repaint a home is anywhere from $1,000 and $6,000 or $.50 to $3.50 per square foot.
And according to RocketHomes, the average cost of painting the interior of a 2,400-square-foot home yourself will be about $1,500-$2000. However, this assumes you'll be using one coat of primer and two coats of paint, and painting every wall of the home.
Paint Your Front Door
First impressions are truly everything - especially when you're approaching a home. Zillow has access to data on thousands of sold homes, and they recently released the Zillow Paint Colors Analysis that analyzed over 135,000 photos from listings around the country.
What they found was that simply painting your door black, on average, increased the price of a typical U.S. home by 2.9 percent. This is likely because a black door next to white siding creates sharp contrast, which can read as both fresh and modern. It's also worth pointing out that 9/10 of the most profitable renovations for 2020 (when considering ROI) were outdoor renovations!
Cost of painting a front door: $150 to hire a professional, $10 if you DIY
Fix Up Your Caulking
Nothing turns a buyer off like seeing a dark line of mold in your otherwise pristine bathroom. This is an incredibly easy fix, doesn't require much know-how to do at home (watching a Youtube video for guidance will suffice), and once it's done your bathtub area will look a thousand times better.
Recaulk your shower: $175 for a handyman; $30 or less to DIY
Replace Your Lights
Take a look at available homes for sale on a popular listing site and take note of what makes one home look more inviting and appealing than another. One thing you'll likely take note of is the lighting. Great lighting helps homes look more spacious and modern, while bad lighting makes homes look dark, cramped, and dated. Before you go to sell your home:
Replace any lights that have gone out
Consider replacing some or all of your remaining lightbulbs with a higher wattage (or lumens, if it's LED) bulbs for a brighter look. (approx. $5 per bulb)
Pay special attention to areas that don't receive a lot of natural light. This is where brightening it up with lamps or light fixtures can really help show the home better (you can buy a simple lamp for $15 on Amazon or via IKEA)
If your kitchen light fixture is nondescript or outdated, updating this can be a DIY task that really upgrades your kitchen from non-memorable to wow-factor. This is something that buyers easily notice in online photos as well (look for swing arm, pendant and farmhouse light fixtures, which can be purchased for $50 or less from a variety of retailers)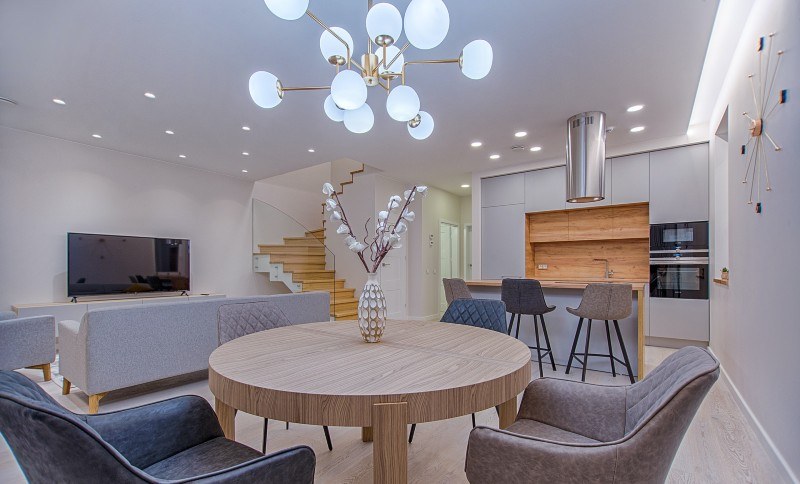 Don't Go Overboard with Your Fixes: Keep ROI in Mind
At the end of the day, minor fixes to your property may help your home sell faster - or for more money - but they aren't going to move the needle too much. If your house is falling apart and you can't afford to fix it, just sell it as is. The amount you'd end up saving to fix up your home is better spent on closing costs or as a deposit toward your next home.
Take a look at our guide, Should You Renovate Before Selling Your Home? It's worth keeping in mind that most projects, while they may increase the value of your home, ultimately don't have a great ROI (return on investment). And the last thing you want to do is spend $3,000 and have sellers pay $2,000 more - because that ultimately means you're down $1,000.