Interest in tiny home living has exploded over the last decade. Today, thousands of people are choosing to say goodbye to traditional real estate, and saying hello instead to compact living spaces. 

While tiny homes may tap into our desire for clutter-free, financially-savvy living, it's not a lifestyle for everyone. There's little space for miniature homes in busy city centers, and their layout becomes a lot more challenging when you add kids and pets to the mix. 
Smaller homes, though, don't always get the love they deserve in the real estate market.
There's a lot we can learn from tiny home living and apply it to our own home searches. Here's why more homeowners than ever are warming up to the idea of buying a smaller house.
A Small Modern House: Square Footage Isn't Everything
Many people might automatically discount a home smaller than 1,500 square feet from their home search. However, buying a smaller house is one way to make home ownership more affordable and accessible.
Katie Buscher, a buyer agent specialist in Baltimore, notes that people are becoming more open to life in a smaller space, thanks to the unique advantages it can offer.
"It's less to take care of. Less to clean!" She explains. "You have more time to do other things because you're not keeping up with such a large house."
And unlike with a true tiny house – which may pose issues for the less limber among us with its ladders and lofts – smaller homes can actually increase accessibility, rather than limit it. Having everything on one floor and within reach is especially important for homeowners who want to age in place, and for the homeowners who want to enjoy their retirement – not having 3,000 square feet to dust and maintain is more appealing, not less.
Smaller homes are frequently located in highly walkable areas, which can make them desirable for both younger and older homeowners who crave nearby restaurants, shops, and easy commutes. And of course, purchasing a smaller home is one way to make living in a desirable area more affordable.
Like with tiny homes, living in a small house will often require a bit of down-sizing and decluttering. But this can often be a welcome change for homeowners tired of having their lives and home sizes dictated by the accumulation of "stuff." Instead, they can curate and display their favorite items, while getting rid of the rest. 
"One of our first questions for a new client is, 'where do you like to spend the most time?' It helps us to focus on rooms that bring the most joy to them," explains Marcus Stoltzfus, co-owner of Liberation Tiny Homes, a tiny home production company based in Lancaster, PA.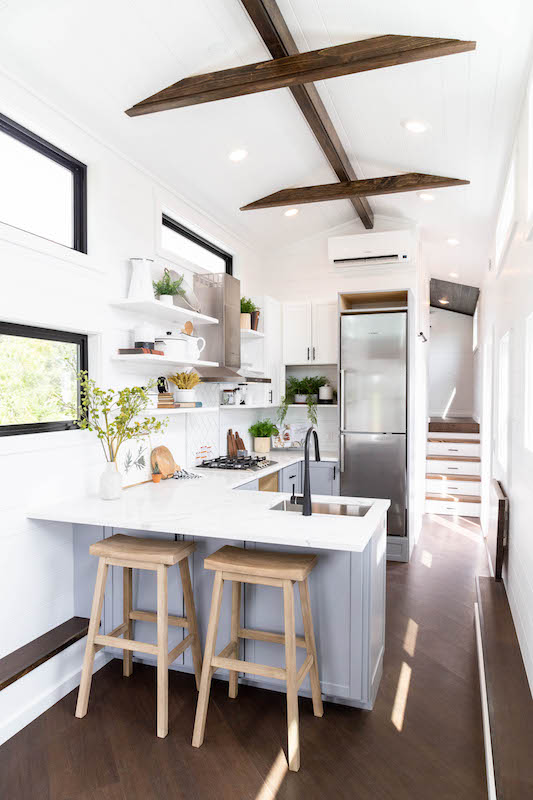 Tiny house interior: Liberation Tiny Home

"For example, if we know they like to cook or would enjoy a beautiful kitchen, that space might be slightly larger than other rooms. A client always has to go on a personal journey of ridding themselves of all of the stuff they have and only focusing on what they truly can't live without. Tiny living is usually a long journey in that it takes time to think about what you really need and what spaces you will use the most."

It's worth keeping in mind that space usability can sometimes be as important, if not more important, than square footage. Tiny homes maximize every inch of their space, allowing a van-sized space to feel like a home rather than a closet.
Buscher notes that with smaller homes, it's all about the perception of space. "It sounds weird, but even flooring – if it's all the same flooring, it makes the home feel so much bigger," she says. Not surprisingly, open layouts and high ceilings also eliminate the feeling of being "sardined."
An open and efficient home floor plan can make a huge difference in addressing your space concerns. After all, a larger home might have a dining room you'll rarely use. For parents of young children, a small kitchen/combined living area that allows for oversight can be more useful than a huge kitchen separated from where the kids will play. 
So look for homes that can accommodate your lifestyle, rather than simply the homes with the largest floor plans.
When You Own Your Home, DIY is King
Customization is one of the big draws of small home living. Tiny home owners can live out their dreams of folding stairs, a porch hammock, or a couch that turns into a breakfast nook. 
Renters, on the other hand, often feel trapped by their landlords' rules. Many landlords won't allow walls to be painted, let alone cabinets. And custom doors, entryways, and redoing the bathroom with unique tiles are definitely out of the question. 
The beauty of owning your own home, though, is that you can own this process. The DIY world is more robust than ever, thanks to the internet placing easy-to-follow expert advice only a click away. According to the National Association of Realtors, about 47% of homeowners take on a DIY project for their home.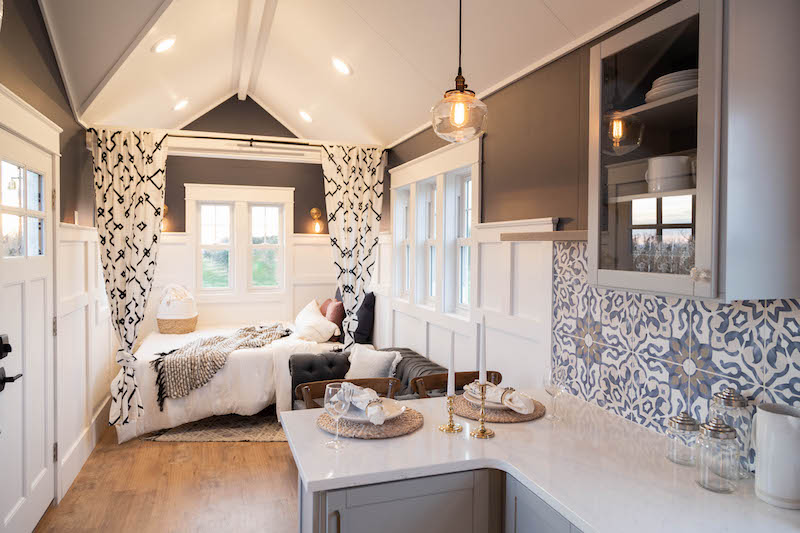 Interior of a Liberation Tiny Home

Rather than looking for a contemporary, polished home, why not opt for a fixer-upper you can make your own, and focus on the parts of the home that truly matter to you – while saving money in the process? This is when you could take advantage of your Houwzer buyer agent's expertise.
A competent real estate agent will listen carefully to what you're looking for and help you determine how to get what you need while staying within your budget. Their extensive knowledge of the local market will help you in your home search, but they'll also be able to give you a better idea of which projects are worth tackling on your own and what to focus on to add value to your home.
Schedule a pressure-free consultation.
An Eye for Interior Design Goes a Long Way
Why are photos of tiny homes so universally appealing? One thing most micro homes have in common is a well-designed layout. You rarely see homes that cut off your line of vision, or have clunky couches in the middle of vantage points. Small modern houses typically stick to a simple and unified color scheme, which helps pull the home's entire look together.
"Many of our homes focus on clean lines, bright white spaces, and plenty of natural light," explains Stoltzfus. "By keeping our designs simple, it allows for the pops of character from your decor or furnishings, thus highlighting your personal tastes while leaving you feeling good about the space you are in."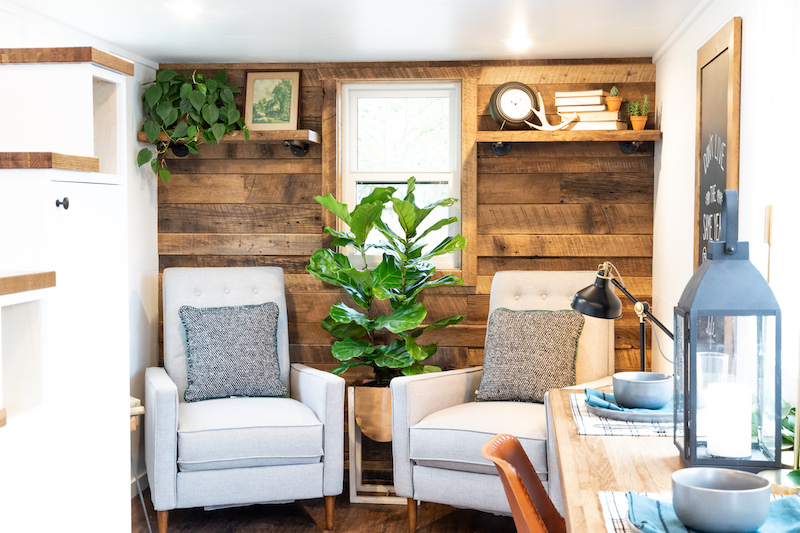 Interior of a Liberation Tiny Home

As homeowners, it's important to sit down and think about what will bring you joy in a living space. Tim Davidson, who co-runs the Tiffany the Tiny Home website, brings a unique perspective to the conversation.

"The physical [layout] of a tiny home is clever, and people gravitate to that," notes Davidson. "The use of multifunctional and well crafted everyday objects, such as a folding down kitchen/desk to save space, is just cool! As humans we can admire someone's hard work to make something that is well built. Especially in today's world, where a lot of things are mass manufactured and lack the quality of something you might find in a tiny home like ours."
It's understandable, and even commendable, to look for ways to bring a unique feel and handmade touches into your home. If that's something you find appealing in tiny homes, research local builders and artisans in your community who can make custom pieces perfect for your needs. 
"In tiny homes there isn't much space for furniture or decor, so make sure that the choices you select are comfortable and will last a long time," advises Stoltzfus. "With less space, you will be using the things you have more frequently. Your choices should speak to quality and long-lasting pieces because of that."
Your Mortgage Shouldn't be an Afterthought
The main motivation behind little house living generally isn't that homeowners want to climb a ladder to sleep – they want to live rent-free, and get closer to being debt-free. They want to never worry about evictions, and pay off their student loans at the same time. 
According to Yahoo News, millennials are buying smaller homes compared to other generations because it's an effective way to make home ownership more affordable. Smaller homes simply cost less – both to purchase and to maintain.
It's a mistake, though, to only look at a home's upfront cost to determine affordability. 
We've discovered that a large percentage of clients know very little about the mortgage process – and don't realize that rates can vary widely between lenders. Going to your bank without shopping around is unlikely to get you your best rate. In fact, big banks will often charge you more. 
Our mortgage advisors can help you find the best rate on the market, rather than limiting you to a single lender's offerings. By searching out the lowest mortgage rate, you can decrease your monthly payments by hundreds of dollars. 
Finding the right loan can put you on the path to saving thousands of dollars over the lifetime of your loan, allowing you to maintain a lower debt burden, pay your loan off faster, or live more comfortably month to month.
Live Large in a Smaller Home
When it comes to homes, size is all about perception. Opting for a smaller home doesn't mean your home will be less inviting, less comfortable, or less suited to growing and changing families. 
"Ultimately, imagination is key," says Buscher. "You have to see past the square footage – and see how the home can work for you."
You can use the ethos behind tiny home living to help guide your own home purchase and get out of the renting cycle. 
Whatever size home you're looking for, our salaried buyer specialists can help you find it.