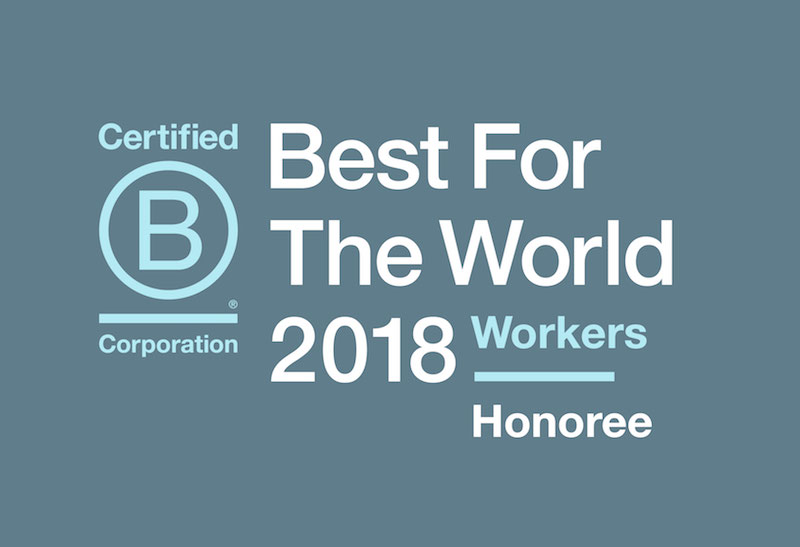 Houwzer is more than just an innovative, customer-focused real estate brokerage. We're out to make the world better.

It is our great pleasure to announce Houwzer made the 2018 Best For The World list, an honor given to the top 10 percent of B Lab's 2,400 Certified B Corporations. Houwzer was recognized in the Best For Workers category as one of the B Corps with the most positive workforce impact.

To become a B Corporation, companies must achieve a minimum of 80 points on the B Impact Assessment. The assessment measures a company's impact on its workers, community, customers, and the environment. Assessment data is public information and anyone can view Houwzer's impact on the B Lab website.
The Workers section of the B Impact Assessment measures a company's relationship with its workforce. It assesses how the company treats its workers through compensation, benefits, training, and ownership opportunities provided to workers. The category also focuses on the overall work environment within the company by assessing management/worker communication, job flexibility, corporate culture, and worker health and safety practices. Honorees scoring in the top 10 percent set a gold standard for the high impact that 'business as a force for good' can make on employees around the world. Houwzer made the list thanks to exceptional practices including employee bonuses, generous time off and leave policies, and an employee ownership plan.
The vision of Houwzer is to be the best real estate company in and for the world. With each decision we make, we have to ask ourselves, "will this contribute to us being the best?" This was especially true as we created our employee policies, benefits, and overall take on our company culture. It is a high honor to be awarded a spot on the Best For Workers list, especially since changing the dynamic of the Real Estate Agent career is one of our main goals.
Why is it important to us to change the dynamic of the Real Estate Agent lifestyle?
Here are some sobering statistics from the National Realtors Association on the reality of what most real estate agents experience:
Fifty-six percent of Realtors who have two years or less experience made less than $10,000 in 2016.
Eighty-seven percent of all real estate agents fail in the first 5 years.
On average, 31% of Realtors spend over $1,000 per year on marketing expenses.
Realtors also have a lot of start-up costs. Expenses include:
$107 for a license
$715 to join the Realtor Association
$555 to receive access to the Multiple Listing Service (TREND in PA)
$100 for required continuing education
$70 for 200 business cards
This totals $1,547. When you combine that with the average marketing spend, Realtors are looking at $2,500 in start-up costs, all before they've gotten their feet wet in the business. If you subtract this from the average income, a new agent will bring home $7,500 annually, and that's not even considering paying for health benefits.
We've set out to change this by paying our agents a salary, covering their expenses, and giving them benefits. This allows our agents to work in the best interests of their clients, rather than pushing a house on someone just to make sure they can pay their bills. It's an approach to the industry we believe makes for a better world, and it looks like B Lab thinks so too.
"With the rise of anger at a system that feels rigged, people are hungry for companies like Houwzer, who are changing the system by building businesses that seek to create the greatest positive impact," says Jay Coen Gilbert, co-founder of B Lab. "Best For The World is the only list of businesses that uses comprehensive, comparable, third-party-validated data about a company's social and environmental performance. As consumers, talent, and investors increasingly demand transparent, values-aligned businesses to buy from, work at, and invest in, companies will need to not just the best in the world but the best for the world – and not just to be nice, but to be the most successful."    
The Full Scope
A total of 932 Certified B Corporations were named 2018 Best For The World Honorees, including: Patagonia; King Arthur Flour Company; Green Mountain Power; and the United Kingdom's Charity Bank. Fifty-two countries are represented, including Denmark, India, South Africa and Taiwan. The selection criteria for Best For The World honorees is available here.
Today there are more than 2,400 Certified B Corporations across more than 150 industries and 50 countries, unified by one common goal: to redefine success in business. Any company can measure and manage social and environmental performance by using the B Impact Assessment Tool.
Interested in buying or selling a home with a company who takes care of its clients and employees? Schedule a free consultation with one of our Realtors.