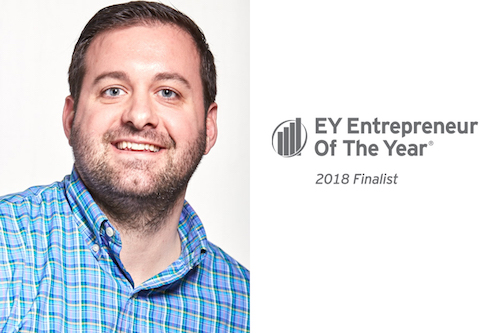 The entrepreneurial spirit is alive and kicking in Greater Philadelphia — and we couldn't be happier to be a part of all the action! Mike Maher, Co-Founder and CEO of Houwzer, was recently announced as a finalist for the Entrepreneur Of The Year® 2018 Award in the Greater Philadelphia region.

The Entrepreneur Of The Year Program recognizes entrepreneurs who demonstrate excellence and extraordinary success in areas such as financial performance, innovation, and commitment to their businesses and communities. It is the only competitive awards program in the world for entrepreneurs and leaders of high‑growth companies. Past leaders have disrupted industries, created new product categories, and successfully brought new innovation and technology to traditional industries.
"This is the most coveted award by entrepreneurs globally. I'm honored to be recognized as a finalist alongside some of the region's biggest thinkers and problem solvers," said Maher. "This award is dedicated to the entire Houwzer team, whose level of belief in our unified mission is inspiring, as we seek to create a better, faster, and cheaper home buying and selling experience built around the customer."
As the world's most prestigious business award for entrepreneurs, Entrepreneur Of The Year has been at the forefront of identifying game‑changing business leaders for more than 32 years. The program has honored the inspirational leadership of entrepreneurs including Howard Schultz of Starbucks Coffee Company, John Mackey of Whole Foods Market Inc., Pierre Omidyar of eBay, Inc., Reid Hoffman and Jeff Weiner of LinkedIn Corporation and Mindy Grossman of HSN, Inc.
Given the type of leaders this program identifies and celebrates, Mike's selection as a finalist is truly an honor. It also makes sense. His mission with Houwzer goes beyond simply "disrupting" a billion dollar, traditional industry that has long been stuck in the past. Houwzer has earned a reputation as a trusted brokerage with a penchant for social-responsibility in the middle of a highly distrusted industry. And rather than merely aiming to "do good", Mike ingrained it into the company's culture and identity: Houwzer is the first B Corporation real estate brokerage in the country, and its core mission is to reshape the entire brokerage experience – for the good of its clients, employees, and communities.
If becoming "the best brokerage in and for the world" seems a bit too altruistic or unattainable, then you don't know Mike Maher. It's a lofty goal, but one he might just hit. Four months into 2018, Houwzer is obliterating its goals – and in the midst of a relatively sluggish Philadelphia market.
Houwzer has reimagined every aspect of the home buying and selling experience, providing savvy homeowners the most exceptional service at the fairest price - simultaneously reducing the time, cost, and friction of homeownership. By merging innovation, technology, and a team of specialized salaried Realtors, Houwzer has saved Greater Philadelphia home sellers over $5.25 million, established a client base full of loyal brand enthusiasts, and received hundreds of client reviews with an average rating of 4.9 stars. Houwzer's Net Promoter Score, which measures customer satisfaction and advocacy, has even surpassed that of Amazon and Apple with an astonishing 93.
Just three years in, Mike has built a force to be reckoned with – one that's on its way to bring the same positive change to the DC Metro and beyond. His achievement has earned him the title of Young Entrepreneur of the Year, landed him on Philadelphia Business Journal's list of Most Admired CEOs, and now, placed him in a coveted spot as a finalist for EY's Entrepreneur Of The Year.
We're honored to have Mike recognized among so many other notable business people in Greater Philadelphia. The award winners will be announced at a special gala event on June 14 at the Kimmel Center. You can learn more about the Entrepreneur Of The Year Greater Philadelphia program here.