Washington DC has long been a top destination for young professionals thanks to its plentiful job opportunities, reliable public transportation, and lively nightlife scene. In fact, U.S. News and World Report has consistently ranked it as one of the best places to live for young professionals.
Not surprisingly, many young people starting out in their careers are coming to Washington, DC from around the country - and they may not be that familiar with local neighborhood flavor. So: where should you aim for, if you're searching for an apartment or a home? Here's our guide to the best neighborhoods in DC for young professionals right now.
Best DC Neighborhoods for Young Professionals: Foggy Bottom
From top-rated restaurants to beautiful riverside views, there's a lot to love about Foggy Bottom. This neighborhood stretches from Georgetown's western edge down to the Potomac River, and a quick 10-minute train ride connects residents of this unique neighborhood to downtown DC. It's worth noting that, while the top-rated DC neighborhoods for young professionals tend to be more expensive, Foggy Bottom is typically 7% cheaper than the city average, according to Area Vibes' data.
This historic neighborhood is home to George Washington University, which has likely helped propel it as a top neighborhood for young professionals. Bars and restaurants - including several options for the ever-popular Sunday brunch - are prolific here, especially where the neighborhood borders Georgetown.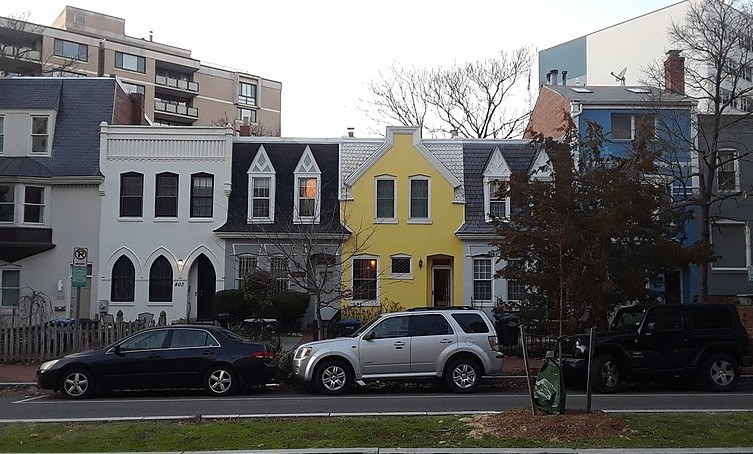 Image via OhanaSurf
Best DC Neighborhoods for Young Professionals: Navy Yard
Forbes recently named the Navy Yard one of the coolest neighborhoods in the world. Most of the development in this area has been fairly recent, offering a slick contrast to the historical flavor of most DC neighborhoods. Its industrial roots give it an edge, while still boasting 10-acres of public parks, allowing for an intriguing mix of urban living and green space.
With over 50 restaurants in this neighborhood, you won't run out of new dishes to sample anytime soon. Young professionals also love the proliferation of free activities here - from yoga to trivia nights, there are plenty of ways to make use of the area's parks and coffee shops. With so much going on, it's easy to see why this is considered one of the best DC neighborhoods for young professionals.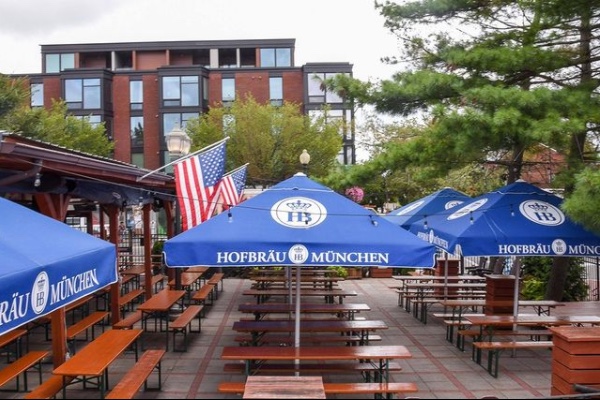 The Brig beergarden
Best DC Neighborhoods for Young Professionals: DuPont Circle
DuPont Circle is a favorite among young professionals moving to DC, and it's no surprise - this neighborhood packs in a lot of punch. Beautiful, old historic buildings lend this area an old-world charm, while a mix of up-and-coming restaurants, cafes, museums, and art galleries infuse it with youthful energy.
It's easy to get to downtown DC with a bike from DuPont Circle - an option many residents here choose to exercise (while simultaneously saving on metro fare). Sip a cup of coffee while enjoying the view from the Spanish Steps, then spend a night laughing at DC Improv, one of the city's most popular comedy clubs.
Best DC Neighborhoods for Young Professionals: Adams Morgan
Vintage clothing stores, historic row homes, and experimental menus define the unique culture of the Adams Morgan neighborhood. A 10-minute bus ride connects this eclectic neighborhood to downtown DC, making it a convenient location for daily commuters. The neighborhood rose to fame in the 1950s when local residents advocated for desegregation. Today, it's known as a hip place to be - especially at night.
There's always something happening in Adams Morgan, so it's no surprise that many young professionals moving to DC decide to call it home. The electric nighttime energy of 18th St is balanced out by calming tree-lined streets, old brick row homes and a convenient dog park.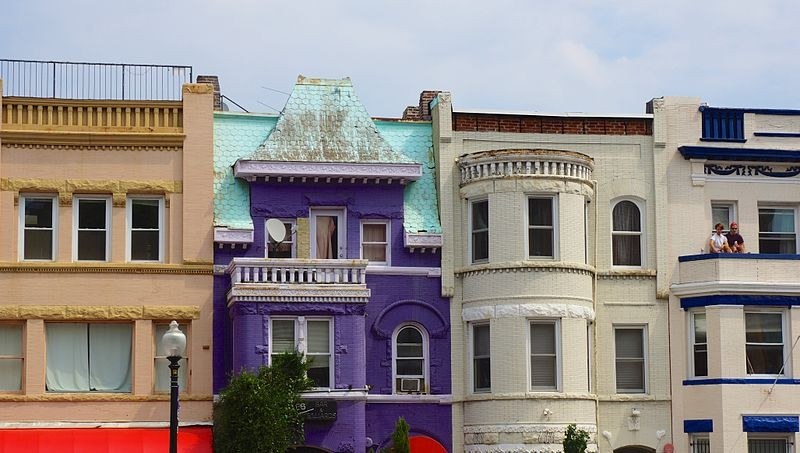 Photo via Ted Eytan
Have more questions about which neighborhood in DC is right for your budget and your lifestyle? Talk to a DC Realtor today. Whether you're looking for the best DC neighborhood for 30-year-olds, or just have some questions about which first-time home buyer assistance programs you qualify for, they're a great resource.
Tips for Saving Money in DC:
For those who start off renting, how can you keep rental costs manageable as you adjust to the city?

Additional DC Neighborhood Guides: