Coastal Annapolis has plenty to offer, so it's no surprise that many people are exploring it as a living option - especially because it has a lower cost of living than nearby Washington, DC. A strong sense of historic preservation meets a contemporary collection of amazing bars and restaurants in this cozy coastal city.
"Annapolis, MD is a beautiful city to live in! Surrounded by water, Annapolis is not only beautiful but there are many things to do; walk down the cobblestone streets of Downtown Annapolis, to tours gaining the wonderful history of the area, to great food and entertainment venues," notes local Realtor Matt Kalogeras. "Annapolis houses the US Naval Academy, a vast majority of historic inns, Annapolis City dock, and Susan Campbell Park."
Many people move to Annapolis every year for job opportunities, school, or seeking out a more affordable living option beyond the DMV. If you're moving to Annapolis, here's what you should keep in mind.
Annapolis Real Estate Market
Is it a good time to buy a home in Annapolis? Most real estate experts would likely tell you "yes" - assuming you can find a home. As is the case in many parts of the U.S., the Annapolis real estate market is highly competitive while having low inventory. This means that prices have been climbing - area homes saw a 10.8% increase in value compared to last year, while the median price hit $542,000. And properties are getting snapped up more quickly, with the average number of days on market dropping to 21 (compared to 34 last year).
Beyond the likelihood that your home will quickly appreciate in value, though, Annapolis is a good location to invest in real estate because of its status as the state's capital, as well as the presence of the Naval Academy. Government jobs are typically recession-proof and ensure a year-round, steady presence of employed people looking for homes.
And realistically, Annapolis homes are still far less expensive than in DC - the average home value there is now pushing past $700,000.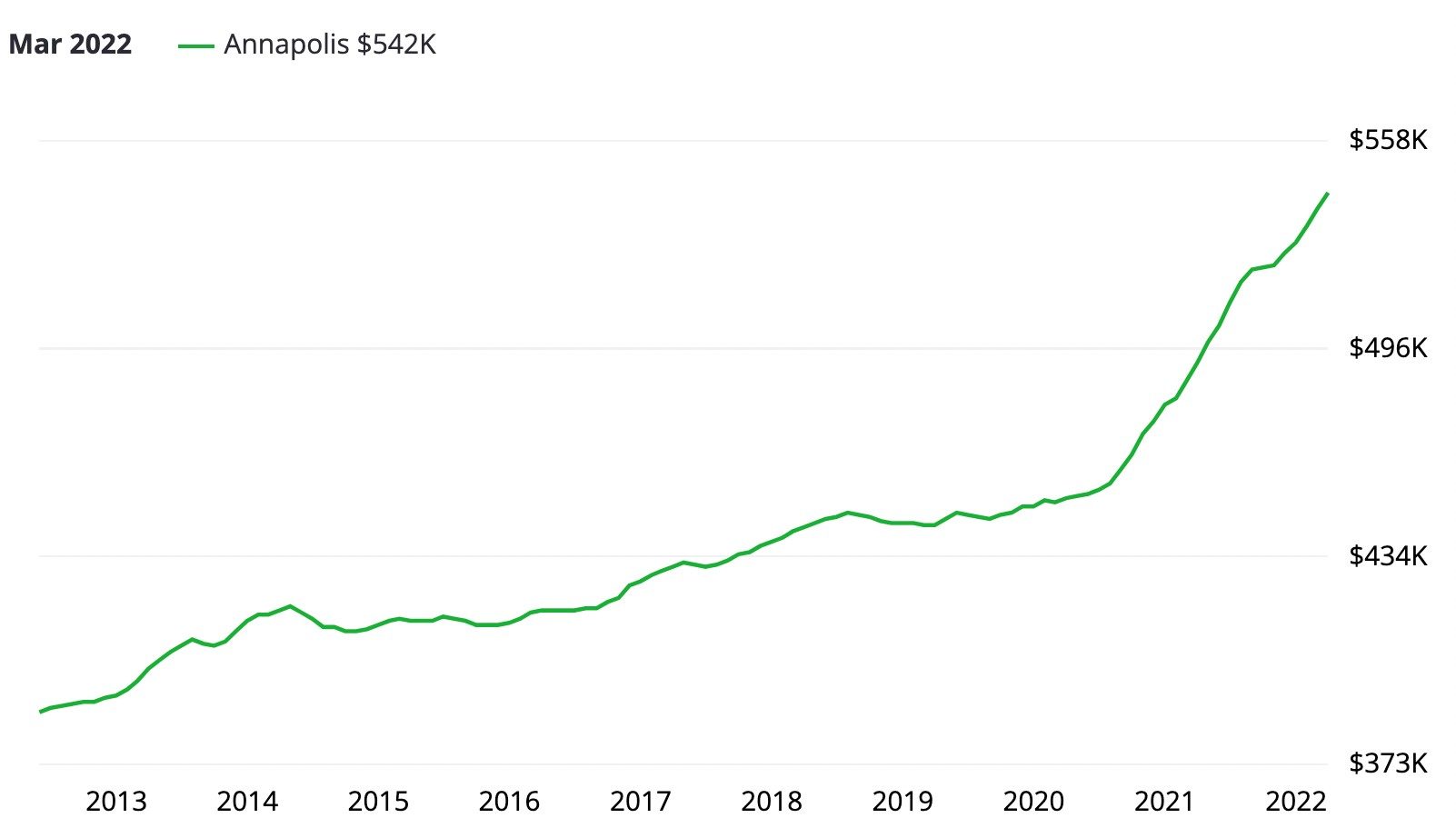 Homes for Sale in Annapolis, MD
Are you thinking of buying a home in Annapolis? Single-family homes, condos, and townhomes are typical here - as well as the occasional live-aboards who are making cozy waterfront homes out of their boats. The housing stock varies in age with plenty of new construction mixed in with historic, turn-of-the-century homes.
"It's always a great time to buy in Annapolis, our state's capital," says Kalogeras. "In terms of the housing stock, there are numerous 100-year-old (and older!) historical masterpieces."
Houwzer is One of the Area's Top Brokerages
Why does Houwzer have a 4.9/5 star rating from hundreds of reviews on platforms like Google and Zillow? Unlike other brokerages - where agents are incentivized to push buyers into the top-end of their budgets so that they can net a higher commission - Houwzer pays its agents a competitive salary with benefits, in addition to fixed bonuses. Because their salary isn't tied to buying homes at a particular price point, they can truly advise clients as to the best path forward.
Houwzer also offers home buyers a wide range of services to make the normally complicated home buying experience seamless and stress-free. Thanks to a "one stop shop" approach, homebuyers can use the company's title and mortgage services and save money by doing so. Additionally, offerings like the Cash Advantage Program - which allows home buyers to use Houwzer's funds to make a competitive cash offer - help homebuyers stand out in a crowded market.
Closing Costs in Annapolis & MD
Closing costs (like the appraisal, recordation tax, title fees, etc) should always be considered when moving to a new area because each state has different norms and regulations that can add or detract thousands of dollars from the closing fees you'll need to pay.
Data from Closing Corp suggests that the average closing cost in Maryland is 2.93% - 3.9% of the home's final sale price.
Based on the average list price in Annapolis today ($542,000), which means that closing costs of $15,900 - $21,138 would be typical.
As a homebuyer, it's important to have an estimate for your future closing costs - unlike your down payment, this can't be rolled into your home loan. These fees will need to be paid upfront when you're purchasing your home.
To find out more, visit Closing Costs in Maryland: What Home Buyers Need to Know.
"In Maryland, altogether it's usually around 4% of the home's purchase price - it depends on the demographic," advises Maryland-based buyer agent Sophia Matsangakis. "We tell people a range of 3-5%, but most of the time it's middle of the road - around 4%."
Property Taxes in Annapolis
If you live in the city of Annapolis, you can expect a property tax rate of 1.409% (that's the municipality rate of .738%, state rate of .112 plus the county rate of .559%). If you live in Anne Arundel county (but not Annapolis), you can expect a total rate of 1.045% (all per $100 assessment).
"Annapolis sits in Anne Arundel county which has the lowest transfer taxes, 1%, of all counties in the state of Maryland," explains Kalogeras.
Overall, Maryland's average effective property tax rate is 1.06%, just slightly below the national average. But because property tends to cost more in this state, homeowners pay more (in dollar amounts) per home when compared to those in other states.
Top Neighborhoods in Annapolis
If you're researching the best places to live in Anne Arundel county, these four might fit your needs.
Amberley
Baltimore Magazine has billed Amberley as one of the most desirable communities in Maryland, and for many residents, it lives up to the hype. This waterside neighborhood hugs the bay, allowing for boating and fishing opportunities as well as scenic roads for biking and jogging. The wooded waterfront area has plenty of beautiful homes that allow space as well as good relationships with neighbors.
Downtown
Downtown Annapolis is where it's happening - and it's definitely the place to be if you value walkability and easy access to bars and restaurants. Brick sidewalks lend this neighborhood a picturesque, historic atmosphere, and centuries-old buildings are now home to art galleries, boutiques, music venues, and more. The local housing stock is mostly comprised of townhomes and some single-family homes.
Forest Villa
Only a 10-minute drive from downtown Annapolis, Forest Villa is a picturesque community that's known for its walkability and for being a dog-friendly neighborhood. Cozy one-family homes and apartments make up the housing stock here. Check out the Julep Southern Kitchen and Bar here, and try their highly-recommended pot pie.
Eastport
Located on a peninsula, Eastport is cradled by waterfront views. You'll get the key amenities of downtown, sans the tourists and traffic. Numerous marinas serve as a big draw to boat enthusiasts, and this walkable neighborhood is home to some of the best seafood restaurants in the area. "Eastport is a beautiful waterfront neighborhood just a hop, skip, and jump to Downtown Annapolis," notes Kalogeras.
And of course, there are many more amazing neighborhoods in Annapolis. Start a conversation with a local Realtor to find out which one is the best fit for your needs, your family, and your budget.
Home Loan Assistance in Annapolis
Homebuyers can often make use of home loan assistance programs to purchase their home. Although these programs are usually for first-time home buyers, it's almost always worth looking into because some programs consider you a "first-time homebuyer" if you're moving to Maryland from another state, or haven't bought a home in a certain number of years, etc. If you work with a mortgage advisor, they can research these programs for you and suggest the best options for your unique situation.
And homebuyers can still qualify for programs like the FHA loan, the VA loan, and the USDA loan.
So: Ready For Living in Annapolis, MD?
Annapolis doesn't always get the attention that the nearby cities of Washington, DC, and Baltimore receive - and for many residents, this is part of its charm. It's one of the best suburbs in Maryland - and it's been rated as one of the top Eastern coastal cities as well. For more information on this region or local homes for sale, get in touch with our Maryland real estate office today.
For Further Reading