Is it the right time to buy a home? For many people, the answer is "yes." Surprising though this may seem, the key is to follow data, not emotions. Here's what you need to know.
Just Because The Market Feels Crazy, Doesn't Mean it's Peaked
"Should I buy a house now, or wait for the next recession?" You may have asked. There's a common belief amongst would-be homebuyers that the market can't keep going up. The crash comes eventually... right?
Unfortunately, data suggests otherwise.
Most homebuyers haven't forgotten the frenzied buying in the early 00s that preceded the 2007 housing crash, and see similarities in the current market. However, today's situation is very different.
The housing crash in 2007 was too complicated an event to completely cover here, but the gist is that lenders were increasingly lax in who they approved for mortgages - and loan products like adjustable-rate mortgages were much more common, meaning that a homeowner's mortgage payments could start off low then climb by hundreds of dollars - and they'd be obligated to pay it, or lose their home.
The entire system was highly reliant on home prices always rising, so as soon as the market hit a slight dip, some people lost everything and it began a downward spiral in price as foreclosures flooded the market. As a result of the 2007 crisis and subsequent Recession, there are many new regulations in place for both lenders and homebuyers to ensure history doesn't repeat itself. Even if home prices were to drop, the system is no longer dependant on home prices always rising.
"Everyone has that mindset of 2008 - there are so many people buying, it's kind of crazy, it's a bubble," observes Orlando-based buyer agent Jeffrey Colom Ortiz. "But just to ease everyone's minds, everyone buying is highly qualified. We're in that great resignation era right now - people are making more money, they're working more flexibly so they can live somewhere else that isn't necessarily close to their job. So it's a good time to buy - it's just competitive."
The reality is that from 2010 to 2020, the number of households in the U.S. increased by 10 million as millennials entered their 20s and 30s, yet only 6.9 million homes were constructed. On top of this, 200,000+ uninhabitable homes are demolished each year. We don't have a real estate "bubble" waiting to pop - we simply don't have enough homes yet to match the growing population.
The Trouble With Timing the Market (Waiting)
Keep in mind that if you're trying to time the market, there are thousands of examples out there of people who figured the market "must" come down - only, it never did, and they lost out on years of building up equity.
"Five years ago, I was doing consults and people were amazed then that the market continued going up," explains DC-based listing agent Robbie Zebhideh. "You need to look at the broader aspects of the market. And I think what's going to surprise people in 2022, honestly - the market continuing to ramp up."
What Zebhidah touches on about examining the market is key: inventory is still low, while demand is still high. Unlike other purchases, like a new TV or an upgraded phone, it can become difficult to put off buying a home for too long - especially for renters. The longer buyers wait, the more they pay off someone else's mortgage. And they may have little choice but to continue their home search if they're concerned about getting their child in a specific school district, etc.
Even real estate experts have trouble timing the market, so it's not something you should try unless you're willing to risk gambling away a good chunk of your future equity.
In other words: if you're waiting for home prices to significantly decline, you might be waiting a long, long while.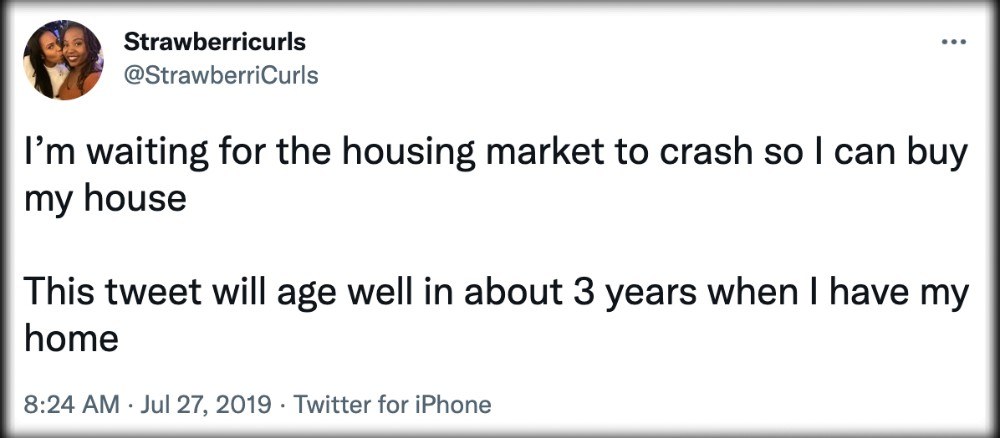 The Math: Rent vs. Buy
Believe it or not, it's typically less expensive to own a home than it is to rent one. Yes - even in this crazy market. People are often led by emotions rather than calculations, and this isn't the best way to make a huge financial decision that will impact your life for years to come.
The beauty of a mortgage is that it's a hedge against inflation. Rent prices have not stayed static, after all - they've been rising dramatically in step with the rest of the housing market. So you can expect that in 10 years time, the average price of renting will be much higher than it is today. Yet your mortgage payment, if you have one, won't really change.
"I get a lot of buyers waiting for home prices to come down. Unfortunately, that's not going to happen - one of the big reasons is that demand is still high for homes. Builders can't build fast enough and rising rent is really going to push people into buying a house," explains Ortiz. "Rent is going to go up about 7% next year, so that alone can push people into buying when your rent is going up $300-400 a month - you could commit that payment to a mortgage."
Ortiz advises mapping out a 5-year plan in order to visualize how much renting is costing you if you wait that long.
If you pay $1,500 per month in rent, for example, that's $18,000 per year. Over the course of 5 years, that's $90,000.
"In 5 years, you're never going to get that $90,000 dollars back. It's gone," notes Ortiz. "Even if the home prices do go down a little bit - you're still going to pay money for renting that you're never going to get back."
In other words - even if home prices drop eventually, you're forgoing building up equity while you wait. And they may never drop significantly - leaving you out nearly $100,000 with nothing to show for it.
Statistics to keep in mind as you consider rent vs. buying: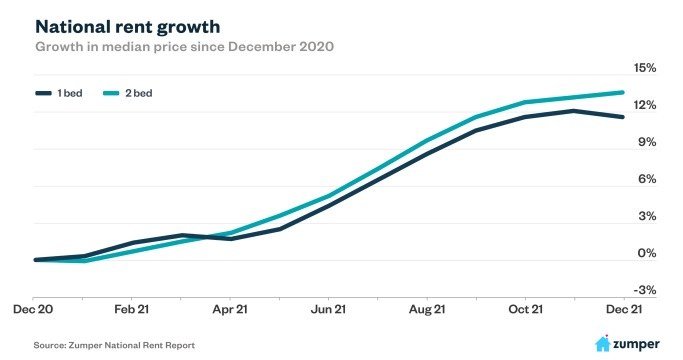 Rates are Rising - and They Will Likely Keep Rising
Mortgage rates took a plunge during the pandemic, but they're expected to climb to the high 3s/low 4s by the end of this year.
It can be difficult for first-time homebuyers to understand the difference in buying power a higher rate makes, so keep in mind that a single percentage point increase can knock down your highest potential loan amount by many of thousands of dollars - enough to impact which homes you can seriously consider within your budget.
"Rates are definitely going to pick up slightly," notes Ortiz. "It's already happening - we're starting out the year at 3.1%, compared to last year when we were in the high 2's. This directly impacts what you can qualify for. If at the end of the year the rates go up to almost 4%, you can qualify for $30,000-$40,000 less."
Not only do you qualify for less home, but you pay more every month in interest. Using Bankrate's mortgage calculator and a home with a $400,000 pricetag/10% down payment/30-year term,
An interest rate of 3% means $1,850 monthly payment and a total loan amount (principal+interest) of $547,500.
An interest rate of 4% means $2,051 monthly payment and a total loan amount of $619,700.
Of course, this is just an example estimate not using your unique numbers. But you can see that a rising interest rate can lead to paying $200 more per month for the exact same home.

When to Wait to Buy a Home
Buying a home in 2022 isn't going to be the right choice for everyone. In what situations should you wait?
If your 5-year plan doesn't involve staying in your home. If you think you'd want to sell your home in 5 years or less (due to moving, a growing family, etc)., then the math might not justify getting a home - because you need to pay closing costs both when you buy and sell, and this might not give your home enough time to appreciate to cover that cost.
If there are very few homes available where you want to live - and there are no viable alternative areas - it may make sense to wait a year or two rather than having to compromise on some of your "must have's."
If waiting a year or two could significantly improve your credit score or debt-to-income ratio, then it might make sense to wait so that you can qualify for a lot more house and a lower mortgage rate (though you can still get started with consulting a mortgage advisor!).
What Should Home Buyers Expect from the 2022 Spring Market?
Although some similarities will persist from last year, there are some potential shifts in the wind.
Marcus Mack, a buyer agent in the heavily-competitive area of greater DC/Arlington, has this to say:
"In 2022 interest rates will be slightly higher, and there will possibly be a little more inventory, but I don't think there will be too much of a difference."
He notes that the persistent factor is a lack of homes to meet the number of buyers out there.
"I think it's going to be very similar to what was going on last year - houses still going way over listing price, multiple offer situations, and not enough houses to go around for more buyers. But I will say that with increased interest rates, loan officers are becoming a little pickier about who they're approving."
Ortiz notes that with some markets, you can expect the intensity to be dialed down a few notches (which may come as a relief to home buyers who have heard countless 2021 horror stories).
"I think the frenzy of last year is going to dissipate. Last year we were having lines out the door and 20-30 offers per home. Very shocking to see, even for us as Realtors," he explains. "So this spring, while yes, it will stay competitive, I don't think you're going to see even remotely near that frenzy. You're going to have multiple offers on properties that deserve multiple offers, but you're not going to have these 20, 30 people lined up for every home - I think that's over."
Experts are predicting home prices will rise at least 7%, up to potentially 11% - while this is a lot, it's a cool-down from last year's nearly 20% increase.
So what should you expect from the spring market?
Higher interest rates
A slightly more stabilized market
Still very competitive seller's market
Home prices will continue to rise - but less rapidly than before
How to Prepare to Buy a Home in 2022
The time to prepare to buy a home in 2022 is now. Even if you're not quite ready to put down a down payment and move in, you can - and should - start the ball rolling by meeting with a Realtor, identifying your budget, coming up with a plan, etc.
So how can buyers best prepare for a crazy spring market and reduce the chance of getting rejected 10 times in a row?
1. Talk to a Mortgage Advisor
"Price dictates everything, so the number one thing someone needs to do is speak to a mortgage advisor," says Ortiz. "Even if it's a year or two away, they can give you a plan and tell you what you're eventually going to qualify for."
"Buyers should prepare by making sure their credit score is pretty good, making sure they have good liquidity, and by having an upfront conversation with their loan officer and their Realtor and laying out expectations," recommends Marcus.
2. Trust the Experts - They Know the Market
"You want to trust your mortgage advisors and your Realtors because we've done this multiple times. This is why a lot of people will lose their first offer - they'll listen to our advice, and then they'll do the opposite," warns Mack. "We advise them that it's a multiple offer situation and if everyone else is doing X and you're doing Y, there's a good chance you're going to lose."
If you still need to find a Realtor, check out our guide "15 Essential Questions to Ask a Realtor" so that you choose wisely.
3. Do Your Research
"Start looking in the areas you want. Get familiar with the community- the schools, etc. - get familiar with the different times of day - what the traffic flow is going to be like," advises Jeff. "Too many times people think they like a community because they've heard about it - then they move in, and six months later they're not happy. So that's one thing I think people don't put enough time into, is getting to know the community and the area they want to live in."
4. Set Reasonable Expectations for Yourself
"Getting outbid in this market - that's just something that's going to happen. You have to set the expectations going into it. As long as you're patient and you have a plan, the right house is going to fall at your feet," says Ortiz. "You hear horror stories all the time - 10, 12 offers - but you also hear about the clients that get their home with the first offer, maybe the second offer. It's all about timing."
5. Don't Be Afraid to Take a Chance
"You'll miss 100% of the shots that you don't take - if you put in an offer you have a chance to win, but if you don't do anything you're 100% going to lose," advises Mack.
For Further Reading