When Houwzer conducted a brand survey we found that 18% of homeowners plan to sell a home, 39% plan to buy a home, and 44% plan to renovate a home. In other words, there's a lot of people planning to renovate their home - but not all of them plan to move immediately.

In our "Should you renovate before selling your home?" guide, we pointed out that most home improvement projects have under 100% ROI (return on investment) - in other words, you'll usually spend more money on the project than you make back at the closing table.
However, a lot of people plan to get plenty of use out of their renovations, which can make them a lot more worth it. It's also fair to say that multiple renovation projects can help a home to really pop in online images - having a bathroom and kitchen from the 1970s along with a shag carpet will dissuade a lot of buyers who won't want to take on multiple projects at once.
So if you plan to renovate your home and want to figure out which new home upgrades are worth paying for, here's what you need to know.
1. How to Pay for Home Renovations
According to HomeLight, the average cost to renovate your entire home is $19,800 – $73,200, which is a fairly large range. The extent to which you want to renovate, the size of your home, the going rate for contractors in your area, and the cost of materials will all inform how much you need to spend. Even if you want to take on a single project - like a bathroom renovation - you'll likely spend anywhere from $5,000-$20,000.
If you don't have this money in the bank - or don't want to drain your savings - how can you finance your home renovations? Typically, you'll have a few options available to you.
Home improvement loan: a personal loan from your bank can be used to cover the cost of renovations. These loans will typically have higher interest rates and often have shorter repayment windows: for this reason, they're most suitable for smaller, less expensive projects.
HELOC: a Home Equity Line of Credit is secured by your home - you're borrowing against your own available equity. Because the loan is tied to your home, you can access lower interest rates. It also operates as a revolving line of credit so you can take what you need, when you need it (rather than having to estimate and borrow $30,000 at once, for example).
Cash-out Refinance: you can refinance your home loan to take advantage of your home equity. However, when opting for a cash-out refinance you need to pay closing costs, which can be expensive (typically 2-5% of the home loan amount).
2. Best Renovations to Do Before Selling: Consider What Buyers Prioritize
The National Association of Home Builders recently surveyed over 3,000 homebuyers across the nation about what they wanted in a home, and some of the results might surprise you. The top five most wanted features in a home (out of a list of over 200 features) were:
A laundry room
Exterior lighting
Ceiling fan(s)
Energy STAR rated windows
Patio
Laundry Room
It's clear that - if you don't have a dedicated space for laundry - it might be worth it to create one. People want space to organize their fresh clothes, and keep the dirty ones out of sight. If you don't have space to spare upstairs, the basement is usually your next best bet - the utility lines already exist there, and if your basement isn't finished, you don't need to demolish anything first.
Outdoor Space
Exterior lighting and patio both showed up high on the list. Usable outdoor spaces expand the home's livable space and help create the sense of "private oasis" many buyers are looking for (especially those who now work from home). Exterior lighting helps showcase the home's features and also serves as a safety feature.
Green Features
Ceiling fans and ENERGY star rated windows speak to a growing interest in energy efficiency - all green features on the list were rated as essential or desirable by over 70% of all buyers. These can be renovation "wins" as well because they'll save you money on your monthly energy bills so long as you are living in the home.
Kitchen Features
Some of the most desirable kitchen features further down on the list include the double sink, walk-in pantry, and central island. Essentially, people are looking for features that increase their usability of the space - so prioritize these changes rather than features that rarely serve as useful in everyday life (example: sub-zero refrigerators).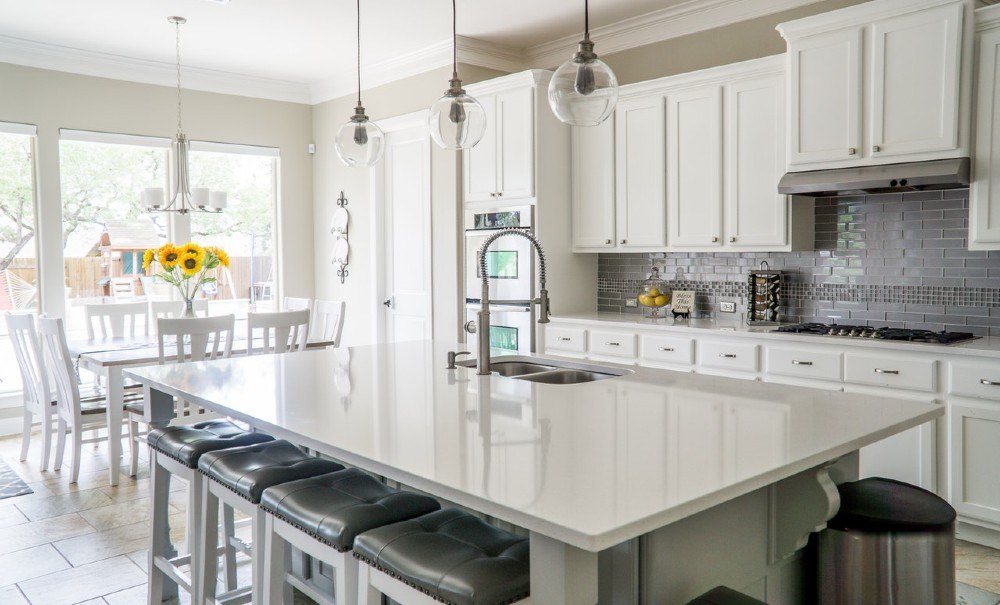 How to Choose Your Surfaces and Floors
If you're renovating your home, surfaces and floors should always get a revamp because they have such a profound effect on first impressions. Stained carpets and outdated linoleum should be the first to go. But when it comes to updating your counters and floors, what are the best home improvements to increase value (while being easy to use while you're still there)?
Wood
Wood flooring remains a favorite, and it's heavily favored by millennials (who are now the largest group of homebuyers). Homebuyers are willing to pay more for hardwood floors.
Best option: Ebony, cherry, live oak, and bamboo are the most durable.
Best value: Maple and hickory are durable and long-lasting and can be found at a more affordable price point.
Best durability: Engineered hardwood is fairly warp-resistant and waterproof (as much as wood can get). This can make it an ideal choice for those in humid climates or for people with accident-prone pets.
Countertops
A beautiful countertop enhances the appearance of kitchens and bathrooms. Opting for a sophisticated stone - or other modern alternatives - will help your home pop once it's eventually on the market.
Granite: Granite is a luminous, beautiful stone material that is stain and crack-resistant. Although the material is porous, it's sealed - and likely won't need to be re-sealed very frequently (each seal should last over 10 years).
Concrete: Concrete is becoming more popular as a contemporary surface material. It does require regular sealings in order to prevent staining. It will have good resale value.
Quartz: Manufactured quartz is a non-porous and durable material that looks beautiful and modern. Since it's engineered, it doesn't require the maintenance of natural stone.
Butcher's Block: the wooden countertop has been gaining popularity as of late. This material has natural antimicrobial properties and can create a warm and inviting look. Because it's softer than stone, though, you'll need to be more careful about nicks and scratches - you'll also need to treat it every few months with an oil or wax.
Experts weigh in:
"Concrete countertops are increasing in popularity and are considered a premium material," explains Jessenia Toro of MyHome Design + Remodeling. "They are energy efficient, easy to customize and increase resale value in your home. Their durability means it will last through your family's use to the next owners."
"When in doubt, go with granite. If you are considering the type of countertops to install, then by all means do granite. Granite is extremely durable, warm, and timeless. And of course, you will maintain value with granite countertops," recommends Rick Abbiati, Owner of Colony Property Investments.
"We recommend either granite or a quartz composite stone. Both of these are durable enough to maintain their new look for a few years," explains Adib Adely, a director at Carmel Homes, a home design and build company. "Stay away from soft stones like marble as they stain quite easily with reactive kitchen ingredients like lemon juice, tomato paste, or wine."
"Butcher block countertops are definitely the way to go for maximizing profit eventually because they're so inexpensive to install," says Lynne Sade, author of the renovation blog A Farmhouse Reborn. "As long as they're maintained with some kind of sealant or mineral oil, they'll definitely hold up well over time."
Perfect Small Projects to Increase Value
Closet systems: when there's a lot of clutter in closets, buyers may think there's not enough storage space in the home. Installing racks, containers, and shelves that help you stay organized is a budget-friendly way to upgrade your space and make it appealing to the next homeowner.
Update the front door: "Simply purchasing and installing a new front door in a house can have a large beneficial impact on its value. The front door is what is seen from the street, and it is one of the first things that visitors encounter, so it makes sense that it should be high quality, visually appealing, and well-maintained," explains Tal Hassid, the founder and CEO of ETO Doors. "All of the primary photographs of the house will include the front door, as the entryway is what makes us feel welcomed. If you can't afford replacing the front door, consider repainting it or refinishing it. This small update can make the home feel much newer, especially if you have just painted the exterior."
Better Lighting: Lighting is everything when it comes to creating an inviting and open feeling. "Use a variety of lighting sources by providing a multiplicity of lighting," recommends Jessenia Toro of MyHome Design + Remodeling. "Ambient light will illuminate the entire space, usually with a beautiful, centered ceiling fixture and pot lights distributed throughout the space. Add accent lighting in built-ins with strip lighting around the perimeter of your ceiling, in niches or even under base molding."
Fresh Hardware: "Some small but meaningful changes we like to make to renovations are things such as hardware upgrades (door handles and cabinet handles/hinges) and anything that can make a room pop," says Donald Olhausen Jr, owner of We Buy Houses in San Diego. "Upgraded faucets and wall plates can have the same effect."
Updating Your House: What Should You Avoid?
Not all renovations are created equal - and some might actually work against your home once it comes time to sell.
"One renovation factor that homeowners are often drawn to is whimsical tiles that aren't really useful for attracting home buyers," notes Sade. "Whether it be in a bathroom or kitchen (like a backsplash), often during renovations homeowners choose something with a big splash of color or imposing design and it may not be everyone's taste. Colorful, flashy tile can be tempting to add but it can be a deterrent when the house goes on the market down the road."
In general, extremely bold colors, shapes, or features are going to present a challenge for selling your home since the majority of buyers will plan to change it - so avoid the all-black goth room with custom bat-shaped lighting fixtures.
According to the NAHB survey, most buyers are actively avoiding these renovations:
Elevators
Glass wall(s)
Wine cellars
Pet washing station
Roof covered by plants
In-law suite
While some unwanted renovations - like elevators - may be predictably unpopular, others like the in-law suite might surprise people.
However: While in-law suites might be less popular among the general public, there is a real use for them as multi-family households become increasingly common. Even if only 30% of buyers are actively looking for this update, they might be willing to pay far more for it - simply because fewer homes have it.
So if you need a place for your own in-laws and are wondering if the renovation will pay off, don't be afraid to add it. Recent data indicates that, "Accessory dwelling unit homes [which are detached in-law suites] have been selling faster, with higher price tags, year-over-year."
The reality is also that while you may be updating your home with an eye for selling later, you still have to live in it now. But you can apply the general rules of updating in order to increase selling potential later (for example: outfit your in-law suite with desirable hardwood floors, rather than carpet!).
3. Consult with a Local Realtor
If you want to figure out the best renovations to improve your home's resale value, consider consulting a Realtor first. Why? Local trends in real estate are real. A pool in Florida, for example, is typically a more desirable feature than a pool in New York - so national statistics won't tell the full story.
If you plan to sell within the next few years, it might make sense to scope out your potential agent now - while simultaneously reaping the benefits of their up-to-date knowledge. They'll know which features buyers are drawn to, as well as which ones might be less worthy of your attention (for example: in the National Association of Homebuilders survey, glass walls were very unattractive to homebuyers - most buyers would actively avoid homes that have them).
Pro-tip: Use the 2021 Cost V. Value Guide
Remodeling Magazine releases a cost versus value guide to renovation each year, with data available from the national, regional, and city levels. This can help you really begin to understand what adds value to a home in your local area.
For example: garage doors had the highest ROI of any project in the Mid-Atlantic region, whereas the project with the highest ROI in West North Central states was manufactured stone veneer. Having a sense of whether a project has good or bad ROI is essential for homeowners eyeing their home's future profitability.
For Further Reading