Sellers are feeling the pinch of a shifting real estate market. Selling a home fast and for top dollar today is more of a challenge than it was in 2021.
Selling your home quickly is a good thing - it means people are more likely to pay a higher price, and it's easier to move on to your next home.
Let's set realistic expectations: no one can guarantee that your home will sell in a set number of days, unless they're going to buy it themselves. However, there are home selling tips you can follow so that you're in the best position possible to sell within your ideal timeline. Here's what you need to know.
Price your home slightly below market value
It's counterintuitive at first, but think about it. When you price your home slightly below market value, you stand out more next to comparable properties in your area - which means more potential buyers.
If your home is worth $400,000 and you price it slightly high, just hoping someone will bite, anyone with $400,000 as their budget might pass. Price it slightly under, and you increase the number of eligible buyers - and capture the buyers who might have $400,000 as their upper range, but see your home as a "deal."
And when you have multiple buyers interested in your home, you'll receive stronger offers and have the upper hand in negotiations - as opposed to when a buyer knows they're the only one biting.
"Price too high and you're just going to keep sitting on the market, and the longer you sit on the market, the higher the interest rates go - which is just a bad combination," advises Philadelphia-based listing agent Brett Stephenson.

Pricing competitively will get the maximum eyes possible on your listing in the first week. Statistically speaking, sellers are most likely to get their full offer price within the first week - and this is when the house gets the most views online. The longer a property is listed, the less it benefits from being "the shiny new thing" - and the more buyers wonder whether there's something wrong with it.
Zillow's data shows that your home gets the most views - and corresponding interest - in the first week it's listed. After that, interest will drop off quickly and is hard to regain.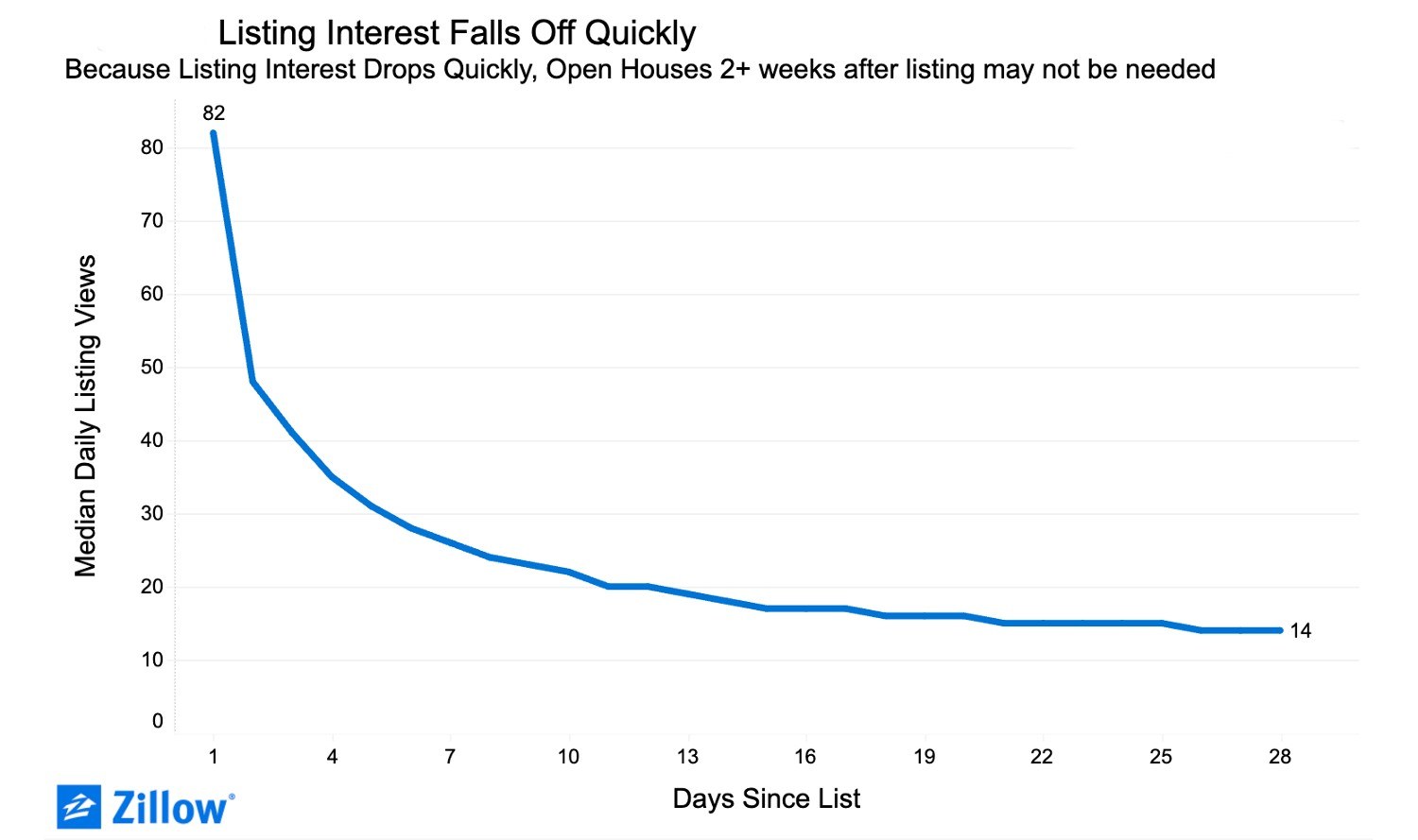 Be flexible for showings
It can be tempting to set ground rules for showings when you're selling your house. Having homebuyers only come to see the house when you're at work and the kids are at school, for example, can keep them out of your hair.
However, if you want to sell your house quickly, you'll want to be as flexible as possible when it comes to home showings. One real estate blog estimates that it takes about 17 buyer showings before the average home is sold.
If possible, try to establish a routine for home showings in advance so that it's easier to get out the door if an agent has a client interested in stopping by.
Invest in great photography
Professional photography is essential for selling your home quickly these days. Not only will it show off your home in the best light - you also have to keep in mind that if your competition is using professional photography, but you aren't, your home will look worse by comparison. About 99% of people begin their home search online, meaning that photos play a very important role in which homes buyers decide to see in person.
Professional photography is a small investment that can pay for itself if it brings in more qualified buyers - and it's worth keeping in mind that some brokerages, like Houwzer, offer professional photography as part of their listing services. Even though Houwzer's listing services are a flat fee of $5,000, this includes professional 360° photography and videography - so it's definitely possible to get amazing photography that flatters your home's features without breaking the bank. If not included, Thumbtack estimates that the cost for this service is around $200 on average.
Note: 46% of home buyers polled by Zillow said that viewing photos of the home is highly important in determining whether a home is right for them.
Left photo: Bright MLS photography. Poor staging and a vertical shot means the focus of the photo is the trash bin, and it's difficult to see the room's size or its features (low resolution means a blurry light fixture). Right photo: Houwzer's photo uses a wide-angle lens and a strategic angle to make the room feel open and inviting. It's easy to see the room's entire layout.
Limit contingencies
When you add contingencies to your offer, you limit the number of potential buyers who will buy the property. Now that buyers have more choices and less competition, they're more likely to say "no" to 60-day lease back contingencies and say "yes" to contingencies that protect buyers like inspection and finance contingencies.
"Sellers should not expect buyers to waive inspections," New Jersey-based listing agent Ruben Concepcion explains. "People are going to get home inspections now, they're not in those situations where they need to be waiving things."
Since home prices have risen so dramatically, appraisal contingencies will also remain popular - as covering the difference, or paying in cash, becomes harder and harder for the average buyer to do.
Do a pre-inspection
A home inspection is standard for home sales, as it tells the buyer what the issues are that may not be visible to the naked eye (and may not be known to the seller). Typically the buyer pays for this service.
However, as a seller, you have the option of getting a pre-inspection. While this might seem like an unnecessary expense at first, it can actually be a very savvy way to get ahead of potential issues - and ensure a smooth, quick sale.
"I am very big on getting a pre-listing inspection done," recommends Concepcion. "It gives you the ability to get ahead of everything so when you do find a buyer and you list it, you can advertise that the home is actually in great condition - and you're eliminating that headache down the line where we're going to see buyers walk away from things that aren't perfect."
A pre-inspection can strengthen your position in negotiations. Not only do you have time to repair problems and hire contractors - you also won't be stuck agreeing to too-high repair deductions in heated negotiations because you're worried about losing the home sale.
A pre-inspection will cost a seller $400-$500 on average.
Take care of small fixes and cosmetic issues
Big changes are a no-no if you're trying to profit the most and sell quickly. However, making small fixes and addressing cosmetic issues can help homes sell quicker than similarly-priced properties on the market.
Fix cabinet door hinges, replace broken shelves, tighten your loose stair railing, and unclog drains.
Don't waste your time and money on things like new cabinets and countertops unless the ones you have are noticeably damaged - because the upgrades you make might not be what the buyer is looking for anyway.
"Oftentimes sellers want to spruce up their kitchen by replacing or painting cabinets. Although it makes things look good, the colors chosen usually are not what a new buyer would want, or the style picked does not add value," explains Virginia-based Realtor John Marcario. "Let new buyers pick items like this to make the house their own!"
If rooms are painted bright colors like red, purple, or orange - or have been painted with designs, or heavily scuffed up over the years - buyers are likely going to be turned off because it's a problem they need to solve soon after moving in. Whereas white walls, even if a buyer doesn't prefer them, are neutral enough to make-do for a few years - so it can be worth it to repaint before selling.

Concepcion echoes this when it comes to old carpet. "Eye candy goes a long way," he says. "I'll say to someone with an old, dingy carpet: just put in the cheapest, neutral colored carpet you can find. Even if you offer them a credit, most people don't want to pick up a project while buying a home. So if you can just do it for them and make it look ready, they're more likely to buy. They'll change it eventually, but this way it's not an immediate project they have to deal with when moving in."
So: will you be able to sell your home in 5 days?
Not everyone will be able to sell their home in five days - the market has certainly slowed down, and with interest rates up buyers are being more discerning and asking more questions before they feel comfortable putting in an offer.
However, if you follow best practices - as well as your Realtor's advice - you'll likely be able to sell your home on a timeline that fits your needs.
Start by talking to a Realtor today

More home selling tips