Maximize your savings.
Minimize your stress.
---
Every transaction with Houwzer comes with a $2,500 rebate. Redeem it on your next transaction to reduce closing costs or listing fees— or gift it to a friend or family member.
How does it work?
When you sell or buy a home with a Houwzer agent, you automatically receive a rebate worth $2,500. Redeem it on your next transaction to reduce closing costs or listing fees. 
Buy or sell a home with Houwzer and get a $2,500 rebate that can be used on another transaction. 
If you buy a new home and then sell your old home, you can cut our already fair $5,000 listing fee in half.
If you buy one home and then buy an investment property, you can redeem the $2,500 to reduce the closing costs on the second transaction. 
Need to sell more than one property? After the sale, you can use the rebate to save $2,500 on the fees for the second. 
Every time you close with Houwzer, you receive a new rebate so you can keep saving on every transaction.
How much can I save?
In a typical transaction, sellers pay 3% to the listing agent, and 3% to the buyer's agent. For a $600,000 home, that's $36,000.

But with Houwzer, sellers pay a $5,000 flat listing fee, and 2.5% to the buyer's agent (all paid at closing). For a $600,000 home, that's $20,000– a $16,000 savings! 
If the $2,500 rebate is used on another transaction to buy or sell, you can unlock a total savings of $18,500.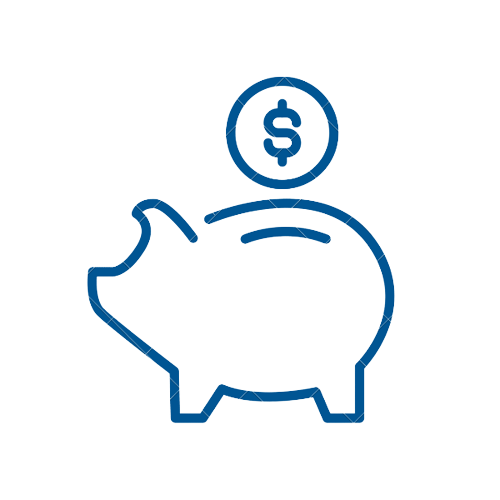 3% commission fees are outdated
---
Houwzer charges a $5,000 flat fee for listing. With over 90% of buyers finding homes online, you shouldn't have to pay a 3% listing commission to sell your home. Combined with the $2,500 rebate, that's money you can use towards your child's college tuition, buying down your interest rate on your next home, or a dream vacation for the whole family.

---
Testimonials
Hear from our past customers about their experiences.
Mike S. | ★★★★★
Bought & Sold in South Jersey
"We listed our house with Houwzer with the hopes to sell quickly and maximize our return on investment by saving 3% in commissions. We were introduced to Trish to handle our sale and Mike for our next buy. Both were responsive, knowledgable, and flexible in working through a very short timeline to close. Mike was great in both showing us properties and understanding what we were looking for. In 8 previous real estate transactions, this one was the most rewarding and the quickest to accomplish! Well done Houwzer - you've made a believer out of us that real estate can be done easily, efficiently, and cost effectively."
Brian W. | ★★★★★
Bought & Sold in Philadelphia
"Our Houwzer experience was excellent from beginning to end with Ross handling the sale of our home and Michelle assisting in the purchase of our new home. This was a new experience for us since we've never sold and bought at the same time, so both agents made the process as smooth as possible for us keeping an open line of communication with us and responding to any of our questions."
Chris H. | ★★★★★
Bought in Northern Virginia
"Our agent was top notch all the way. Emily knows her stuff and helped us to find our home WITHOUT any pressure or stress. She got to know us BEFORE we hit the ground and this cut down hours of wondering what was out there. Buying a home should be a pleasurable experience. In a market that is hopping, you want to have an agent that is working for you and not what goes into their wallet. The business model of Houwzer has the agents salaried which means that they are taken care of and this care is passed onto you. If you are looking for a great company, go with them."
Frequently Asked Questions
We'll refund $2,500 at the settlement of your second Houwzer transaction.
Your Houwzer Rebate may be redeemed within one year (365 days) from the date of issuance.

Example: If you purchase a home on July, 1st, you will have until June 30th the following year to redeem. If you are not buying or selling a home with Houwzer in that time, you may gift it to a friend or family member.
Yes— rebates can be given away. This is a popular option for parents, friends, and other family members in our service areas.
You will be e-mailed a Rebate ID Number after your transaction. When your friend or family member is ready to purchase, they will use this ID number to receive the rebate. Lost your RebateID number? Just let us know the original Rebate recipient's name, and we'll look it up for you.
Yes, the rebate is only valid on a purchase with a minimum $5,000 Buyer Broker commission offered by the listing brokerage. For example, any home that sells for over $166,667 and is offering a 3% Buyer Broker commission would satisfy the requirement. Any home that sells for over $200,000 and is offering a 2.5% Buyer Broker commission would satisfy the requirement as well. The minimum commission income is reduced to $4,500 when the client uses Houwzer Mortgage or Houwzer Title, and to $4,000 when using both Houwzer Mortgage and Houwzer Title.
You can purchase a home in any of our current service areas. Please call or text us at 267.765.2080 or email us at [email protected] to confirm we service your area.

Only one rebate may be used per purchase. 
There is no limit on the number of Bundles a client can use on separate deals.
Unfortunately, your rebate may not be bought or sold. However, you can gift it to a friend or family member for their home purchase.