Zillow is a popular site for home searching, to say the least: by volume, it's the #1 real estate website in the world, with 36 million unique visitors monthly. Because consumers can type in zillow.com and start their home search friction-free, Zillow is often where the home buying process begins.

Just because it's easy to access, though, doesn't mean it's the best way to start your home search. Your home is one of the biggest and most important investments of your life, so you shouldn't treat it like finding a pot scrubber on Amazon.
Are you starting the home search process and wondering whether Zillow is a good tool for that? Here's what you need to know.
How Accurate is The Zillow Zestimate? Not Very
We've written before about just how inaccurate the Zillow Zestimate can be, and Zillow doesn't hide this fact. The site often has trouble accounting for things like home improvements, which raise the value of a home, or the desirability of the neighborhood, which can raise or lower a home's value depending.
According to Zillow's own Zestimate page, "The nationwide median error rate for the Zestimate for on-market homes is 1.9%, while the Zestimate for off-market homes has a median error rate of 7.5%. This means that the Zestimates for half of all on-market homes are within 2% of the selling price, and half are not."
While this may seem like a negligible amount on the surface, this means the Zestimate can potentially be off by tens of thousands of dollars. If you're searching for a home and have a budget you need to stick to, this can quickly swing homes in and out of your price range.
According to Real Estate Decoded, this breaks down to a typical error of $18,000 for an unlisted home.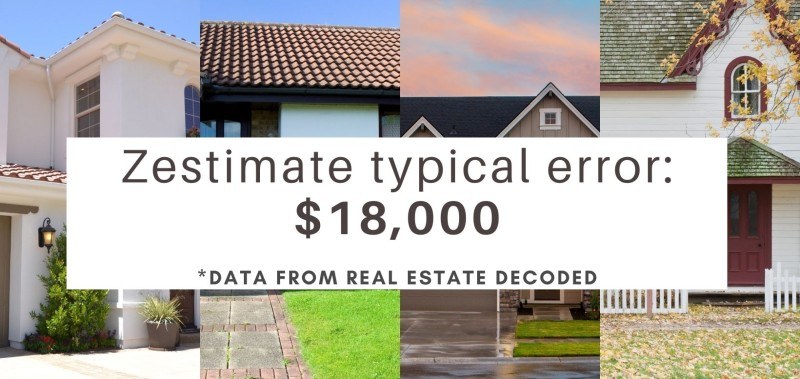 The Zestimate can also contribute to an unpleasant buyer experience: if you feel that you're paying too much for the home, you may end up feeling post-purchase regret.
Getting Matched with a Bad Agent
An agent is an incredibly important asset to home buyers, especially in a competitive market. The right agent can make or break your home buying experience. You read multiple online reviews before buying a $30 waffle maker - so why would you go with the first agent Zillow recommends when you're shopping for a $300,000 home?
Zillow will pair you with an agent based on whether or not that agent is paying them for the lead. In other words, it has nothing to do with how much experience that agent has, if they're familiar with your local area, and if they're an expert on the buy-side of the transaction.
This means you could end up paired with an agent who has no experience - or one who has a reputation for poor communication.
It can be tempting as a buyer to take the route of least resistance, which means simply clicking "yes" to whatever (or whoever) Zillow offers. But this is one of the most important and expensive purchases of your life! Read through our guide on how to screen your agent to get a better idea of what you should be asking before choosing an agent.
Incorrect Budgeting Recommendations
According to a recent survey of homebuyers, about 40% of them believed that buying a new home is the most stressful event in modern life. The last thing you want to do is make the home buying process more stressful or disheartening for yourself - so that's why you'll want to first have a meeting with a mortgage advisor and your real estate agent to figure out your actual budget, then view homes for sale.
You might find out that your credit score is lower than you thought, meaning you qualify for less house; conversely, you might discover that student debt doesn't impact what you can qualify for much as you thought it would, increasing your budget. Many home buyers also fail to budget for closing costs, which are separate from the down payment.
Another problem with going straight to Zillow without consulting a mortgage advisor: Zillow gives buyers an estimated monthly payment for each home. It takes a bit of searching, though, to see that the initial estimate is based on 20% down (which isn't typical, especially for first time home buyers), 0% mortgage insurance (which you will need to pay if you don't put 20% down), and also assumes a credit score of 740 or higher, which may not represent you. Finally, the estimate is based on the listing price alone - but in today's hot market, it's very common for homebuyers to have to offer over asking in order to have their offer accepted.
While the monthly payment estimate can be useful as a very rough guide, it can easily be off by a few hundred dollars when all these factors (and more) are taken into account.
Property Status Inaccuracies
Many home buyers have found the hard way that Zillow doesn't always update the status of its properties promptly. You might see a perfect home in your neighborhood and - surprisingly - it's still on the market after several weeks. But you contact your Realtor about it, and they tell you it's been a pending sale since last month. What gives?
Unfortunately, Zillow doesn't always update right away, giving buyers the impression that homes already under contract are still for sale. One of the reasons agents sometimes hate Zillow is that it can give their clients an inaccurate idea of the local real estate market when it appears that reasonably-priced homes are sitting on the market and not moving quickly, when in reality they might have sold for over-asking several days ago.
Keep in mind, Zillow itself is not an MLS (multiple listing service), which is where agents are required to enter information about the homes they're listing. Zillow has partnerships with MLSs around the country - but there is often a lag between the MLS updating and Zillow updating.
So: how often does Zillow update? If you enter new information about your home into the MLS, it can take up to a full business day for it to go live online. Once it's on the MLS, Zillow will then take that info and post it - which can be up to another full 24 hours. For this reason, in a hot market where homes sell quickly, posts can lag behind by several days. Your Realtor can often access the latest home info through the MLS more quickly than Zillow will display it.
Zillow Reviews and Complaints
Zillow has a rating of 1.6 out of 5 stars based on 193 reviews on TrustPilot, a popular consumer review website. Recent reviews include:
"Horrible experience. Customer service was very rude and not helpful... I wish I would have read the reviews before using Zillow. Everything from the 'zestimate' was inaccurate and they refused to update any outdated information." -Kirsten Worzalla
"We have used Zillow for both sides of the home selling process. At first, you think it's great (it carries some important public info, so it saves you some time) until you get serious and find out their info. is very inaccurate. Not sure where they get the info. but the source(s) is(are) bad. We pop on Zillow intermittently. Noticing discrepancies we began to actually monitor our home/ neighborhood. Our home is severely undervalued (others are as well but we know our property intimately)..." -Anonymous
However, on Consumer Affairs, Zillow has a rating of 3.9 out of 5 stars based on 730 reviews. Recent reviews include:
"Without Zillow we wouldn't have found our house or wouldn't have found it in time. We had told our agent to remove a certain city from our search list as we were frustrated trying to find a home. Zillow still remembered our search criteria and emailed a new listing in the above-mentioned city within minutes of it going live. We immediately called our Realtor, toured the house and placed a winning offer... It's worth mentioning Zillow's information and data was accurate. Forever grateful for this website." -Aubrey of Clarkston, MI
Zillow does not keep up with current prices, photos, or other pertinent information. I have found this site to be quite unreliable - more than other sites. On several occasions, important things like room sizes, square footage, and home worth are often off by quite a bit. I have no idea where they get their information, but it is frequently incorrect." -Laine of Wildwood, MO
Buying a Home from Zillow: Is it Worth it for Buyers?
Over the past several years Zillow has branched out from being a listing site and is now buying and selling homes throughout the country. As a buyer, you may come across a Zillow home for sale and wonder whether it's as good a deal as you think. While articles about the buying side of the process are scant - most focus on the sell side - Reddit buyers report receiving questionable warranty deeds and addendums to the sale that require them to waive their consumer protections.
In other words, it seems like the purchase contract may heavily favor Zillow in these sales. This can be fine if nothing is wrong with the home - however, if a problem emerges (like an unstable foundation, or a leak that the seller failed to disclose) you may end up regretting signing away your rights to litigate.
Conclusion: Can We Trust Zillow?
Zillow is fine for what it is: one tool of many that homebuyers can use as they begin their search. However, it should never be used as a substitute for due diligence and research.
Buying a home may be one of the most significant purchases of your life, so it's worth taking your time to know what you're getting into. Find a Realtor you can trust and start building a plan based on your specific timeline, needs, and budget; not Zillow's rough estimate for all these things.
Further Reading