DC is renowned for its transportation system. Unlike many similarly-sized American cities, Washington, DC has a fairly reliable and extensive subway system in addition to its buses.
In addition to being well connected, DC is expensive to live in.
"The most unique thing about the DC housing market is the pricing and the competitiveness," explains DC-based buyer agent Anita Mutumba. "That's the most talked-about item with transplants."

First-time homebuyers (and even second-time homebuyers, too) often have no look beyond the city's limits if they want a home in their price range that hits their "must have's." Luckily, commuter trains connect the nation's capital to areas and cities as far away as Baltimore, allowing DC-based employees the option to live in more affordable areas.
We spoke to several local Realtors to find the best places to live near DC if you're a commuter: here's what you need to know.
Where to Live if You Work in DC: Arlington, VA
Arlington remains an incredibly popular suburb for commuting thanks to its close proximity to DC. Lots of green space, a thriving bar/restaurant scene, and a unique local culture have made this a hot area. Despite how close it is to DC, Arlington has developed its own identity distinct from the DC metro - and it's one locals appreciate. Biking is a popular pastime here.
On the downside, Arlington is not known for its affordability and prices often come close to what you'd encounter in DC. Still, you get more space for your money - which is an important consideration - and for first-time homebuyers who are content with smaller starter homes, it's possible to find some relative "deals." Our blog on "Affordable DC Suburbs, a Cost of Living Break Down" details exactly what you can expect in terms of average rent, square footage, daily expenses, utilities, transportation, and more.
"Arlington is great for the buyer who's looking for close proximity to DC with a modern experience. Homes here tend to have more updated styling which can feel luxurious when compared to the historical neighborhoods surrounding it," notes local buyer agent Emily Maag.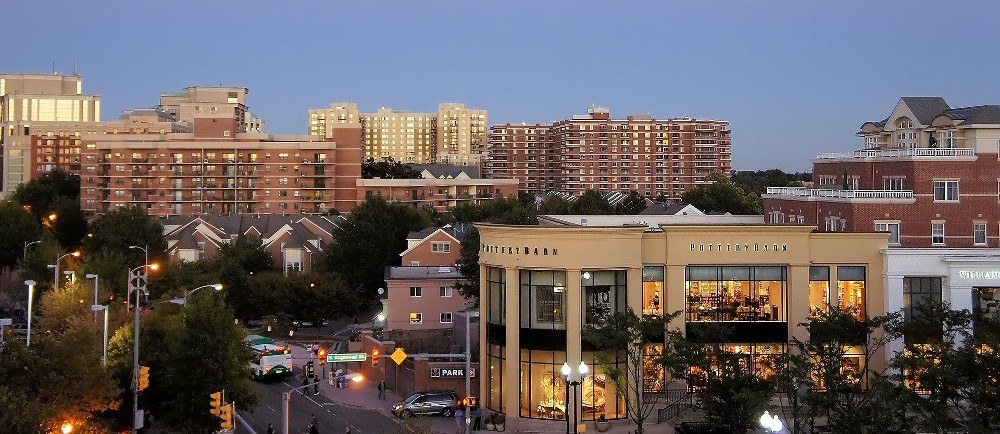 Where to Live if You Work in DC: Rockville, MD
If you're looking for an affordable community in the DMV area, consider Rockville. It's a small city that's been consistently ranked as one of the best cities in the country for families by Livability. A diverse food scene (you'll find both Greek tapas and Vietnamese pho), live music-infused bars, a farmer's market, and child-friendly activities like visiting the Croydon Creek Nature Center and Movies in the Parks ensure there's something for everyone here.
This area is ideal for nature and outdoor enthusiasts thanks to its many trails and recreation areas, including an extensive park system. If special events are your thing, the area celebrates everything from "Rocktobierfest" (an annual event featuring beer, food, and music) to Suds & Soles (a 5K race for the entire family featuring live music and beverages from local breweries).
Where to Live if You Work in DC: Bethesda & North Bethesda, MD
Bethesda is another popular neighborhood for commuters. Like Arlington, it's located very close to DC - allowing for numerous commuting options. A high density of cafes, trendy restaurants, and cozy bars ensure that there's something to do from morning until night. Bethesda successfully toes the line of big-city amenities (it's easy to get around town with the metro) combined with a more suburban, cozy feel (residents extol the neighborly feel and ample green space), ensuring that it's a highly sought-after community for DC-based families.
If you're looking for a more affordable home, North Bethesda is going to be the place to go. Right now, as with most DMV communities, the median cost of homes in Bethesda is quite high. Without a doubt, though, this is one of the most popular commuting suburbs of DC.
Where to Live if You Work in DC: Falls Church, VA
Quaint yet approachable, Falls Church is a unique and historic city that is home to many people who commute to Washington, DC. Beautiful, leafy trees shade historic Colonial homes and Cape Cod-style homes in this area, which is praised for its walkability.
This is definitely the area to live in if you want a small-town feel - there's a farmer's market here as well as the State Theatre, a popular live music venue established in 1936. With 14 local parks, there are plenty of opportunities for families to hike, play, bike, and run. If food and drinks are your thing, unique, local options abound. There's the Maneki Neko Japanese Restaurant as well as Dominion Wine and Beer, a restaurant/beer garden offering a wide variety of craft beers plus creative bar fare.
Where to Live if You Work in DC: Alexandria, VA
Whether you love it for the beautiful and nationality-designated historic district or its contemporary dining options, it's easy for Alexandria to feel like home. Hugging the Potomac, this charming city is conveniently located close to DC while still boasting a strong community in its own right. If you're looking for more acreage and don't mind older interior styling, you'll be much more likely to find it here at a price point you can afford in comparison to Arlington or Bethesda.
"You'll often find homes that were built in the 1930s-50s with well-maintained interiors, feeling like an escape from the hustle of city life," says Maag. "Alexandria of Fairfax County is on the south side, extending down to the Potomac River. This area allows for larger plots of land and often lower home prices, with the tradeoff of a higher likelihood of older interior styling."

So: Are the Washington DC Suburbs for You?
For people who want more space than what the city can provide, there are plenty of options amongst the suburbs of DC.
Some people find that they don't want to leave the city lifestyle, but they have to prioritize a more affordable home - and there are options for them, too. Our guide to top neighborhoods in Baltimore for DC commuters covers this. While the commute to DC from this region is about an hour long, if you take public transportation that's time you can spend reading a book, watching a show, or prepping for work.
If you want to speak further to a local Realtor about which area is best for your life and commute, start here.
For Further Reading