House flipping has become increasingly popular thanks to reality shows that showcase the ins and outs of renovating an older home and selling it for profit. However, TV shows don't tell the whole story of how to find the right home, finance the flip, and ensure profitability.
Baltimore is a popular city for house flipping thanks to the number of cheap distressed properties that can still be scooped up, renovated, and sold for a sizable profit. Here's everything a beginner needs to know about flipping homes in Baltimore, Maryland.
Is Baltimore Real Estate a Good Investment for House Flipping?
Baltimore - and Maryland as a whole - is a good place to start your flipping journey. Why? According to Balancing Everything, Maryland has a high median income compared to other states, as well as a relatively high homeownership rate: both create a good environment for house flipping.
Bankrate indicates that 2020 was a top year for Baltimore, naming it one of the 5 hottest flip markets in the U.S. "Flips made up 9.9% of sales last year. Typical purchase price: $62,500. Typical resale price: $155,000."
The one disadvantage of Maryland is that the cost of labor can be relatively high when it comes to renovations, so the more you can do yourself rather than outsourcing to a contractor, the more you'll profit.
How to Finance Your Flip
There are several ways you can buy a home to flip, as a beginner. Here are the big four.
Traditional Lender: you buy a home with a mortgage. This will only work if you are buying a home that is in liveable conditions - otherwise, the lender won't sign off. This is a good idea for beginner flippers who may not be ready for a full-scale, wall-tearing renovation anyway, especially if you cut down on personal expenses by living in your flipped home until it's finished.
FHA 203(k) Rehabilitation Loan: with an FHA loan you can put as little as 3.5% down - additionally, this loan allows you to buy the home and pay for rehabilitation without taking out multiple loans. As with a traditional lender, this home will need to meet minimum safety and occupancy standards. You will also need to hire contractors to meet the loan requirements (unless you are one yourself).
Hard Money Lenders: These lenders will give you loans in exchange for collateral (like your existing home, retirement account, etc). Be careful with this if you're a first-time flipper, and make sure you understand the borrowing rates.
Cash-out Refinance: If you already own a home, you can pull out your equity via refinancing.
What are the Best Neighborhoods in Baltimore for House Flipping?
Your best bet for buying and flipping a home is finding a neighborhood that has the qualities people are looking for - nearby places to eat and drink, walkability, proximity to the city center, and nearby schools for families. Plenty of neighborhoods in Baltimore now qualify as "up and coming" and continue to accommodate the city's growing population. Like with any investment, you're looking to buy low and sell high - in other words, look for areas that appear undervalued by the current market based on all the desirable features they possess.
Belair-Edison
The Belair-Edison neighborhood experienced an incredible 38.5% YoY growth in value over the past year, which is far beyond Baltimore's average of 16.8%. This is an indication that people are increasingly interested in an area and you should be able to sell your home quickly. This cozy neighborhood is nestled within Herring Run Park, allowing for ample green space and residential feel, and the drive to downtown Baltimore is a manageable 15 minutes. This area still has plenty of older homes that can be purchased for far below the average selling price.
YoY growth: 38.5%
Median home price: $129,450 (Stats via Redfin)
Greenspring
Incredible YoY growth can make Greenspring an appealing flip, especially because there are a number of distressed properties that can be snapped up for next to nothing in this location. This quiet neighborhood is located next to a popular trailhead and neighbors report that this is a close-knit community.
YoY growth: 78.3%
Median home price: $169,000
Brooklyn
Brooklyn has seen home values rise dramatically in the past year. A residential area with an urban feel, this neighborhood combines the benefits of living near the inner harbor while still maintaining the small-town feel that draws people to neighborhoods like Ellicott City or Towson.

YoY growth: 51.7%
Median home price: $76,750
Don't get too focused on specific neighborhoods, though. If you find a great deal on a distressed property in a top neighborhood, it doesn't matter if the YoY growth is only 5% - you can still make a big profit because the average home price is far higher there. Read our guide on the top Baltimore neighborhoods for first-time home buyers to get a sense of which neighborhoods are appealing to the demographic that is likely going to buy your flipped home.
How to Get a Home
Work with an Agent
Working with an agent has its benefits, especially when you're trying to find a specific type of property for a certain price point. Agents have extensive knowledge and data about local neighborhoods and home values. They know exactly what buyers are looking for, which can help you connect with homes that will sell quickly once they're refurbished. Not only can they help you find properties that you would not have considered - but they can also help you steer clear of bad investments. Good "bones" are essential to flipping a home for profit, and not all homes have them.
"If it's in a neighborhood where there's not enough turnover and things tend to not appreciate very well, and no one buys there in the season that's going to be hitting in two months, it's going to be pointless because it's going to sit on the market for the next six," explains Maryland-based Realtor Emily Franklin. "That home, no matter how easy to fix up and how good it looks like on the surface, as an investment you're not going to get your return.
So it's not just how easy is it going to be to fix up, it's also: where is it located, and what are the sales patterns of that neighborhood. So you have to combine the two, when you consider how much it's going to cost."
Buy Foreclosed Homes
Foreclosed homes have long been a staple of the home flipping industry. While a foreclosed home can allow for substantial savings, it also increases risk. These homes have often been abandoned or even defaced by the time they come to market - so issues like water damage and mold can be prevalent.
Buying a foreclosed home decreases your lending options and you typically won't be able to have an inspector come through until after the sale (though you can sometimes access the home beforehand, you'll be bidding on it: which means that paying for an inspection on a home you might not win can be risky. And once you buy, it's as-is).
In Baltimore, you can find available auction homes through the Sheriff's Sale - there are homes listed there for as little as $10,000.
Find FSBOs
You can often find hidden gems among the For Sale By Owner (FSBO) homes. Because these homes lack the backing of an agent, they typically aren't marketed as well and, correspondingly, there's less competition from other buyers. Keep in mind, though, that there is risk involved when experienced agents are removed from the transaction. Ideally, at least use an agent for your side of the transaction so that you can ensure all the legal paperwork is in order.
How much will it cost to flip a property in Baltimore?
How much will it cost to flip a house - and how much will you make? This equation is at the heart of maintaining profitability. At a minimum, you should look to make a 10% to 20% return on your investment after all costs are accounted for.
"You should aim for 20% net profit after all expenses of your sale price," explains Bill Samuel, owner of Blue Ladder Development. "If you exit with anything above 15% that is generally considered a successful deal, but 20% is a good target to start with to give you some margin for error."
The exact cost will vary widely depending on what city you're in (building and labor costs vary widely by region), the extent of the renovations required, and how long you need to hold onto the property for. Rehab financial has a handy house flipping calculator that can help you get a better estimate of how much to spend on homes in your region, taking into account:
the anticipated purchase price
anticipated project length
monthly property taxes
rehab costs
the interest rate on your loan
monthly insurance
utility bills
In other words, when you're looking for a home to flip, keep in mind that there is far more to consider than just, price you purchased it for, minus price you sell it for = profit.
If you need to contract out any of your work, Remodeling Magazine has information on the latest average costs by region and even specific city in its Cost vs. Value report.
In Baltimore, for example, the average job costs of several popular renovations are:
Midrange bathroom remodel: $21,055
Midrange major kitchen remodel: $67,565
Garage door replacement: $3,630
Window replacement (vinyl): $17,502
Deck addition (wood): $13,782
As you can tell, contractor expenses can very quickly add up, which emphasizes the need to find a property with good bones - it may not look amazing, but the fixes needed are largely cosmetic rather than structural. Redoing a bathroom - though it may take multiple Youtube videos - is possible for the average layman to figure out. If you need to fix bowing walls, though, that can require numerous contractors and become quite expensive.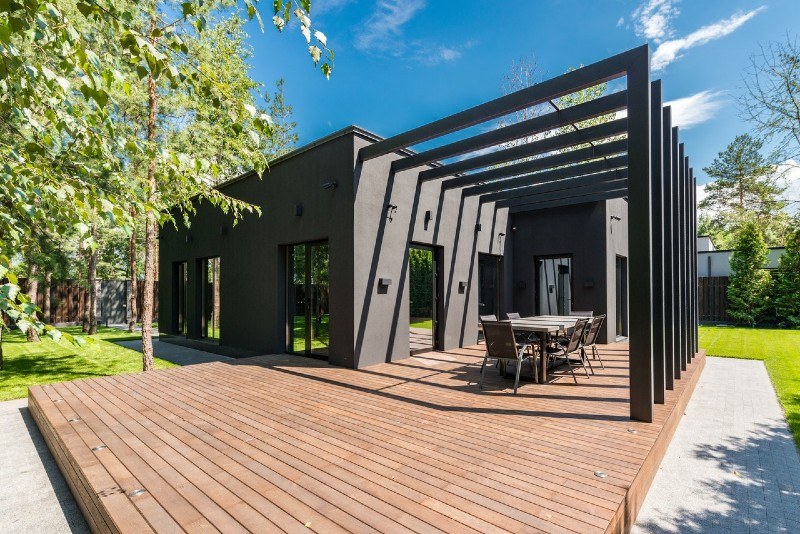 City of Baltimore: Relevant Info
One thing beginning flippers may not realize from watching shows like HGTV is that it can often take weeks to acquire the necessary permits and paperwork to work on your home, so you'll want to be on top of this so you can go to work as soon as possible. Not only are there fines for doing unpermitted or unlicensed work, but you'll also run into it as an issue when you go to sell your home and need to list it in the disclosure.
Licensing
You might be wondering: do I need a license to flip houses in Maryland? While you don't need a license to fix and flip a home, you will need to make sure you have all the necessary permits in place.
Permits
Most minor repair and renovation work doesn't require a permit in the city of Baltimore. More extensive work, however, may require it. Note: a contractor's license is not a substitute for a permit. According to the city's permit handbook, you will need to obtain a permit for work related to:
Enlarging a structure
Altering or replacing any electrical or plumbing system
Installing an HVAC system
Removing an interior wall
Building a fence around the yard
Upgrading electrical outlets to increase voltage
And more
Baltimore also provides a Permit "Facts You Should Know" guide that can be extremely useful for making sure you're following proper procedure while rehabbing (example: A licensed master electrician must be hired to do any type of electrical work in Baltimore County).
Building Codes
Residential units are held to certain standards or codes. Read up on Baltimore's codes on fire safety, plumbing, electrical on energy to find how they will apply to your building.
Green Construction
Baltimore City now follows Green Construction Code standards, meaning that all design, construction, addition, alteration, demolition, and more must comply with the 2012 International Green Construction Code.
When You Go to Sell Your Flipped Home…
Save Money When You Sell with a Houwzer Agent
Making a profit is the entire point of flipping a house, so why give up your equity at the closing table? Work with a Houwzer agent and you only need to pay a $5,000 flat fee for full-service listing, with 2.5% for the buyer's agent - all paid at closing. On average, homeowners who work with Houwzer profit an additional $15,000 when they go to sell.
Houwzer is able to save homeowners money while still providing a full range of services because they've taken advantage of advances in technology and the internet, in addition to hiring salaried agents, and they pass their savings on to the consumer.
Flip Taxes
Understanding how you'll be taxed when you go to sell is essential for ensuring that your house flip is actually profitable.
If you don't live in the home, or you fix it and sell it within a year, you'll need to pay the short term capital gains tax - in other words, your profit will be taxed at the same rate your income is (which is anywhere from 10% to 37%). If you live in it and stay there for at least a year, you can pay the long-term capital gains tax that usually maxes out at 15%.
If you use the flipped home as your primary residence for at least two years, Section 121 of the IRS tax code says you can exclude up to $250,000 of (or $500,000 for a married couple) of gains from the sale of a property that's a primary residence.
If you flip multiple properties over a relatively short period of time, the IRS may view you as a small business - in which case you'll be required to pay the 15% self-employment tax. This is unlikely to impact beginners.
Further Reading