Header photo courtesy: Acroterion
Baltimore is a relatively quiet, coastal city and somewhat of a hidden gem - it lacks the fanfare nearby DC has, yet is home to what a lot of people are looking for in terms of convenience and urban culture. Renowned for its crabcakes and beautiful harbor views, it's a convenient home base for people who need to occasionally commute to DC or Philadelphia, and it attracts residents who appreciate a strong neighborly vibe.
The Baltimore real estate market has been hopping lately. If you're planning on buying a home in Baltimore or one of the surrounding suburbs, here are six things you should keep in mind.
1. Baltimore MD Real Estate is Ripe for Investment
Real estate markets throughout the U.S. have been experiencing an intense seller's market. In many cities, it seems like a home that used to cost an affordable $200,000 is now worth half a million - and out of the price range of many home searchers.
As a result of COVID-19, more people than ever before are considering the benefits of working from home permanently and moving out of expensive cities like NYC and San Francisco.
Baltimore is well-poised to be a haven for these types of employees, because home prices - even in highly desirable neighborhoods - are still incredibly affordable when compared to other major cities across the U.S. The average home today sells for $173,000, which represents a slow but steady gain from an average value of $137,000 five years ago. It's a good time to invest, though - Zillow's prediction for Baltimore MD real estate next year is that the region will experience an incredible 8.7% jump in value, and according to Houwzer's End of Year housing outlook, "Median home prices in Greater Baltimore are up 14.8% vs. this time last year."
"Baltimore still has a lot of up-and-coming areas," advises local buyer agent Sophia Matsangatis. "There's a lot of opportunities for people who are looking to get into investing, or who have a portfolio they want to grow. There's parts of Baltimore like Mount Washington, for example, that are still going to build out and develop, and there will be a lot of upward margins."
2. Baltimore Neighborhoods are Distinct and Community-Oriented
Block by block and neighborhood by neighborhood in Baltimore, the atmosphere can shift quickly. If you're new to the area - or moving to a neighborhood you're unfamiliar with - make sure to do plenty of research first. Hampden, for example, has a hip feel and a thriving foodie scene, whereas others flock to Mt. Washington for its cozy mix of suburban vibes and urban environment.
Block parties and neighborhood festivals are a frequent occurrence in Baltimore, and help bring these communities together.
Check out our guide to the top neighborhoods for first-time home buyers in Baltimore, as well as the top Baltimore neighborhoods for foodies. One of the advantages to working with an experienced real estate agent is that they will know the local area, and be able to recommend the neighborhoods that would be the best fit for your preferences and lifestyle.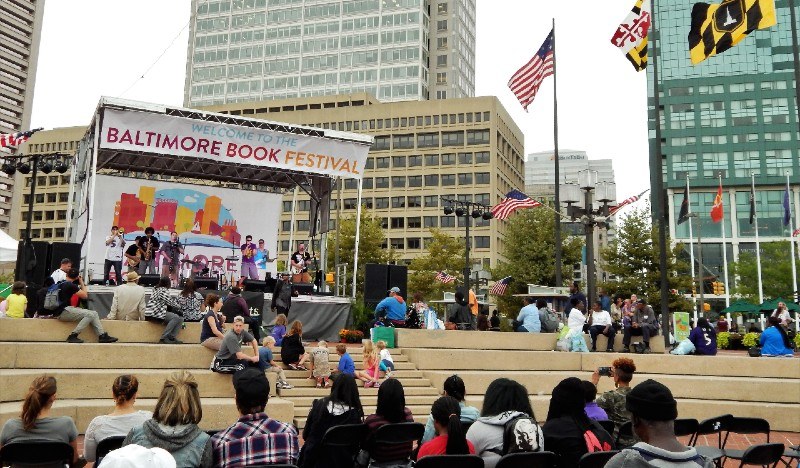 photo via David Robert Crews

3. Baltimore is a Historical City - With Homes to Match
Baltimore was founded in 1729 and grew swiftly throughout the 1800s. By the 1970s, however, growth had slowed. This means that many of the available homes in Baltimore are old - some predating 1950, but plenty far older than that. This can lead to beautiful, historical architecture:
"It is an older city, so you'll see a lot of that character and the row houses a lot of the original stone and the masonwork," notes Matsangatis. "Overall, people try to maintain that - even with renovations there's a lot of exposed brick and a lot of exposed stone - I think that's a bit unique to the city."
In light of this, though, the home inspection and home disclosure take on extra importance - issues with foundations, plumbing, roofing, and electrical wiring are more common simply due to age. Maryland requires home sellers to inform home buyers of any property defects they know of. Even though homes in this state can be sold "as is," buyers must still be informed of latent defects (these are defects the buyer couldn't reasonably be aware of when observing the property, such as a mold infestation that's been covered by paint or rugs).
"Pay attention to the roof - if you're buying a quintessential Baltimore row home, it's usually a flat tar roof. They last longer than a shingle rooftop, but then instead of replacing their roof with new shingles every 20 years - they'll actually add layers of tar," explains Matsangatis. "Something to check is when was the last time they added a new layer, and how many layers are on there - because then it starts to get super heavy and you may need someone to remediate that by taking some layers away and put a fresh layer on top. 'Alligator skin' - when it looks dry and cracking - that's your number one red flag that that roof is past its prime."
It's a good idea to work with an experienced Baltimore real estate agent who can point out issues before you even get to the point of making an offer on a home - potentially saving you a lot of valuable time and money.
4. Vacant Homes Abound in Baltimore
Considering how hot real estate is in most markets nowadays, Baltimore has a somewhat unique problem: the city is plagued by vacant homes. For nearly a decade, the number of empty homes in this historic city has hovered around 17,000. If you're new to the city, it's important to do your research on the look and feel of each neighborhood so that you're - ideally - not moving into an area beset by vacant homes, which tend to depress home value and lead to other issues (safety, etc) down the line. According to the Baltimore Sun, neighborhoods stop growing once just 4% of the homes are vacant - and the best neighborhoods in Baltimore for accruing investment value have rates far lower.
5. Baltimore Tax Rates
If you live in the county of Baltimore (this includes both Baltimore and several popular neighboring suburbs), you can expect to be taxed at these rates, according to the Baltimore County website:
Real Property—$1.10 per $100 of assessed value
Personal Property—$2.75 per $100 of assessed value
Personal Income Tax—3%
Real Property Transfers—1.5% of purchase price (excluding the first $22,000 of residential transfers) and $2.50 per $500 of total value
Though the personal income tax for Baltimore City doesn't always match Baltimore County, for the 2020 year county and city residents pay the same.
Maryland is one of the more tax-heavy states in the country, and Baltimore residents will typically pay more in taxes than residents in other similar-size cities - in large part because they have to pay at both the state and city level. However, the cost of living is lower in Baltimore than in most major cities - and property taxes are right around the national average, so in many ways it may even out.
If you're a first time homeowner, though, you'll have an advantage in Maryland. "For first time buyers, there's a tax credit for the transfer taxes, so that's something unique to the state as a whole," notes Matsangatis. The Maryland first time home buyer credit will save you 0.25% of the sales price of your home!
6. Ground Rent: Baltimore's Historic Fee
Something unique to Baltimore is ground rent. This is a fee that the property owner pays to the land owner - unlike in most places, the property owner does not own the land beneath their home. This practice dates back to colonial times when colonists paid rent to Lord Baltimore. Typically, homeowners who need to pay this rent will pay $50 to $150 a year.
Further Reading