Is it a good time to sell a house? It's a question plenty of potential homesellers are asking themselves, especially after home prices rose so rapidly in 2021. It can be tempting to hold off selling for another year or two.

We've spoken with experienced Realtors, and one thing is clear: if you're on the fence about selling your home, don't be. Now is a great time to sell a house, and things can change quickly. Spring 2022 might be the best time to sell your home - here's what to expect, and how you should prepare.
What Will Real Estate Look Like in 2022?
It's likely that 2022 won't be as red hot as 2021 was - though you can still expect some flames. While home prices will continue to rise, most experts are predicting 10% appreciation, rather than last year's 20%. It will still be a seller's market - however, multi-bid situations and homes going for 30% or 40% over asking may revert back to being anomalies, rather than becoming the new normal.
In other words, sellers shouldn't rely on a crazy market when selling their homes. This past year saw plenty of sellers opting out of doing small fixes around the home and de-cluttering, on the assumption that their home would likely receive multiple offers anyway. That may have been so - but 2022 home sellers would be wise to prep a bit before their home sale.
"With such a substantial increase in price, we may start to see that buyers aren't willing to pay so much over the appraisal value, and they may not be waiving appraisals. With the prices rising we may see buyers who can't compete falling out," explains Tampa-based listing agent Michelle Mandia about what to expect going forward.
What You Should Keep an Eye on This Spring
2022 may have new challenges in store: Here's what you should look out for if you're planning to sell your home.
Rising Mortgage Rates
After mortgage rates hit an all-time low last January, they've been rising - going from 2.65% to the current average rate of 3.10%. While it's still a great time for homebuyers to buy a home - rates are still low, meaning that buyers can qualify for more house with less money - if rates continue to rise, we're eventually going to reach an inflection point where buyers begin to drop out of the market.
"The thing to keep a close eye on this season is interest rates - interest rates have risen a little. I don't think a fourth of a percent, half a percent, or even 1% is enough to deter people from buying, just based on what we've been seeing in the market - but that could change," says Zebhideh. "Interest rates directly impact a buyer's purchasing power. And that's going to trickle down to buyers being more of a pain during the transaction as well."
The future is uncertain: rates could go up and down (although most experts believe they will go up to a high 3% or low 4% this year). Fall 2022 and beyond could be a great time for sellers, or more of a market equilibrium may develop. Rather than trying to play the market, consider the cards you currently have in your hand: you know now is a good time to sell because competition is high and inventory is low. Selling in spring 2022 means cashing in when the market is undeniably great for selling.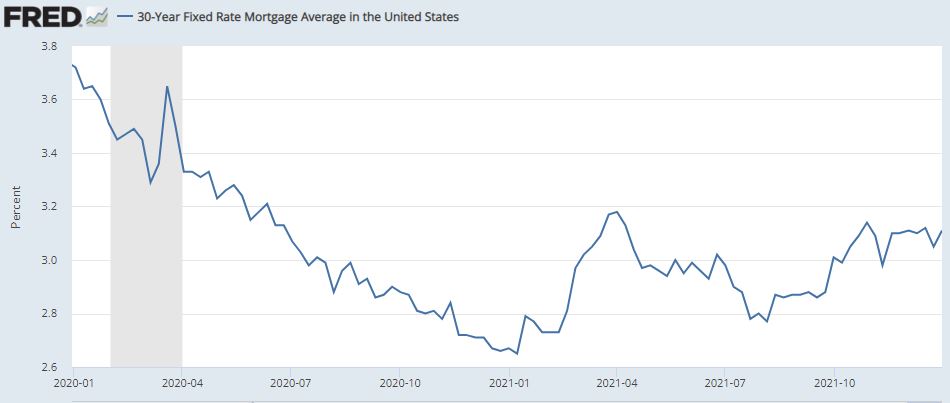 Local Competition
"The main thing I want sellers to be wary of in 2022 is local competition," says Zebhideh. "Keep an eye on the houses going on the market in your local neighborhood, what the market's doing, and if there's going to be a lot of competition."
What really helped propel home prices up this past year was scarcity - so if your local market starts to get crowded with homes, it may become harder to get multiple offers on your home.
iBuying Companies
Over the past several years, iBuyer companies have grown in many housing markets across the US - especially in Florida. Mandia warns sellers that engaging with these companies can come at a high cost. Despite cutting agents out of the process, they tend to net homesellers less money on their home sales.
"Sellers should be wary of taking instant buyout offers from bigger companies that are going to charge more fees to sell their house. Home sellers should be aware that if they come up with a strategy with their agent to show a house over a weekend they can end up profiting at least $10,000 more than what the investor is going to pick it up for," explains Mandia. "Yes, those instant-buy services are convenient and quick, but a lot of times those companies are picking them up, just replacing the carpet, doing really nothing and up pricing it $30,000."
How to Prepare for the 2022 Spring Real Estate Market
Fix Up Your Home
Getting ready to sell in spring means prepping your home for sale the traditional way: eliminating clutter, cleaning, and taking care of minor repairs. You can't, and shouldn't, rely on buyers overlooking the stained carpet or broken faucet just because inventory is low.
Keep in mind that the majority of home searches now begin with an online search - if your home looks dark, dingy, and cramped in photos, chances are you're not going to have as many buyers coming to see it.
And fewer interested buyers means fewer offers - which means you lose your competitive advantage. Sellers stand to profit the most when buyers compete against each other for the sale.
"Condition definitely stands out in this market. For my clients who are looking to list this spring, I'm advising them of the updates they would need to make in conjunction with the comparables that have sold this past fall," explains DC-based listing agent Robbie Zebhideh. "Make it move-in ready, and do the necessary updates to stand out in the market just in case low inventory isn't a theme next spring."
Zebhideh advises that doing the necessary small repairs and renovations will help sellers stand out in a market that may be more crowded with homes than the year prior.
"If low inventory is a thing this spring, then obviously it's not that hard for a home to stand out in any neighborhood," adds Zebhideh. "But with competition picking up - it's still a seller's market, but inventory is starting to enter the market a little more - we're starting to see a lot of people doing renovations so sellers really have to bring it with condition. We're seeing houses in so-so condition starting to sit on the market."
Which updates will help your home stand out? Check out: Selling Your Home: What to Fix Up on a $2,000 Budget (or less).
List at the Right Time
According to our experts, the best time to prep for listing this spring is essentially as soon as possible. Meeting with a listing agent now will get the ball rolling on all the steps you need to take in order to successfully list your home.
"I think the best time to have everything done is by the end of January, just so you're ready to go. If inventory starts blowing up rapidly and you need to sell, then you're able to pull that trigger - because it is a more volatile market than we've seen in coming years," explains Zebhideh. "And obviously, it's going to be region-specific. But generally speaking, the best time to get on the market is March. 2022 I think we're going to see a little bit earlier of a spring market, if I had to guess, but March is the golden rule."
Mandia is listing homes in Florida, where the lack of Northern cold means the real estate market is more consistently active year-round. However, even within that confine, she recommends an early spring listing as well because of the influx of "snowbird" homebuyers who will retreat back North toward the end of spring.
"Our weather is conducive to home shopping all year. The market is so ongoing that sellers can list their house in January; we don't really need to wait on that spring market," she explains. "January is actually a good time for capturing the snowbirds - there are plenty of snowbirds here right now looking for homes, but we have no inventory."
Opt for Lower Commissions
Nowadays, most people shop for homes online. There's no longer a need for the extensive rolodexes and meticulously printed binders full of homes that buyers used to sift through at the brokerage office. Years ago, it possibly did cost agents/their brokerages 3% to successfully market and sell a home. Today, however, this commission rate is out of line with modern efficiencies.
Houwzer is a modern brokerage that's changing real estate (for the better!). Rather than a 6% commission, Houwzer charges a flat fee of $5,000 for full-service listings - regardless of home price - with 2.5% for the buyer's agent. Unlike other low commission real estate brokerages that cut out needed services like professional photography, agent experience, and open houses, Houwzer covers everything for $5,000.
Don't go to sell your home at one of the most profitable points in history, only to leave money at the closing table in the form of commission fees. Opt for a flat fee brokerage so that you can maximize your profits.
Conclusion: Is it a Good Time to Sell a House? The Answer is Yes.
To recap, homeowners can best prepare for selling in 2022 by:
Fixing up their home
List at the right time
Opt for lower commissions
"It's hard to say where the market's going to be next year - with new COVID updates and where are interest rates going to be - so I would say if you're in a position to sell then sell, if you can," recommends Mandia. "If you have to hold off then do that, but we can't forecast the market with a crystal ball - it's not guaranteed to hold steady. What we're seeing now is that prices are high and steady so if someone is thinking of selling, then they should take the plunge."

Ultimately, 2020 and 2021 have shown us just how unpredictable the market can be - which should be a warning for 2022. If you're in a good place to sell, and your life circumstances make it a good time to sell and move on to your next home, then you may not want to wait and see how the next round of supply chain issues, COVID variants, political unrest or rising mortgage rates impact the market.
For Further Reading