Walkability is increasingly important to home buyers. If a grocery store, local restaurant, and public transportation can all be accessed by foot, many people are willing to give up some of their other "nice to have's" in a home.
According to a study published in Science Direct, walkability leads to higher neighborhood housing values, and additional studies indicate that living in walkable places leads to better health.
Most millennials - who now comprise the nation's largest demographic of homebuyers - don't need the extra encouragement. They tend to value walkability as a way of life, preferring it over disconnected suburbs that require cars for everything.
While Washington, DC, is easily one of the most walkable cities on the eastern coast, the DC lifestyle (and cost) isn't for everyone.
Here are some of the most walkable suburbs of DC in Virginia (or see our past post, most walkable Maryland suburbs of DC).
Alexandria
Alexandria's brick-lined streets contribute to its overall historic charm. So much is within walking distance here that you won't struggle to come across a coffee shop with in-house roasting and art deco interior design, or a 5-star rated cocktail bar with seasonally-inspired drinks. And don't forget the independent bookshops!
It's easy to see why people who love small-city environments flock to Alexandria. Certain neighborhoods boast better walkability than others - Old Town is easy to get around, while Seminary Hill will probably require a car.
What a Virginia Realtor has to say:
"Alexandria is becoming DC's suburb, with people opting to live here because home values are easier than Arlington, while maintaining an urban lifestyle, or at least being very close to it. Old Town Alexandria is the most well-known subdivision and is an aesthetic paradise with shops, restaurants, vibrant colors, parks, and a famous waterfront overlooking the Potomac and DC," says local buyer agent Muoki Musau.
Annandale
Annandale is a quiet community - while it's not known for its nightlife, many residents appreciate its proximity to the beltway, its diverse dining scene, and people enjoy plenty of conveniently located amenities. The area is home to DC's unofficial "Koreatown" with Korean barbeque at Yechon, and infinitely adorable Korean desserts at Breeze Bakery cafe (alternatively, try the delicious pat bing soo).
Arlington
Arlington County was one of five U.S. "Platinum" Walk Friendly Communities for 2022, ranking it alongside New York City, San Francisco, and Portland. The designation reflects the city's emphasis on transit-oriented planning, ongoing commitment to increasing walkability, and many miles of sidewalk, multi-use trails, and hiking trails.
Though a close neighbor to Washington DC, Arlington retains its own unique flavor. This historical area is home to many unique neighborhoods - including Bluemont, which is renowned for its restaurant scene, and Shirlington, which is home to plenty of trendy sidewalk cafes and unique boutiques.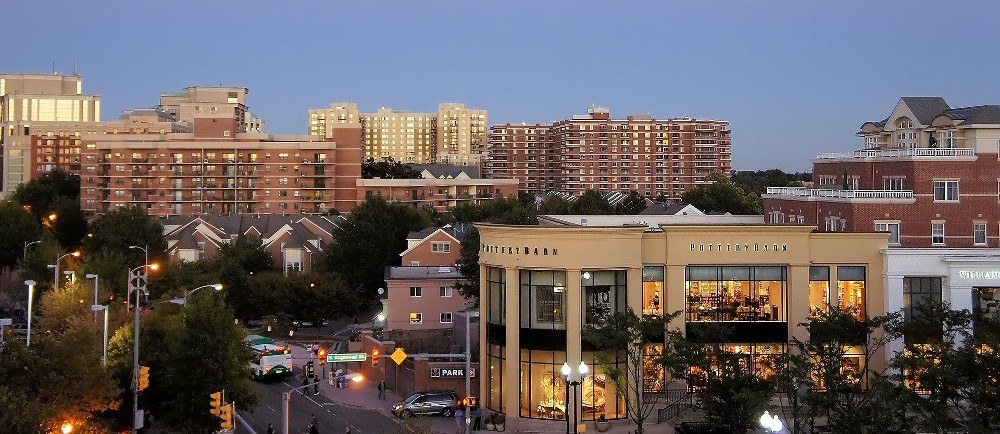 Bailey's Crossroads/Fairfax County
Located on the outskirts of Arlington, Bailey's Crossroads has a quieter, calmer atmosphere compared to some of the options on this list. Many condominium buildings are within walking distance of everything from Trader Joe's to Bamian, a local Afghan restaurant.
Often called a "hidden gem" by locals, Holmes Run Stream Valley Park runs along the Southwest border of this suburb and is great for walking, biking and running. This is the perfect neighborhood for people who crave walkability but still want proximity to the outdoors, as the area is flanked by several nature parks as well as Lake Barcroft.
What a Virginia Realtor has to say:
"Bailey's Crossroads has copus options for dining, entertainment and outdoor activities as the Mosaic District revitalized an area that has easy access to major highways along Metro stops that can whisk you throughout the region," explains local listing agent John Marcario.
Falls Church
Unique and historic Falls Church grew from a small intersection leading to a local church to a bustling community over the last three centuries. Locals enjoy the year-round farmer's market at City Hall, as well as the free Concerts in the Park series that takes place over the summer months.
If walkability is key to your home search, you'll enjoy easy access to coffee roasters, taverns with live music, and even an Irish pub. Falls Church is also home to the Eden Center - this Vietnamese-American shopping center has become something of a cult favorite among locals who praise its authentic food, fresh supplies, and as a way to explore Vietnamese culture.
Vienna
For a vibrant community located only 20 miles from DC, look no further than Vienna, Virginia. The town's main street, Maple Ave, features a walkable mix of businesses including a pet shop, local library, sushi restaurant, cafes, and more. Bikers love the 44-mile-long Washington and Old Dominion Trail, while flower enthusiasts can relax in the Meadowlark Botanical Gardens. If you can stomach the high home prices, this is definitely one of the best suburbs of DC for walkable access.
What a Virginia Realtor has to say:
"The charm of Vienna makes this town a desirable location for people looking for a little bit of everything - from the major downtown scene to tranquil parks and memorial sights. This affluent area is near major thoroughfares allowing for easy access to jet throughout Northern Virginia as well," explains Marcario.

Have more questions about the best DC suburbs for walkability? Figure out the best match for you with the help of an experienced local agent.
More Info on Buying a House in Virginia