Maybe you've found the perfect home on Zillow - it's the right neighborhood and the right size - and you've noticed that it says the home is in "pre-foreclosure." You've probably heard about foreclosure, but what does pre-foreclosure mean - and does it present additional challenges if you want to buy the house? Here's what you need to know.
What Does Pre-Foreclosure Mean on Zillow?
A pre-foreclosed home on Zillow is a home that has been already served a Notice of Default or lis pendens by the lender, but hasn't yet been sold at a foreclosure auction. In other words, the homeowner probably missed at least three mortgage payments, but still owns the home.
While the home is slated for foreclosure, two other things could happen: the homeowner could pay off their debt and get back on track with their mortgage, or they can sell the home. Once a home is foreclosed, though, that means it's been repossessed by the lender and can no longer be sold by the original homeowner.
It's worth noting that if a home is listed as "pre-foreclosure" on Zillow, it just means that the home has been served a notice of default by the lender at some point in the past. That may have been months ago, and the home has since been sold to a buyer or gone to auction. In other words, this section isn't always updated.
"Pre-foreclosed homes are not for sale at all. The prices that show somewhere on the listing are usually just the Zillow Zestimates - not a price the owner, a Realtor or bank came up with - and the pre-foreclosure status just means that at some point in history, there was a default notice mailed to the owner. It could be eight years ago, it could be current," explains Lisa Armellino, a buyer agent based in the Philadelphia suburbs. "So the moment that that notice goes out, it becomes public record, and on Zillow it will become a preforeclosure listing."

If you're wondering how to check on the status of the pre-foreclosed home you've found, Armellino says it's possible to do this on your own.
"I just go and look it up in the public record on the county site and see if anything is currently against the property or currently defaulted, and I'll usually find out it happened years ago. I don't know why Zillow keeps listing them," she explains.
How Do You Find a Pre-foreclosure Home?
Zillow is one of the easiest online directories to find pre-foreclosure homes. You can use Zillow's filters to specify only pre-foreclosed homes (make sure to un-check "foreclosed").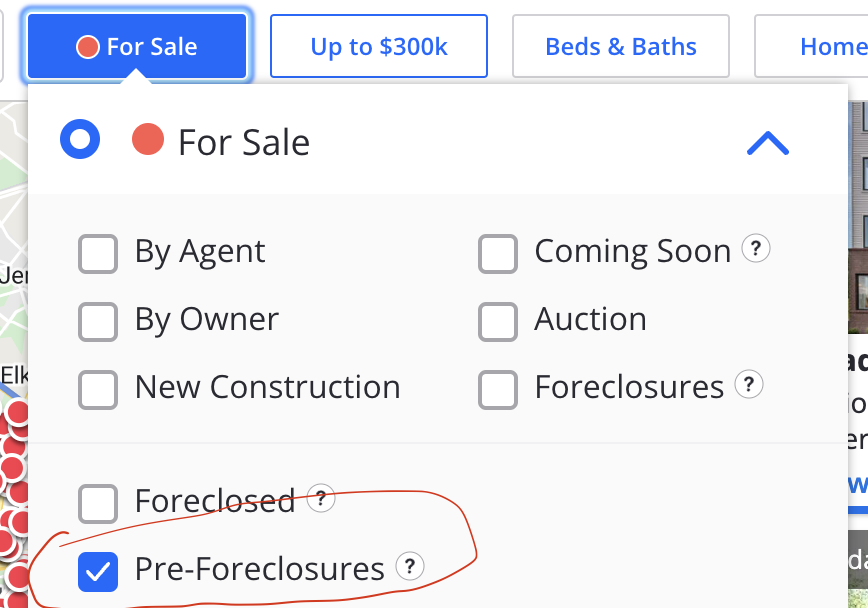 Another way to find preforeclosure listings is in the public records section of your county recorder's website. The terms to look for are "notice of default," "lis pendens" and "notice of sale."
How to Buy a House in Pre-Foreclosure
In order to buy a pre-foreclosed home, you would be working with the buyer to resolve their existing debt.
To get the ball rolling, you'll need to get in touch with the homeowner. Although door knocking is likely the most direct route, keep in mind that they may not have any desire to sell - and they may find your presence intrusive as well. Prepare to be empathetic to their situation.
Disadvantages
Generally speaking, this process is easier if you decide to pay cash, because your lender will have a variety of rules and requirements that might make it difficult to purchase a home that is close to being in foreclosure. It can be quite difficult to get permission from the homeowner's lender to buy a pre-foreclosed home as well.
"The problem is there's already a default notice - you run into issues on Title when you are selling the house and you do actually need the bank's approval. So it can be a harder transaction. For 1 in 50 properties, it might work out - maybe. But the rest of them, those are people still living in the house, and the notice might not even be current," Armellino explains.
Another downside: buying a pre-foreclosed house is similar to buying a home in foreclosure - you're buying it "as is" and you'll need to cover the cost of whatever repairs are needed, as the seller does not have the financial means to do it themselves. Because the seller has likely been in financial trouble for some time, you should assume there's a good chance that certain required/routine maintenance hasn't been done - so immediate fixes might be required to make the home habitable.
It's also not uncommon for pre-foreclosed homes to carry liens on them, as well as unpaid taxes - which you'd be responsible for covering. For this reason, buying a pre-foreclosed home is not a great idea for first-time buyers who are new to navigating the ins and outs of a home purchase and homeownership.
Advantages
The benefit to buying a pre-foreclosure home is that you can potentially get the home at a discount. You'll need to pay off the homeowner's existing debt - whatever's left of their mortgage, any unpaid taxes, etc - but the rest is negotiable. You'll also have less competition for the home than you would if it actually went to auction as a foreclosed home, which can help keep the price down.
According to Street Directory, pre-foreclosures usually come in 20-50% below market value (though in this hot market, you might see smaller gains due to increased competition). The seller is incentivized to sell their home as fast as possible so that they can recoup at least some of their money, as well as avoid the negative impact a foreclosure would have on their credit score and future home-owning prospects.
So: Will that Zillow Preforeclosure Home Be Yours?
A pre-foreclosed home can represent a discount off the market value of a home - and after home prices skyrocketed an average of 20% over the last year alone, some homebuyers will see this as a huge benefit.
However, keep in mind that there are certain risks that come with a pre-foreclosed home - and it will be a smaller pool of homes available, so it's unlikely that you'll be able to find one in your ideal neighborhood. It may also be challenging to find a homeowner willing to sell to you in the first place.
If you haven't already met with a Realtor and mortgage advisor, set up a meeting - you might not realize all your options for homes, as well as the various options there are for structuring a loan so as to lower the monthly mortgage payment. You might have more choices than you think!
For Further Reading