Mix easy access to the city with suburban, small town charm and you get Ambler, PA. Located 40 minutes from Center City, Philadelphia via the Lansdale/Doylestown Line, this is a lush suburban neighborhood that continues to draw new residents in from the surrounding suburbs and city alike. 
First time homeowners love this neighborhood: Ambler has been rated one of the top Philadelphia suburbs by millennials and other young professionals. Why? Walkability is a big reason. With a walking score of 71, this suburb is far more walkable than similar neighborhoods throughout the greater Philly region. Downtown Ambler has been revitalized in recent years and offers a variety of shops and services along its tree-lined main street, making it convenient to grab a drink after work or visit a barbershop. 
Green space, including easy access to the Wissahickon trails, ensures that exercise and outdoor access are an attractive benefit to living here. And the Lindenwold Castle, home of the late Richard Mattison, an asbestos magnate, serves as an iconic local landmark.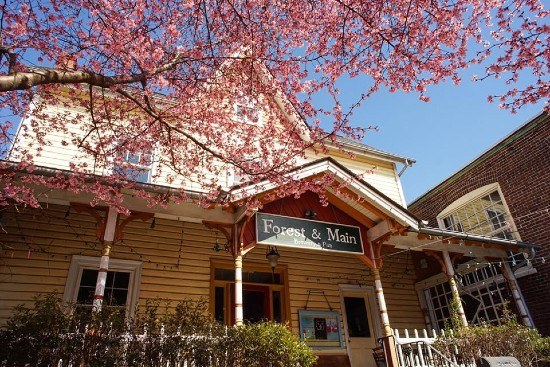 Forest & Main Brewery, located in downtown Ambler
Local Real Estate Market
Single family homes are the standard here, and home prices have risen steadily over the past five years. It's still possible to find a reasonably-priced starter home in Ambler, but put in an offer quickly if you find one you like - homes tend to sell for more in this neighborhood, and million-dollar price tags aren't too uncommon.
Average home price today: $451,775
Average home price 5 years ago: $358,000
Advice from a local Realtor
"Ambler is a great area. There is a strong mix of old and new homes. There are big stone homes that speak to so much history, and the chic newer homes to stay fresh. 
I love the Act 2 Playhouse on Butler Ave; so much character and fun surrounded by quirky restaurants and charming little boutiques. Ambler is walkable and suburban, all at the same time. Throw in the train to Philly, and you've got it all."
-Buyer agent Diane Winkelman
What can you get in Ambler?

This 1,776 sq.ft home in Ambler PA listed for $388,500 in 2018 and sold through Houwzer. For this price, homeowners received 3 bedrooms, 1 bathroom, granite countertops and stainless steel appliances, a brick patio, a large fenced-in yard, gorgeous hardwood flooring throughout, and a garage. 
Amber, Pennsylvania Stats
Number of residents: 6,496
Median age: 36
Walkability score: 71
Local bar: Brick & Barrel  
Local restaurant: The Lucky Well 
Local coffee spot: Wake Coffee Roasters
Fun Daytime Activity: Rose Bridge Farm & Sanctuary
Ambler History 
Ambler began as historical territory of the Lenni Lenape Native Americans. The area was then settled by Quakers, who emigrated to the United States from Europe. In 1856, a disastrous train accident killed 59 people near Wissahickon Station. Local Quaker woman Mary Ambler gathered medical supplies and walked several miles to the crash site to help survivors, and the town was later named after her, in honor of her heroism that day.