If you're thinking about selling your home in Pennsylvania, it's a good idea to familiarize yourself with the process beforehand. Doing so can help you maximize your profits, minimize how long your house sits on the market, and reduce the likelihood that something complicates your next move.
Is now a good time to sell a house in PA?
It's easy to believe that the housing market right now is doom and gloom if you go by the newspaper headlines. As often happens with real estate, however, news of its demise has been greatly exaggerated.
When it comes to the Pennsylvania housing market, home prices are up 4.1% year-over-year right now (putting it right in line with average historical appreciation). So if you've heard that the market is terrible for sellers, keep in mind: it's only "terrible" compared to how incredibly amazing it was for sellers last year.
Rates were kept abnormally low during the COVID-19 pandemic, and we're unlikely to see rates go that low again in the next decade. Demand has still remained high from buyers who are determined to get into a home, even with the shifting market.

So yes, it's still a good time to sell. While the frenzy for homes may have died down - and interest rates have shot up - it's important to keep in mind that this is probably the new normal for the market.

Median sale price in PA: $269,200
Median days on market: 31
Months supply of homes: 2 (a balanced market would be 6)
Number of homes for sale: 38,295 (-4.3%)
The months' supply of homes is under 5-6 months, indicating we're still in a seller's market (while slowly moving closer to a buyer's market).
The number of homes for sale is down - many sellers are likely trying to wait out the market for better conditions. Sell now and you stand out. Eventually, though, life circumstances will propel them to enter the market. And when they do, you as a seller will lose the advantage you have today of standing out among a relatively small pool of inventory.
"With continued supply shortages and high buyer demand, now is a good time to sell your home. And with interest rates on the rise, it may be better to sell sooner rather than later — if rates spike much more, some prospective buyers may retreat from home shopping," explains Howard Smith, a Philadelphia-based Realtor.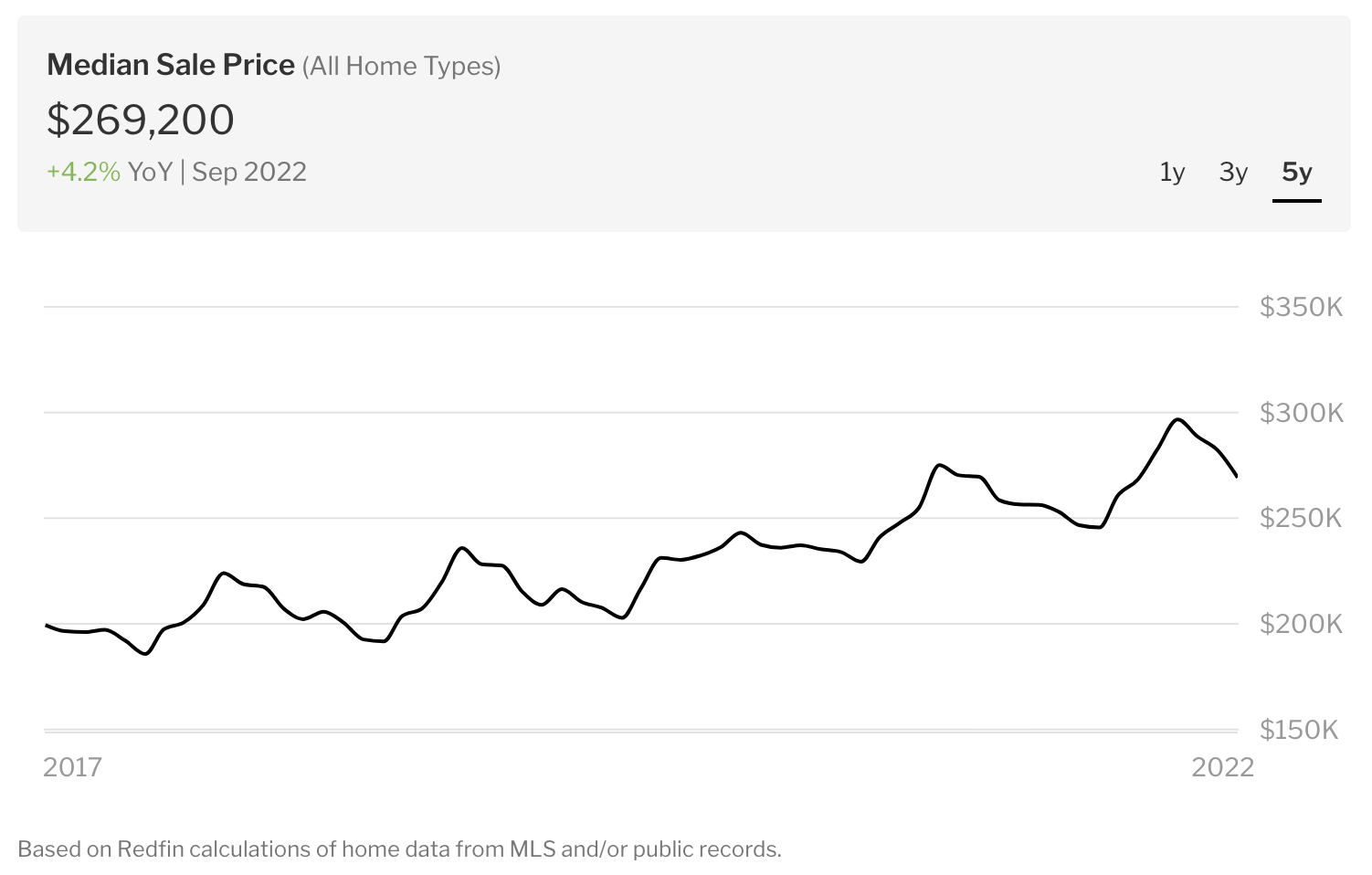 How do I sell a house in Pennsylvania?
If you've never sold a home before, it's good to know what the entire process looks like from start to finish.
Your first step should be to talk to several Realtors - then choosing the Realtor who seems to be the best fit. Look for an agent who demonstrates deep local knowledge, ample recent listing/negotiation experience, and solid communication skills.
Once you find a Realtor you like, you'll meet to discuss how much they think your home can sell for based on factors like the current market and local comps. They will also have ideas on how to advertise it in order to maximize buyer interest.
Then you'll sign a binding listing agreement with that Realtor and their brokerage.
Next, your home will be photographed, listed on the MLS, and given a lock box for showings. They may help you with staging or advise you on ways to cut down on clutter and best show off your home.
From start to finish, the process typically takes around three months - about half of this time will be closing (negotiations and financing).
Can you sell a house by owner in Pennsylvania?
You can opt to list your home For Sale By Owner (FSBO) in Pennsylvania. However, there are a variety of reasons that most people don't opt to do this. While on the surface it may seem like you save money, in reality going this route often eats into profits - for a few reasons.
You might not be saving as much as you think. You can eliminate the listing fee, but if you eliminate the fee for the buyer's agent there is no incentive for the agent to bring their clients to see your home. So you're still out about 3%.
The best way to profit the most from your home is competition. Simply having two offers instead of one can drive up the final selling price by thousands of dollars. FSBO homes, however, are typically harder to find on sites like Zillow and Realtor - so receive less offers.
Realtors may be reluctant to bring clients to your home. As the only agent, they'll likely be doing more work and taking on more responsibility - without getting paid more.
While it's certainly possible to sell a home by owner, if you're not an experienced real estate professional, chances are it won't save you much money anyway.
"Selling a house yourself isn't the norm and it certainly comes with challenges. The research shows that unless you're facilitating a sale where you already know the buyer, you're much better off hiring a real estate agent who can do your property," explains Smith.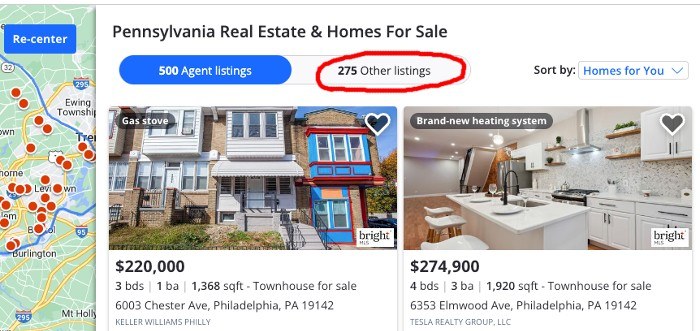 Disclosure law in Pennsylvania
When you sell a home in PA, you're required by law to disclose the condition of your home. The PA disclosure form covers 20 different topics, including the plumbing system, heating, water supply, and more.
It's in your best interest to disclose everything you know. Any issues will likely come up in the inspection anyway - but if you fail to disclose those issues ahead of the home sale, they can become a negotiation tool for the buyer (who can ask for a lower price to compensate for repairs).
Find out more: 20 Problems You'll Need to Note in a PA Seller's Disclosure
Why is Houwzer a top brokerage for PA?
Houwzer is one of the top-rated brokerages for home sellers in Pennsylvania for several reasons.
They charge a $5,000 flat fee (with 2.5% for the buyer's agent) regardless of how much your home sells for. On average, home sellers save $15,000 on commission fees this way.
Houwzer agents are salaried employees who receive benefits. This means that they can focus on client goals, rather than commissions.
If you then buy a home with Houwzer, Houwzer will give you half of the listing fee back ($2,500) which you can use toward closing costs, your down payment, or whatever you want.
Interested in learning more about Houwzer?
Seller Closing Costs in PA
Sellers do pay closing costs in PA. Closing costs are the various fees and taxes that have to be paid when you buy or sell a home. In Pennsylvania, you can expect these closing costs:
Agent commissions - up to 6% (3% for each agent)*
Outstanding amounts owed on the property
Escrow fees (1-2% of sale price)
Recording fees ($.150 per $1,000 of sale price)
Deed transfer tax fee - split between buyer and seller (2% of sale price- 1% for the state, 1% for the locality)
Attorney fees (up to $500)
*The average commissions for Realtors in PA is 2.72% for buyer's agent commissions, and 2.81% for listing commissions. Working with a company like Houwzer can lower the cost of agent commissions.
"Many agents do not discuss the Transfer Tax fee - it is usually split between the seller and buyer, in the suburbs in most areas (not all) the fee is 2%, in Philadelphia it is over 4%," notes Smith.
Do you have to pay Capital Gains on a house sale in Pennsylvania?
If you're selling your home in PA, you'll be able to exclude up to $500,000 in gains from taxable income (for joint filing - $250,000 for single) if your home has been your primary residence for at least two of the last five years.
Tips for selling your house fast in PA
Sellers are often operating on a tight timeline and the sooner they can sell their house, the smoother things go. Here's a few tips you can employ in order sell your home fast.
Price competitively. If your agent recommends pricing your home lower, there's likely strategy or data behind it. In this market, you don't want to price too high "just to see if anyone bites" and then have your home sitting forever.
Opt for a Realtor with extensive local knowledge and ample experience with negotiating. A good Realtor makes the job look easy, but there's a lot that can go wrong during your transaction - and end up costing you money - so it pays to pick the right agent.
Have great photos. Professional photography is essential in today's real estate market, which typically begins with an online search. Photos that highlight your home's best features will get your listing hundreds of more clicks compared to photos that make your home look dark, dingy or small.
"Price to sell: setting a realistic and competitive asking price is one of the best ways to sell your house fast," recommends Smith. "Overpricing your home will just scare buyers away, leading to more time on the market. You might end up lowering the price during negotiation anyway—overpricing will just add steps to the process."
More on Selling a House in PA